Green Hawaii 2019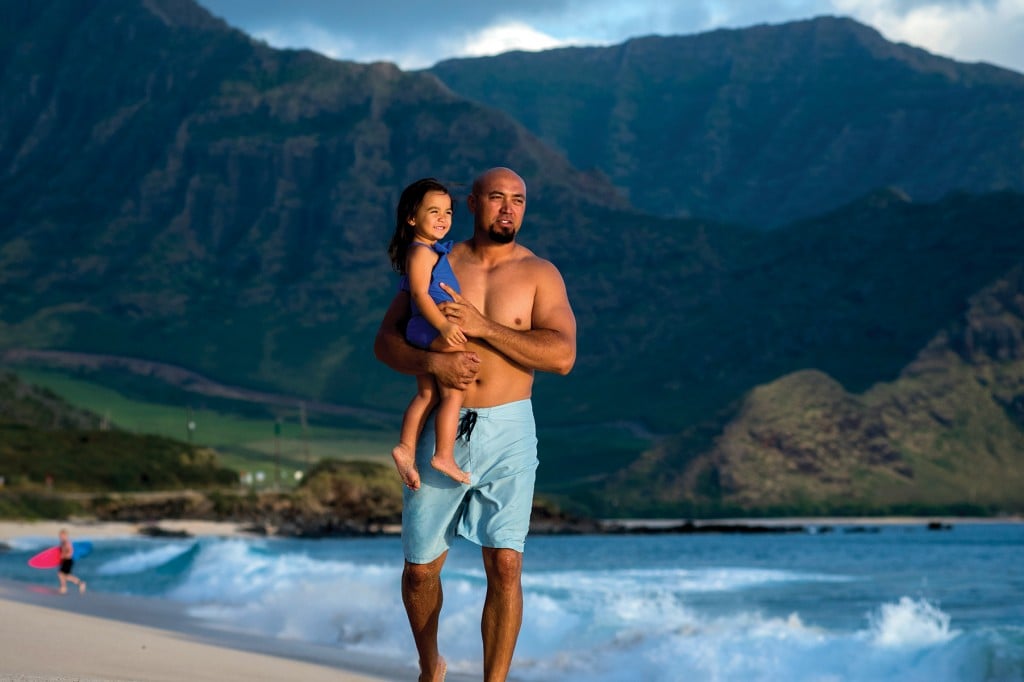 Transportation
In the Fast Lane
Electric vehicle adoption gains momentum across the Islands.
By Kathryn Mykleseth
Once a month, a coalition of unlikely allies holds a roundtable discussion to strategize how to achieve one shared goal: electrifying all transportation across the Hawaiian Islands.
The members of Drive Electric Hawaii—the state Department of Transportation; Hawaii State Energy Office; Hawaiian Electric; Kauai Island Utility Cooperative; clean energy nonprofit Blue Planet Foundation; and impact investment firm Ulupono Initiative—have been working as a team since 2017 to advance Hawaii's electric vehicle road map.
"There are always differing opinions on a number of energy issues, but the electrification of transportation is definitely one topic where all of us share a common vision," says Brennon Morioka, Hawaiian Electric's general manager of electrification of transportation. "Everybody is moving in the same direction."
That direction has led to thousands of EVs rolling out on Hawaii's roadways since the coalition's inception. In December, the number of electric vehicles registered in the state reached 8,331, an increase of 23 percent from one year earlier.
While electric vehicles are still far outnumbered by gasoline-powered vehicles, EV registrations are picking up speed. EV registration in Hawaii experienced its largest month-over-month growth from November to December 2018, according to Lauren Reichelt, clean transportation lead at the Blue Planet Foundation.
"Being able to coordinate among each other has really maximized our impact," Reichelt says.
"Drive Electric Hawaii has opened clear lines of communication between key organizations, which has been really valuable in furthering electrification conversations across the board."
One essential conversation is the ongoing one with Hawaii residents. Community outreach efforts such as EV ride-and-drive events, Drive Electric Hawaii's participation in the annual First Hawaiian International Auto Show, as well as an EV Expert Certification program led by Reichelt have helped move the needle.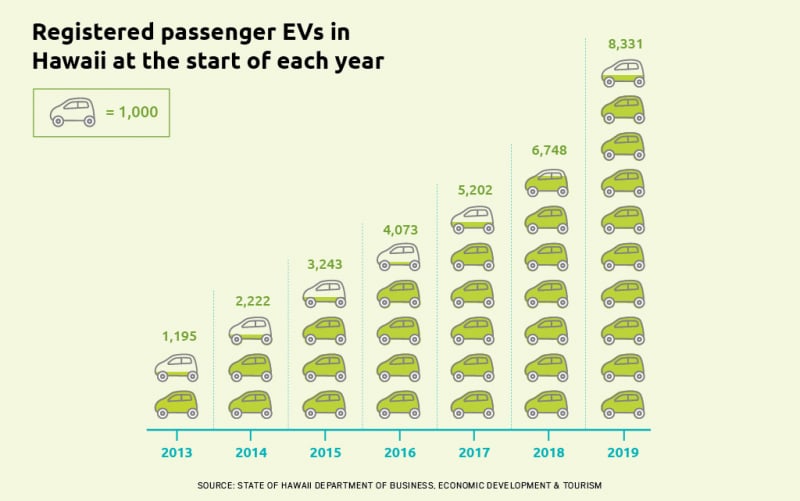 Continuing this momentum, Drive Electric Hawaii maintains its focus on increasing public awareness about EV technology. According to Morioka, the more familiar Hawaii drivers are with the technology, the more EVs we'll see on the streets.
"It's something new. It's something people aren't used to," says Morioka. "At some point, electric vehicles are going to become commonplace—a natural way of life."
To help it feel more natural, the group created a valuable resource for the public. The organization's website offers a host of information for potential and current EV owners including: tax incentives for ownership; the experience of the drive; locations of charging stations; charging rates; and municipal lots where drivers can park for free.
"A lot of people don't think electric cars can go as far as they do," Morioka says.
This assumption can lead to range anxiety—the fear of not making it to your destination on a single charge. In the latest versions of EV models, the battery ranges to more than 200 miles per charge.
"People think they still can't drive from Hawaii Kai to Waianae and back on a single battery charge when they can probably do it twice or even more," Morioka says.
As Drive Electric Hawaii works to pave the road for the electrification of transportation in Hawaii, potential EV drivers worried about range anxiety or curious about EV perks, can learn more from the coalition's website at driveelectrichi.com.
---
Electric Operations at the Docks
By Kathryn Mykleseth
As advocates work to make vehicles on Hawaii's roadways renewably powered by 2045, the trend of alternatively fueled machinery is flowing down to the docks.
Matson Inc., Hawaii's largest ocean cargo transportation company, is in the process of increasing its electric crane operations at its Sand Island terminal. Three new electric cranes will be introduced to the site and three existing cranes are being upgraded to accommodate higher voltage.
The upgrading of Matson's cranes is part of a larger, nearly $1 billion modernization of the firm's Hawaii service infrastructure: Matson is in the process of replacing some of the older ships in its Hawaii fleet and planning the expansion of its terminal footprint on Sand Island.
Keoni Wagner, director of corporate communications at Matson, said the company began to look at new cranes in conjunction with replacing its ships; the current cranes do not have sufficient lift height to service the new larger ships. The first of the new fleet measures 850 feet long and is capable of carrying the equivalent of 3,600 20-foot containers.
The ship, the Daniel K. Inouye, went into service in November 2018. The second ship is slated to go into service in April, the third will be christened in June, and the final ship will be delivered in 2020.
"These investments in modernizing Matson's terminal and equipment will improve the efficiency of our Hawaii hub for decades to come," says Vic Angoco, senior vice president of the Pacific division of Matson.
---
Full Charge Ahead
Hawaii's EV charging station infrastructure grows more robust to meet the demand of the state's increasing EV owner population. Hundreds of charging stations are positioned across the Hawaiian Islands to accommodate more than 8,000 EVs on the roadways.
*Nissan No Charge to Charge
Two years of complimentary 30-minute public DC fast charge sessions at participating locations with a new Nissan LEAF® purchase or lease. Contact a local Nissan dealership for details.
PUBLIC DC FAST CHARGE LOCATIONS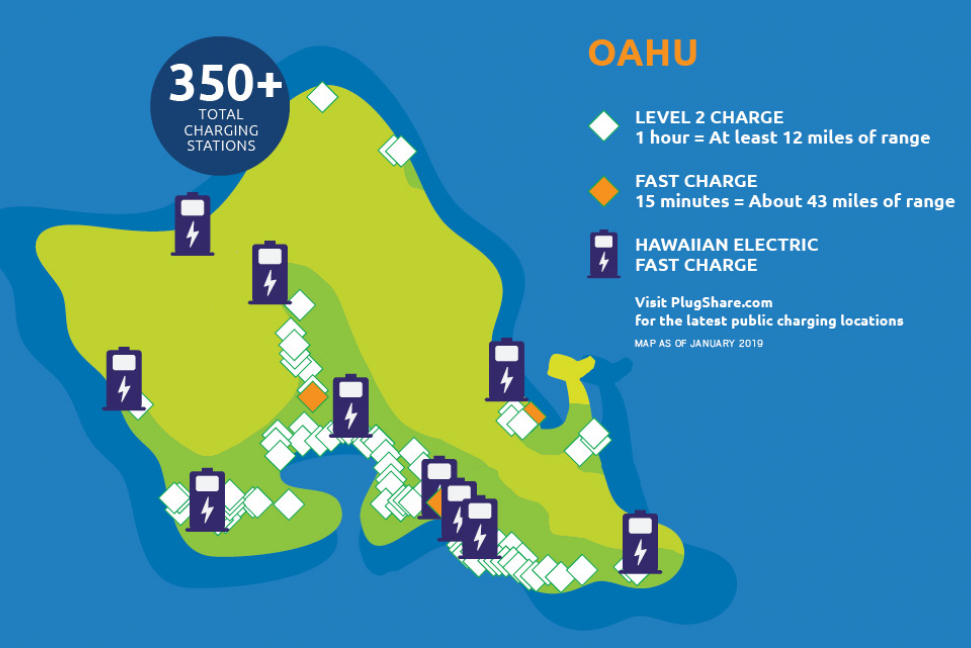 OAHU
Haleiwa – Haleiwa Town Center*
66-145 Kamehameha Hwy.
Opening spring 2019
Hawaii Kai – 7-Eleven
515 Pepeekeo St.
Honolulu – Hawaiian Electric*
820 Ward Ave.
Honolulu – Iwilei Costco
801 Dillingham Blvd.
Kaneohe – Koolau Center
47-388 Hui Iwa St.
Kapolei – Kapolei Commons
4470 Kapolei Pkwy.
Pearl City – Times Square Shopping Center*
98-1268 Kaahumanu St.
Wahiawa – Dole Plantation
65-1550 Kamehameha Hwy.
Waianae – Waianae Mall
96-120 Farrington Hwy.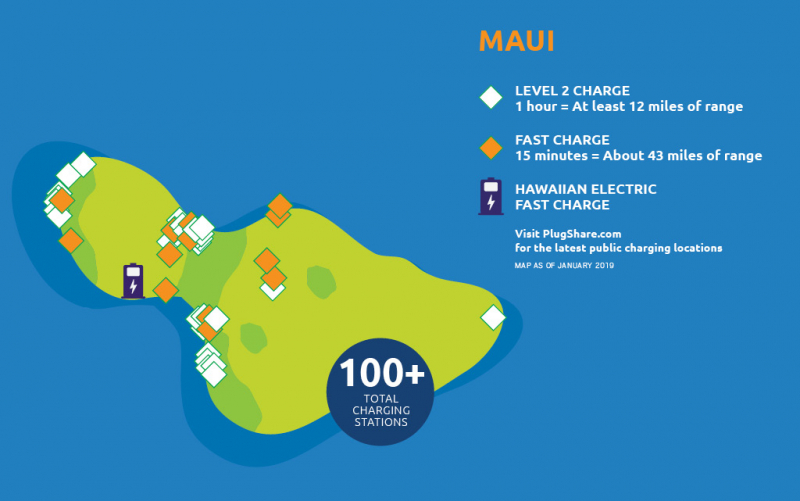 MAUI
Haiku – Haiku Community Center
Hana Hwy. at Pilialoha St.
Haiku – Haiku Shopping Center*
810 Haiku Rd.
Kahului – Dunes at Maui LaniGolf Course
1333 Maui Lani Pkwy.
Kahului – Maui Electric Company*
210 West Kamehameha Ave.
Kahului – Queen Kaahumanu Center
275 West Kaahumanu Ave.
Kihei – Hope Chapel
300 East Welakahao Rd.
Kihei – Piilani Village Shopping Center
225 Piikea Ave.
Lahaina – Kaanapali Beach Resort
2525 Kaanapali Pkwy.
Lahaina – Lahaina Aquatic Center
245 Shaw St.
Makawao – Kulamalu Town Center
55 Kiopaa St.
Makawao – Pukalani Terrace Center
55 Pukalani St.
Wailuku – J. Walter Cameron Center
95 Mahalani St.
Wailuku – Maui County Building
200 South High St.
Wailuku – Maui Ocean Center
192 Maalaea Rd.
Wailuku – Maui Tropical Plantation
1670 Honoapiilani Hwy.
MOLOKAI
Kaunakakai – Ala Malama Center
64 Ala Malama Ave.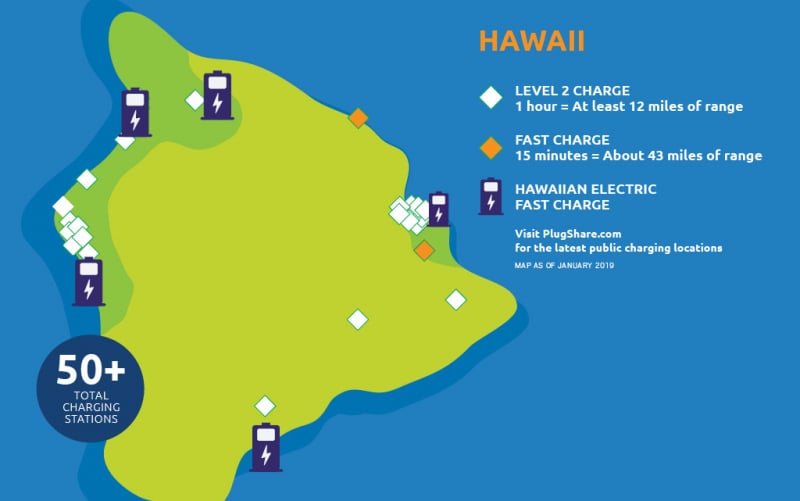 HAWAI'I ISLAND
Hilo – Hawai'i Electric Light*
1200 Kilauea Ave.
Kamuela – The Shops at Mauna Lani*
68-1330 Mauna Lani Dr.
Keaau – Keaau Shopping Center*
16-586 Old Volcano Rd.
Kona – Hawaii Electric Light*
74-5519 Kaiwi St.
Naalehu – Punaluu Bake Shop*
95-5642 Mamalahoa Hwy.
Papaaloa – Papaaloa Country Store*
35-2023 Old Mamalahoa Hwy.
Waimea – KTA*
65-1158 Mamalahoa Hwy.
---
On Board the Electric Bus Movement
From school buses to airport shuttles, bus fleets are transitioning to electric.
By Kathryn Mykleseth
The transition to electric buses is gaining traction due to an increasing amount of cross-sector collaboration. The list of those working to transition Hawaii's bus fleets to be electric-powered includes all major players in the state's ground transportation: county officials, state agencies, the electric utility and private bus services.
"We've been working with all of our customers that provide bus services," says Brennon Morioka, general manager of electrification of transportation at Hawaiian Electric. "This is a statewide movement and probably has the greatest amount of support on the business side and political side. They're all on board."
Morioka says that over the next five years, Hawaiian Electric projects that a total of more than 130 electric buses could roll out onto the state's roadways.
One of the projects that will add to the new fleet is Hawaiian Electric's soon-to-launch electric school bus pilot program with the Electric Power Research Institute. Morioka says school buses, because of their schedules, are particularly helpful in assisting with the state's clean energy goals.
If Hawaiian Electric can get school buses to charge during the middle of the day, while their passengers are in school, the buses' electricity consumption would better match up with the period of time when solar facilities are generating the most clean energy.
"(We want to) encourage charging during the day when there is an abundance of clean renewable energy, mainly solar, that is cheaper to produce," says Morioka. "If we are able to do that, we can help the integration of more clean, renewable energy into our portfolio."
The public realm is moving down a path to transition fleets to be electric powered as well. The mayors' 2017 pledge to transform ground transportation to be all renewable powered by 2045 created a call to action.
"We're really taking the lead from our four mayoral leaders," says Jon Nouchi, deputy director of Honolulu's Department of Transportation Services.
And while the mayors pledged that the state's ground transportation will transfer over to be renewable powered by 2045, the County of Maui and the City and County of Honolulu are looking to beat that target by 10 years with their own fleets. Nouchi says the City and County of Honolulu plans to add 20 electric buses to its fleet by 2020 as it works to have its entire fleet 100 percent renewable powered by 2035.
"We're looking at our demo fleet being 20 vehicles and planning to scale up from there," Nouchi says. "Our first three buses should be coming in this summer."
The Hawaii State Department of Transportation is also moving toward transitioning fleets to be electric powered. Two electric buses are being tested now at the airport as part of a one-year pilot program. The program concludes in late summer 2019 and, depending on the results, DOT could look to replace its entire fleet of rental car shuttles with electric versions.
While many ideas are still being tested, those involved are confident their work will be key to reaching the state's 2045 goal.
"We really have been working with our neighbors to go down this road together," says Nouchi.