Is Customer Service Dead?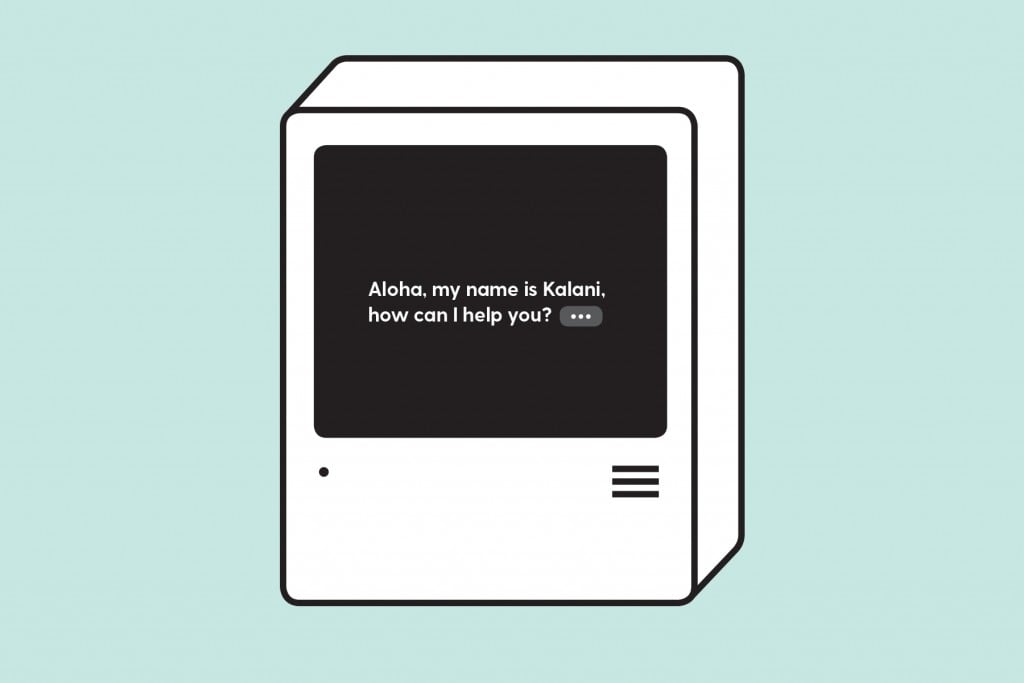 In some places, yes, but in others it is thriving and evolving to meet the expectations of customers who want all the options, from online shopping to friendly face-to-face service.
When you arrive at Big Island Candies in Hilo, you are met with a steaming cup of coffee and a freshly baked cookie. If it's raining when you're finished shopping for omiyage, an employee with an umbrella will escort you to your car.
All of that is part of the high quality of service instilled by Allan Ikawa, founder and owner of the 41-year-old cookie and candy company. That attitude is passed along to employees from their first day, says Lance Duyao, director of retail operations.
"I tell our employees, if it's not totally busy and it's raining, walk the customer to the car with an umbrella, because you know how hard it is – you have to fish for your keys, get your door open, hold your packages," Duyao says. "At Big Island Candies you know you're getting a quality product, and the service has to be parallel. Everything has to be at that level as well."
But that attention to the customer experience can be rare elsewhere across America's retail spectrum, as online shopping increases, suburban malls die, personal contact declines and the lowest price rules. Many people say American businesses have forgotten how to serve and that customer service is dead.
Deloitte's 2018 report on retail market trends offers a nuanced perspective. "Many business headlines continue to declare reports of a 'retail apocalypse,' 'retail meltdown,' and numerous store closures," the report says.
"But the business reality shaping the retail industry outlook is quite different. Consumer spending is increasing and shifting among a range of formats and channels for differing reasons – an indication that the retail sector is evolving again. While not everything old is new again, it's evident that people continue to seek out both familiar and differentiated experiences on their path to purchase."
Among those options, face-to-face retail is still strong and viable but definitely changing. "Consumers continue to hold elevated expectations for their shopping experience," the report says.
amid the wave of digital shopping experiences. For many retailers, the workforce will serve an increasingly important dual in-store and online role. However, retailers should realize that in order to see profitable growth in today's highly competitive blended environment – where digital has the potential not only to influence, but also to capture market share – they would do well to contemplate a renewed strategy."
Bank of Hawaii is certainly renewing its strategy by offering all of the digital and mobile services that modern customers demand plus a new initiative that enhances face-to-face engagement with customers. Walk into one of the six branches that have already been transformed into the "Bank of Tomorrow" mold and you're met with a subtle scent meant to make you think subliminally of soft ocean breezes and balmy moments. Overhead at the main downtown branch is a 7-by-30-foot screen flashing pictures of restaurants and other businesses in the area, and beautiful Hawaii scenery.
"With the changing customer preferences, and technology and mobile, and everyone getting more digital, the bank thought, 'We have to continue to evolve as well,' " says Sharlene Ginoza-Lee, senior VP and branch transformation manager. "We need to be sure we're going with the times so customers will have the opportunity to bank however they want. Our commitment is to make it easier, more enjoyable and accessible."
Ginoza-Lee says the banking experience might now feel like entering a beautiful hotel, with a friendly, inviting lobby where customers can meet personnel or head into private meeting rooms for complex transactions. "The goal is for everybody to get out from behind the desk and be in the lobby and help customers with a more personal approach."
There are no tellers, Ginoza-Lee says. Now they're "relationship service representatives" with chattier, more outgoing skill sets that help them interact on a more personal basis with customers to build relationships. It has meant retraining employees and tweaking what the bank looks for in new hires.
"We want to be sure we're greeting our customers and have 'lobby leadership.' A customer walks into a branch, we greet them and start a conversation, and ask how we can assist them in what they're there for so we build a relationship and understand their needs. It's no longer where we just want customers to come into the branch and get into the queue. We're trying to engage them, much like a retail store.
"It's a very different experience,"she continues. "We're providing more service, just in different ways."
More service in different ways is also at work in the nation's shopping malls. Most big shopping centers now offer an experience far beyond simply a gathering place to buy things. They are now destinations, places to see and be seen, spots to eat and drink and be entertained. For instance, Ala Moana Center now has condos, a bowling alley and new eating spots, bars and nightclubs – far beyond typical retail. That doesn't stop customers from buying online, but it keeps them interested in visiting stores for both the excitement it provides and for personal service.
Attorney Louise Ing, with the law firm Dentons, formerly Alston Hunt Floyd & Ing, sees changes also happening in the legal profession, especially in the way law firms are presenting themselves to clients.
"You see in the more recent law offices that some of the firms have gone from the concept that partners get the really big offices to everyone has the same relatively small office and … increasing the size of common areas to encourage interaction" among employees primarily, but also with clients.
Ing sees this open office trend in other businesses as well. For instance, she says, the Hawaiian Airlines headquarters near the airport has a large open space where everyone works at their desks, with conference rooms along the perimeter for meetings and employee interaction.
Artificial intelligence continues to impact many professions, including law, Ing says, by automating tasks. But personal connections continue to be vital in her profession, she says, and there is no substitute for sitting together to discuss a legal issue.
"There's the ability to develop more relationships in business if you have the personal connection," she says. "A lot of the business we develop is built on relationships and building trust and credibility, and being out there in person to attend various community events to engage in conversations. The conversations may lead to discussions of a need."
Sherry Menor-McNamara, president and CEO of the Chamber of Commerce Hawaii, which has 2,147 members, says local establishments are meeting the challenges of retail with upgraded and expanded service.
"Nothing can beat good service," says Menor-McNamara, "so having a workforce with excellent 'soft' skills and readiness is critical. A negative experience can hinder repeat customers and (so can) bad testimonials through social media channels and online review tools such as Yelp. But the same can be said for positive interactions."
Menor-McNamara says brick-and-mortar establishments can help differentiate themselves from online sellers by becoming more service-oriented. Ideas include in-store promotions, product customization and the promotion of local products that aren't available online.
"Attending networking events, or hosting events, are other ways to market," she adds. "For example, the chamber's 'Business After Hours' is sometimes hosted at retailers or restaurants and it's a good touch point for new customers."
Even as brick-and-mortar stores emphasize the "experience" of shopping, they also need to incorporate digital marketing and follow the latest trends, says Menor-McNamara. "Businesses need to continually be educated and informed on the changing customers' demands, expectations and interests, so reading articles and studies or attending workshops should be part of doing business."
Lion Coffee is re-emphasizing the "experience" in customer experience. Twice a day at its headquarters and cafe in Kalihi, there are free tours of the roasting warehouse along with, of course, free samples. Walk through the door at 10:30 a.m. or 12:30 p.m. Monday through Friday and you can sign up for the half-hour tour and enjoy the aromatic brews that come at the end of it.
"It's a reason not just to order online, but to come in and experience it when we're roasting," says president Daniel Dinell. "We've got samples. We've got tours. We've got an art wall (with work by local artists). There are all these reasons to come and visit us. We're delighted with whatever channel you choose to purchase our product. If you want to purchase online, by all means. Or at your grocery store, that's terrific. 'Have it your way' is really the way of customer service."
Lion Coffee has evolved in many ways: expanded its brick-and-mortar establishment, rebranded the iconic Lion packaging, renovated the cafe and general store that's part of the warehouse space, including bright new red paint. But it's also seeing online sales grow at a double-digit annual rate.
"All companies need to evolve and deliver what the customer wants," says Dinell. "And the key to the business is to deliver the way the customer wants it delivered."
Kailua's BookEnds, one of the few remaining independent bookstores in Hawaii, knows firsthand the importance of giving customers what they want. President and owner Pat Banning and her team do far more than just sell books.
"We often get the Saturday morning birthday party (issue) with someone saying, 'I need a gift and I'm going to the party in half an hour and can you wrap it?' " says Banning. "Of course," Banning tells the customer. To a visiting tourist or to someone with grandchildren on the Mainland, she might say: "If you don't want to brave the post office we'll mail things for you too."
Banning also sells gently used books – offering hard to find treasures and a wide range of prices – and has a staff that is constantly reading the shop's offerings so they can advise customers.
"There are shoppers coming in saying, 'I need something for a 10-year-old boy,' " she says, "so we have to be on top of things."
She recognizes the Amazon competition but also understands that serving a community helps bring customers back. "We really stress the fact that people may want help and you need to actually put the book in their hands. I tell the new kids, 'Don't leap on a customer, because a lot of times people are just browsing.' But, on the other hand, we like to put a book in someone's hand and really connect with them and recommend titles to them. Often you don't really know what you want. You could just be looking for something good to read and you need some help."
While the "destination" strategy is commonly applied at megamalls, smaller shopping venues are also cashing in. At Market City Shopping Center in the Kapahulu area, president Sandra Au Fong says business is booming for the center's 23 businesses. Online sales are part of the boom, but so are the special events at the center celebrating occasions such as Chinese New Year, Halloween and Easter. Each of those events is an opportunity for businesses to directly engage the community.
"We had Mother's Day 'make and take' cards that we sponsored along with Ben Franklin," Au Fong says. "The parking lot was jampacked and we must have had 50 kids per hour coming in. They couldn't keep up! The store was packed."
Au Fong says customers like to come into a store and see merchandise up close – not just on a computer screen. "You get to touch and feel things," she says. "The community really likes that and they come and say thank you. We have a whole bunch of events planned for the year.
"For us, service is everything," says Au Fong, citing a longtime community favorite, Gina's B-B-Q. "At Gina's people keep coming back," she says. "She knows everyone by name. The surfers come in and she'll say, 'Where's your brother today? Do you want your regular?' " Nowadays, Bite Squad delivers orders from several of the center's food establishments. "It's a new trend and it has also helped their sales," says Au Fong.
Back in Hilo at Big Island Candies, the company is giving away as many as 1,000 cookies or candies a day to customers and also doesn't scrimp on the welcoming décor and the friendly service.
Duyao explains the all-encompassing policy as he trains the staff: "Let's continue that great experience even out of the store. So hold the umbrella, hold their bags and let them get into their car."