It's No Typo: Mahina & Sun's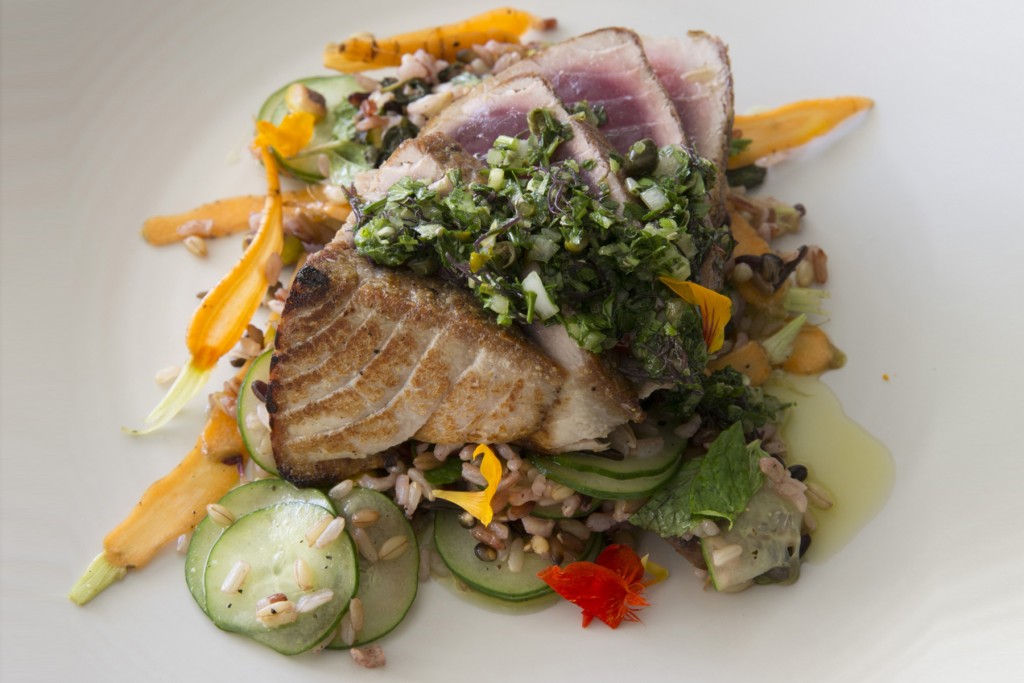 Mahina & Sun's, the restaurant in the remodeled Surfjack Hotel, almost never happened.
When the developer pitched Ed Kenney on the idea, his plate was brimming. Kenney is the owner of Town restaurant on Waialae Avenue and he had just launched Mud Hen Water and Kaimuki Superette across the street.  Starting a new restaurant in Waikiki? "It was a complete curveball from right field," he says.
Two things convinced Kenney to do it.
First, upon stepping into the soon to be remodeled hotel lobby and site of the future restaurant, he felt déjà vu realizing that he had frequented this location as a teenager, back when it was the punk rock club, Soda Pops. Then, the developer opened a look-book with ideas for the remodel – and there was a picture of Kenney's late mother, Beverly Noa, a renowned hula dancer and Waikiki entertainer.
"Maybe I'm superstitious or a hopeless romantic, but that to me was an omen," says Kenney.
As for the name, there is no Mahina per se. Kenney picked it because it is a popular female Hawaiian name. "Maybe you'll picture a big Hawaiian lady, with a hibiscus behind her ear, cooking in the kitchen. I like to create these pictures in people's minds," says Kenney.
But there's more. In Hawaiian, mahina means moon. When Kenney named the restaurant, the Hokulea had just begun its worldwide voyage. The moon and sun (hence "Sun's" in the restaurant's name) are essential to the traditional navigation techniques that guide Hokulea.
Sun's also has another meaning. To Kenney, it implies sons, just like a mom and pop deli or market one might see in New York City or Boston. "Like Luigi and Sons or Casanova and Sons," says Kenney. "It gives the feeling of a homey type of restaurant."
Perhaps it's this homey touch, or the local sustainably-sourced seafood, or the popular Family Feast menu item, but Kenney has done what many said could not be done: attract locals to Waikiki. "Every night, we have about 65 percent 808 area codes on the reservation book. I'm happy about that."
What's in a Name is a recurring feature about local businesses with unusual names.