Paying For Honolulu News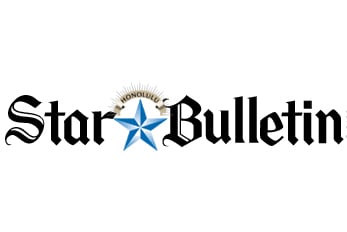 Hawaii's rapidly changing news media are facing two challenges at the same time:
1. How to gather and deliver news when, where and how people want it; and
2. How to pay for all that.
The old ways of delivering news to readers and viewers are not as popular as they used to be, and the new ways don't pay nearly as much as the old ones did.
That revolutionary imbalance has created a host of changes in the local news media:
• A year after the state's two biggest daily newspapers died to give it birth, the Honolulu Star-Advertiser says it is profitable, plans to charge for its website this year and has more circulation than either of its predecessors at their demise.
Higher Star-Advertiser advertising rates drove some customers to look for alternatives. "When you go from having several newspapers and end up with one, a small business like myself is going to look around," says Rochelle Lee Gregson, CEO of the Honolulu Board of Realtors. "I scrambled for about six months looking at business options." But the board is back with the daily.
• Civil Beat, the year-old online news site subsidized by billionaire Pierre Omidyar, includes some powerful and influential people in its audience of paid subscribers. It would not disclose its finances, but it appears to be a long way from financial self-sustainability.
• Malia Zimmerman's nine-year-old website, Hawaii Reporter, has added reporting staff and gained financing from ads, subscribers and Mainland interest groups. Matt Levi, a veteran Hawaii private investigator and former TV reporter, has launched a four-times-a-year investigative report to run on Hawaii Reporter and KGMB.
• Hawaii Public Radio has used new or more-powerful transmitters to expand its signals into more communities across Hawaii. That has helped increase fundraising and some of that money has been spent on added local reporting, including a daily public affairs program called "The Conversation."
• Local news blogs and websites run by volunteers and innovators have won many readers, though little revenue. They include Ian Lind's ILind.net, the Hawaii Independent, Hawaii Free Press, Pacific Network and Disappeared News.
Does all of that add up to better-informed Hawaii citizens?
State Rep. Tom Brower, a 1989 UH journalism graduate and former radio newsman and talk-show host, says some changes have created new and better options.
"In some ways, there is more meaningful news out there if you know where to look for it," says Brower, who reads the Star-Advertiser every day, channel surfs TV news and drops in on several websites.
"There are stories you won't get on mainstream television and certainly not on commercial radio," Brower says. "So I wouldn't say it is all doom and gloom. It's out there if you look for it."
However, Chris Conybeare, president of Media Council Hawaii, an independent and nonprofit media watchdog, says the consolidations in the traditional media have been bad for news consumers in Hawaii, even if they have boosted company profits.
"The morning paper has become pathetic," Conybeare says. "And I call TV 'Hawaii Snooze Now.' It doesn't even cover the Legislature regularly. The ominous thing is this new relationship between the Star-Advertiser and Hawaii News Now. You have one major print outlet controlling the market and one television entity controlling the market. Can that be good?"
Star-Advertiser publisher Francis isn't buying any of that: "There are only X number of things to cover in the community," he says. "Even when we had two newspapers, 90 percent of the items being covered were in both papers. We have professional journalists and they're going to do the best job they can."
Some of the Star-Advertiser's critics are former newspaper advertisers. Some business owners say that the Star-Advertiser failed to honor contracts already in place at both its predecessors that had months left to run. Others say that new ad rates jumped dramatically – sometimes doubling or tripling.
One businessman, who declined to be identified for this story because of potential impact on future dealings with the Star-Advertiser, says the behavior of the new daily was bad business practice, and adds that he'll only advertise now when there's a special discount.
"They're cutting their own throats," he says. "You don't take over a business and then don't honor contracts."
Joyce Nakamura, president of the Honolulu Board of Realtors, says, "When they first took over, the rates were high. We talked to them and they dropped the rates back down to what they were. I don't know if it's exactly the same, but it's comparable."
Francis says companies that bought space in the former Honolulu Advertiser should not see much difference in ad rates. Those who advertised in the Star-Bulletin may have higher rates because that paper had only 40,000 daily subscribers, while the Star-Advertiser has 124,000.
The Star-Advertiser has the biggest newsroom in Hawaii by far, with about 115 reporters, editors, photographers and designers. Its owner also runs Midweek, the free weekly newspaper mailed to most households on Oahu and the second-biggest print medium in Hawaii. The duo has a lot of clout with local advertisers.
But daily newspapers have suffered more than any medium in America from the changing habits of news consumers. In its State of the News Media 2011 report, the Pew Research Center reports that, in the past four years, newspaper advertising revenue nationwide has slipped 48 percent. Whereas TV advertising revenue rebounded after the recession ended, newspaper revenue continued to fall, albeit at a slower rate.
Meanwhile, circulation revenue nationally dropped 10 percent from 2003 to 2009, although there was only a marginal drop last year.
Rick Edmonds, who analyzes business media for the Poynter Institute, a Florida resource center on the media, acknowledges the problems in the newspaper business but says most dailies are still making money.
He also notes that newspaper consolidations are a national trend. "If they don't do that, they can fail," he says.
Black Press, the Canadian company that owns the Star-Advertiser and Midweek, is making money overall with its 150 newspapers, most of them small community papers in Canada. That's according to the annual report by Torstar, a billion-dollar Canadian media company that holds a 19.35 percent share in David Black's operations.
Torstar is worth watching, because, when David Black retires (he's 64), Torstar could acquire control of his newspapers.
The Torstar report noted that its share of Black Press' net income in 2010 was $3.2 million, compared with $2.5 million in 2009. There was no breakdown of Black's Canadian income vs. its American income. However, Francis says Black is turning a profit in Hawaii and most of that money comes from the daily newspaper.
"The Star-Advertiser is the gorilla," he says. "Certainly the Star- Advertiser is the vast bulk of what we do (in advertising revenue)." The Star-Advertiser's website is included in part of those revenues, but plays a small role, he says.
Francis says his operation has been watching the various experiments nationally as news organizations seek more profits from their websites. The Star-Advertiser intends to charge website users starting this year, although managers have yet to determine exactly how that will be done and what will be charged, Francis says.
"That's certainly a big challenge, because no one's figured it out yet. Most newspapers in the next two years, I think, will be going down that road. They're all approaching it somewhat differently.
"It's still an area with opportunity to grow," Francis continues, "but it will not be a substantial part of our revenue. I'm not going to be crazy and think it will someday replace a Macy's or a Longs or a Sears when it comes to advertising."
Alexandra Kirley, Windward Mall's marketing manager, says that in the 10 months she's been in Hawaii, the 120-store shopping center has strengthened its relationship with the Star-Advertiser.
"In the last couple of months, they've sponsored a couple of events here, the Festival of Giving in November. … a 'To Japan with Aloha' event, and the grand opening event for our Cubby Caboose Mini Express train," Kirley says.
"When we send out our press releases with our special events, we see every one of them getting into (Midweek). I believe they are covering the stories in the Star-Advertiser as well."
Some advertisers that had left the local newspaper market are returning, says Francis.Regal Theaters, which has three cineplexes on Oahu, is returning as a Star-Advertiser client, although at a more modest level than in the two former dailies.
"The rate they're paying is the same as when they left," says Francis. "… I don't think they're doing it as a donation. I get the feeling they're getting results."
In fact, says the 52-year-old Francis, it is those good results for its advertisers that will keep Star-Advertiser alive long after he's gone.
---
Newspaper Holds Steady on Local News
By Janel Lubanski
The Honolulu Star-Advertiser provides readers with about the same amount of local coverage as its predecessors did in their last year of operation, a Hawaii Business analysis has found.
HB examined two weeks of the Star-Advertiser's print edition (Oct. 11-17, 2010 and Feb. 6-12, 2011). Then, we compared the number of local stories and the word counts with comparable year-earlier weeks in The Honolulu Advertiser's and Honolulu Star-Bulletin's print editions (Oct. 11-17, 2009, and Feb. 1-6, 2010).
Here's what we found:
| | | | |
| --- | --- | --- | --- |
| | Total Local Stories | Local News Stories | Total Words |
| | 621 | 146 | 189,881 |
| | 558 | 152 | 224,973 |
| | 669 | 164 | 220,126 |
Inside the Numbers:
In the weeks that Hawaii Business surveyed:
The Star-Advertiser's higher story count came largely from using more briefs and letters to the editor than its predecessors, but its actual word count was lower than the Advertiser's.
The Star-Advertiser ran fewer staff-written editorials but more staff columnists and more commentaries written by local citizens.
The Star-Advertiser and Star-Bulletin ran more local features in their soft-news sections, but the Advertiser ran more local sports stories.
Methodology
Local stories written by the newspapers' staff were counted, plus opinion pieces and letters to the editor. Stories from wire services, such as the Associated Press, were not counted, and national and international stories without a Hawaii focus were not counted.
Word counts were collected from the online versions of the print stories.
Innovative and Online
Civil Beat, the online-only news service, was launched by eBay founder and billionaire philanthropist Pierre Omidyar in May 2010. From the start, Omidyar has said the operation must eventually become self-sustaining.
To pay for operations, Civil Beat allowed everyone a free peek at the introductions to its stories, but required people to pay $20 a month to read everything. Recently, the site began offering free access to all its content for "occasional users" and discounted prices for new subscribers. It carries no advertising.
"This is a for-profit business. Our goal is to be a successful business," says editor John Temple, former editor and publisher of the Rocky Mountain News in Denver.
"We are doing very serious, enterprise, question-driven reporting," Temple says. "We are committed to serious public affairs, traditional journalism to serve the public."
Asked about Civil Beat, Star-Advertiser publisher Dennis Francis says he considers the website no competition at all. "They have a very limited base of folks they reach" and a limited range of subjects covered.
But Randy Ching, president of Civil Beat, says a half million individuals read Civil Beat in its first year, though he would not say how many of those are paying subscribers.
"Our success metric is: Are we having a positive impact and are we stimulating positive change? I believe we are," Ching says.
"We are reaching key leaders in the community and we are reaching lots of people."
Broadening Its Coverage
Hawaii Reporter began as a conservative, business-oriented website, which made money partly by collecting, organizing and reselling government information. It has morphed into a more general news site, while keeping its emphasis on business and government.
"Primarily our focus is partnership with (national) watchdog sites focused on issues such as the state budget, taxes, pensions, regulations and the like," says founder and editor Malia Zimmerman. "Our whole emphasis is on economics and how things influence the business community and the taxpayer."
Zimmerman says she is determined to keep her site free for readers. After initial startup money from "friends and family," plus her own savings, she says, she now gets some support from national groups with similar pro-business interests, a growing list of advertisers (about 30 percent of her $250,000 to $300,000 annual budget) and voluntary subscribers who pay up to $95 a year.
Merger By The Numbers
Newsroom Staff
Overall Staff
Circulation
Last Day, June 6 2010: 75
Last Day: About 300(Includes Midweek Staff)
Last Day: 40,000 paid
August 2007: 126
At Time of Sale: 108
Last Day: About 600
2007: 141,34 Daily
Last Day: 109,000 Daily
155,932 Sunday

Last Day:109,000 Daily
123,000 Sunday

Today: 115
Today: About 470
Today: 119,186 Daily
132,281
Covering A Big Story
To determine whether or not competition on major, breaking-news stories remains vigorous despite consolidations in the local media, we looked at one event with major ramifications: The surprise vote on April 7 by the Senate Ways and Means Committee to kill a proposed increase in the general excise tax.
The committee acted by mid-morning that Thursday, and here's when each news agency broke the story on its website. Most began with a brief story, then followed with longer stories on their website and other media. (We followed websites because each local media has far more website users than Twitter followers.)
BREAKING NEWS COVERAGE
10:30 a.m. Associated Press news service and KITV
11:21 a.m. KHON2
11:26 a.m. Civil Beat
12:56 p.m. Star-Advertiser
1:22 p.m. Hawaii Reporter posts fairly complete story
About 3 p.m. Hawaii News Now
Digital Media Explosion
Larry Geller, a former radio newsman who runs a six-year-old local blog called Disappeared News, is addicted to the flow of information that comes to him via Twitter or RSS feeds and may never show up in the newspaper or TV news.
"As I type this," Geller notes in a recent email, "a man has set himself on fire near the Royal Palace in Amsterdam. In Wisconsin elections, 19 counties that voted for Republican Walker in November flipped yesterday to the Dems.
"How Hawaii fits in," he adds, "how we get our news, is already changing. I think it depends entirely on the interests of readers/tweet consumers. If that's true, then the newspaper may be doomed as its demographic passes on."
The Pew Research Center's latest State of the News Media report says 47 percent of Americans now get some of their local news on a mobile device. The report also says more people say they get news from the web than from print newspapers.
"In a media world where consumers decide what news they want to get and how they want to get it, the future will belong to those who understand the public's changing behavior and can target content and advertising to snugly fit the interests of each user," wrote Pew researchers Tom Rosenstiel and Amy Mitchell.
"In the 20th century, the news media thrived by being the intermediary others needed to reach customers. In the 21st, increasingly there is a new intermediary: software programmers, content aggregators and device makers control access to the public."
Where Newsmakers Get Their Local News
We asked a broad range of local newsmakers where they got their news. Here are some of the responses:
Walter Dods, chairman of Alexander & Baldwin: TV, Star-Advertiser, various wire and online services, and Civil Beat. "Some of the in-depth coverage done by Civil Beat is well worth reading."
Haunani Apoliona, chairperson, Office of Hawaiian Affairs: Pacific Business News, PBS, online local news, TV at 6 and 10, OHA's daily radio program, OHA's Ka Wai Ola newspaper, Pacific Network TV and magazines such as Hawaii Business, "along with the good old coconut wireless and talk story."
Ryan Ozawa, Hawaii blogger: Twitter, for local and global news. "I find I get more context and personally relevant information by keeping an eye on what other people are reading, talking about and debating." Also, Google Reader for headlines from specific sources.
Randy Roth, U.H. law professor: Star-Advertiser, Civil Beat and Hawaii Business magazine. Parts of Midweek, Hawaii Reporter and blog-type groups. Occasionally watches TV news and sometimes Olelo, but regularly watches PBS public affairs shows. "There doesn't seem to be as much on TV as there used to. … I'm a big consumer of news but most comes from online."
Beverly Keever, former UH journalism professor: New York Times alerts on UH, Hawaii or certain Pacific islands. Star-Advertiser, Pacific Business News, Honolulu magazine and Island Scene. Honolulu Weekly's news articles, Hawaii Reporter and Hawaii Free Press websites.Environment Hawaii and specialized newsletters such as from Audubon Society and Life of the Land.
Calvin Say, speaker of the state House of Representatives: Star-Advertiser, Civil Beat, TV news, Perry and Price (KSSK radio) and Hawaii Public Radio.
Eddie Flores, CEO of L&L Hawaiian Barbecue: PBN, and TV stations KITV and Hawaii News Now, both of which he tapes in the early evening and watches later.
A Sampling Of Other New Media
Begun in 1990 as a subscriber-only newsletter, it has since added a website. It calls itself, "The single most important source of news on environmental issues in the 50th state."
Primarily an aggregator of news with commentary and reporting, generally from a Libertarian perspective.
Larry Geller's personal news blog, billed as "news you may not find in the local media. Learn why it was disappeared."
An independent news, arts and culture site that aggregates information and also does some of its own reporting. Publisher Ikaika Hussey depends on volunteer subscriptions and advertising.
Edgy Lee launched the website with grants and voluntary contributions, and keeps it going with subscriptions, advertising, sponsors and media partnerships. Content focuses on culture, arts and Hawaiian themes; it bills itself as the "Native Hawaiian portal to the world."
In his blog, political activist and former newspaper reporter Ian Lind reports and comments on government, public records issues, public policy and the news media itself. Lind is an expert on database reporting – mining government and other public sources for information of public interest.
One Media Expert's View
"Don't shed Any tears for the mainstream media in Hawaii," says Mike Middlesworth, former managing editor with The Honolulu Advertiser and now a media consultant based in Hilo.
"Black Press, with the Star-Advertiser, MidWeek and all its other publications, has the general-circulation market locked up. It's profitable now, and its profits will only grow as David Black and Dennis Francis take advantage of their virtual monopoly on Oahu by continuing to raise ad rates," Middlesworth says.
"And on the Neighbor Islands, though business is down, the Maui News, Garden Island and the two Big Island dailies (Hawaii Tribune Herald and West Hawaii Today) are in essentially the same position on their islands. All have taken huge losses in classified advertising, but that may have bottomed out.
"The future for Black Press (in Hawaii) went from bleak to rosy when Gannett changed its business model and decided The Advertiser no longer fit the media giant's plans. Isolated, unionized and carrying a huge debt for its printing plant, the paper was expendable, so a deal was struck with the competition that got Gannett out of Hawaii with a healthy improvement for its balance sheet.
"In the radio world, Hawaii Public Radio has the only real news operation, which its listeners appear to appreciate given the support it gets as it extends its reach throughout the state. KHPR is the closest thing we have to a statewide news operation, since the Star-Advertiser has no Neighbor Island presence and does little serious reporting outside of Oahu."
"There's a fair amount of buzz about websites and blogs, but none has emerged as a serious business threat to any of the traditional media outlets. Civil Beat is an interesting experiment and has a good reporting staff that others look to for leads, but it has changed its business model by offering free access, and how long the Omidyars will continue to bankroll it is unknown."