Thinking About Death Should be Part of Your Life
We interviewed people who help individuals and their families cope with death and celebrate the lives of those who have passed.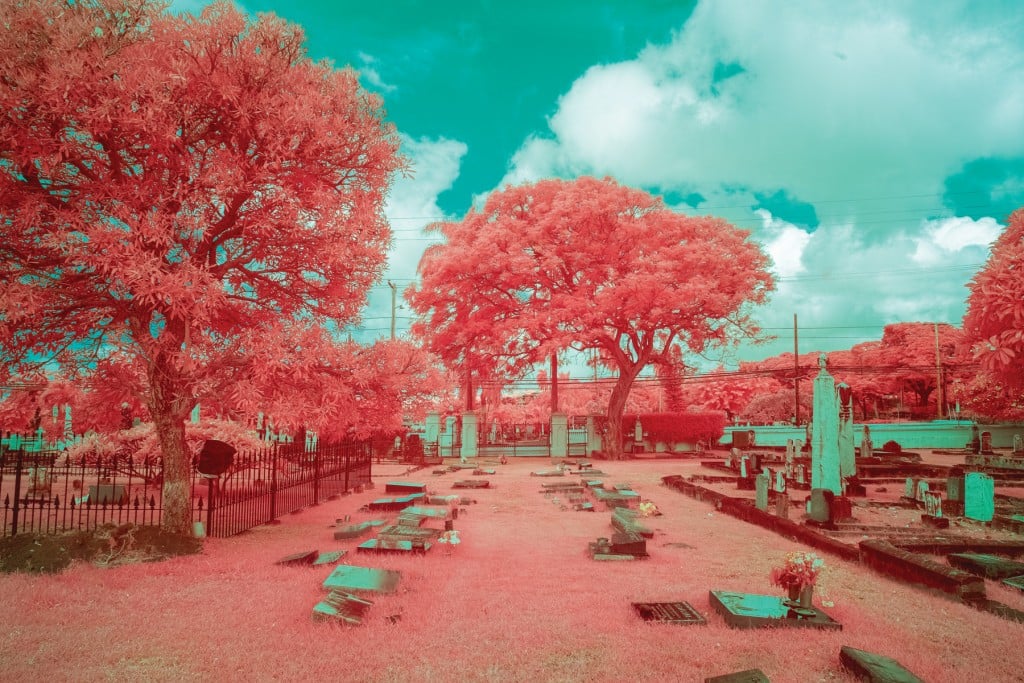 The woman was on her deathbed, reflecting on her life.
She remembered when she was young, with dreams of being an entrepreneur, a businesswoman with goals and independence.
But when her parents arranged for her marriage to a stranger in Hawai'i, she could only obey. Her husband was a traditional Japanese man, stoic and unyielding. She dutifully carried out her role as housewife to him, always walking a step behind, raising their children and maintaining the home.
And now she felt only resentment. Her life had come and gone, and what should have been her destiny was a lifetime of passed opportunities.
She would often vent to her friend, social worker Alan Gamble, until he gave her a suggestion. She could either let her feelings die with her or tell her husband. Much to Gamble's surprise, she chose to speak to her husband.
"She just let him have it. And he was just standing there, but he just started crying because he knew that she was dying," recalls Gamble.
After she was done, the husband apologized. Gamble asked if the woman would forgive her husband, and she took her time to think. She eventually did forgive him.
"They both wept these amazing tears of relief, and her whole countenance changed," Gamble says. "She just started glowing. Probably within a couple of days after that, she died."
Gamble told Hawaii Business Magazine this story but would not reveal the couple's names. The story is a reminder that although death brings grief, it can also be a time for many other things, including love, reconciliation and healing.
Plan Ahead
If you plan for death well in advance, then everyone can spend the final days focused on their loved ones instead of being preoccupied with decisions and details.
Those involved in advance care planning urge anyone as young as 18 to think about key decisions, such as who they want to make health care and quality of life decisions for them in the days leading to their passing. That's because at the end of life, many people are incapacitated and unable to decide on their own.
"I don't think anybody at the age of 18 is prepared to die, but accidents happen," says Hope Young, advance care coordinator for Kōkua Mau, a nonprofit focused on improving care throughout the Islands, including hospice care, palliative care and advance care planning.
"When accidents happen, you could do your family a benefit. It's a gift to them to say, 'Hey, I've thought about this. Maybe I don't know what I want, but I know who I want to speak for me.' "
Planning for a health crisis requires families to have difficult conversations such as whether one would live off a feeding tube, and when to pull the plug.
Here are some important questions to consider when planning for one's end of life.
How much family do you want around during your end of life, and what type of information do you want shared with them?
Would you prefer to spend your final days in a health care setting or at home?
How much medical information do you want revealed to yourself as a patient, particularly when it is related to how many days of life are left?
Do you have any preexisting concerns about medical treatments?
What aspects of life matter most to you during your end of life?
"What does a good day look like for you, and how do we ensure that you get as many good days as possible as you're coming to the end of life?" asks Young. "What we want to do is give people the tools that they need so that they understand the choices they may be faced with when encountering a serious illness."
Visit Kōkua Mau's website using this shortcut, tinyurl.com/talksoon, for more information about starting the conversation.
---
Related stories: Death Is His Life's Work, Ask the Expert: Deciding Who Gets What after You're Gone, The Cost of Dying, Familiar Name Back in the Funeral Business
---
Is Hospice Right for You?
Once you have an end-of-life plan, you might consider hospice care options. Hospice care can be provided if a doctor determines a person has six months or less to live. Stephanie Stubblefield, the in-patient unit manager at St. Francis Hospice, says hospice care has become more widely accepted in recent years.
"Before, when people heard hospice, they thought, 'Oh death. It's over.' But now, as people are getting the services, they realize that it's very different. It's a support system for their families for care at the end of life."
Hospice patients get a team that includes social workers, medical providers, chaplains and other spiritual resources. However, one of the most important benefits is that it relieves the family from the stress of round-the-clock caregiving.
Grief counseling can also be a vital resource for those struggling to come to terms with death. Sometimes, simply the loss of freedom or mobility can be cause for grief.
Counseling – from clergy, mental health professionals and others – supports people's physical, emotional or spiritual well-being. The nonprofit Samaritan Counseling Center offers both secular and religious counseling and can also refer people to spiritual leaders who can guide them through grief.
"We try to match a client's needs with a counselor," says Rachelle Chang, the center's executive director. "If they can find strength from their faith, then that's what we want to encourage, whether that's following rituals or just reaching out to the faith community that they have."
Mortuaries Help You
Whether planning your own funeral or that of a loved one, hiring a mortuary can ensure all bases are covered. Funeral arrangers help to organize obituaries, body transportation, embalming, burial, chapel reservations and more.
Scott Power, president of O'ahu Mortuary, says a mortuary can also explain options and costs. For instance, cremation has steadily grown in popularity over the years.
"It's kind of price driven. It's so much less expensive to be cremated," Power says. At O'ahu Mortuary, standard cremation and burial services cost $2,000 to $3,000. Embalming and a full-body burial costs $5,000 to $6,000. Another option is to cremate your loved one and scatter their ashes; cremation itself costs about $1,000.
Costs can also be cut by planning ahead. The phrase "It's your funeral" takes on new meaning when a healthy person plans their own funeral and pays for it in advance. Diamond Head Mortuary is among the mortuaries that offer packages for anyone 18 or older who locks in today's prices. These plans protect against inflation and can save people thousands of dollars.
Flowers are often part of life's big passages – just be sure to set a funeral date before making flower arrangements. Most flower orders require a minimum of one week to prepare. Depending on the flower selection, certain arrangements appear best when their flowers are given the appropriate time to bloom. Roses, for example, should be fully bloomed so they fill out any arrangements tightly.
One of Watanabe Floral's most popular funeral arrangements features carnations and roses for about $200, says the shop's GM, Monty Pereira. However, elaborate customizations can run up to $1,200.
While some families prefer the traditional style of a rose arrangement, others choose more tropical spreads. The bright appeal of a tropical arrangement is often preferred when ordering decorative urn pieces.
Caskets and Ashes
Casket prices start around $1,200 but can hit $50,000. Caskets can be purchased through local mortuaries or dealers; Pāhiki Eco-Caskets says it offers eco-friendly options made from locally salvaged trees.
"We have thousands of trees that are moved across the state each year, and they actually just ended up being put through a chipper," says Cortney Gusick, founder of Pāhiki Eco-Caskets. "Instead, we reclaim those trees before they're chipped and transform them into viable lumber, which we're able to use exclusively for our caskets."
Pāhiki Eco-Caskets offers both urns and caskets made from materials such as albizia, pine or monkeypod trees, the latter of which has become a bestseller.
"There's such a rich, dark character in the wood. It's just a stunning wood," Gusick explains. "And also, a lot of families have expressed a certain sentimental feeling because a lot of people grew up with monkeypod trees in their yard, or the park they played at as kids. It's a very familiar type of tree for people."
Pāhiki Eco-Caskets says its keiki caskets are funded by donations through its website and cost only $1.
Many locals choose to scatter their loved ones' ashes at sea. A popular O'ahu location is off Waikīkī. The water off Kā'anapali is a frequent choice on Maui and memorial services on Hawai'i Island often go out from Honokōhau Harbor.
"We take (families) back to the same location, release flowers and surf with them."

Ken Middleton, Founder, Hawaii Ash Scattering
Those who would like to scatter their loved ones' ashes on land can contact Valley of the Temples Memorial Park, where families can spread ashes in the cemetery's scattering garden for $500.
Hawaii Ash Scattering coordinates ash scattering ceremonies for families that don't have their own boats. Its support staff includes clergy, musicians, caterers and even bartenders, although quiet, simple services are an option as well. There are no required permits unless a family desires the less common practice of a full-body burial at sea.
"We record the GPS coordinates. It's very popular among families to revisit the site on birthdays or anniversaries," says Hawaii Ash Scattering's Ken Middleton. "We take them back to the same location, release flowers and surf with them. So it's a beautiful setting to come back to from time to time and pay your respects. We've had probably up to four generations released at the same location."
A less conventional option is to have ashes turned into a glass sculpture. Business owner Ryan Staub says Moana Glass offers this service and says customers may choose between an egg or a heart sculpture, or design their own. Only a minimal amount of ash is needed.
Social Workers Guide You
Social workers help families navigate the intricate processes of a loved one's end of life. Gamble, the social worker who helped the dying woman confront and then reconcile with her grieving husband, now teaches an end-of-life course at UH Mānoa for students preparing for careers in social work or public health.
Gamble says social work sometimes requires one to understand how people process death spiritually, mentally and physically. The more they know, the better they can provide guidance.
However, social workers must ultimately learn to leave their predispositions at the door, because everyone handles death differently. Some find solace in knowing their death will mean an organ donation to someone in need. Others are comforted by spiritual rites or ceremonies. Some fortunate ones receive the opportunity to voice things they have held back and make peace with their loved ones.
"It doesn't have to be a time of conflict. … People who are skilled in this know what the process is that families go through and can help prepare and bring them to a more peaceful place where no one's afraid of dying," says Gamble. "What they were so afraid of before becomes clarified and there are people there to help walk the journey with them."