Post-Graduation Plans Upended for UH Hilo Seniors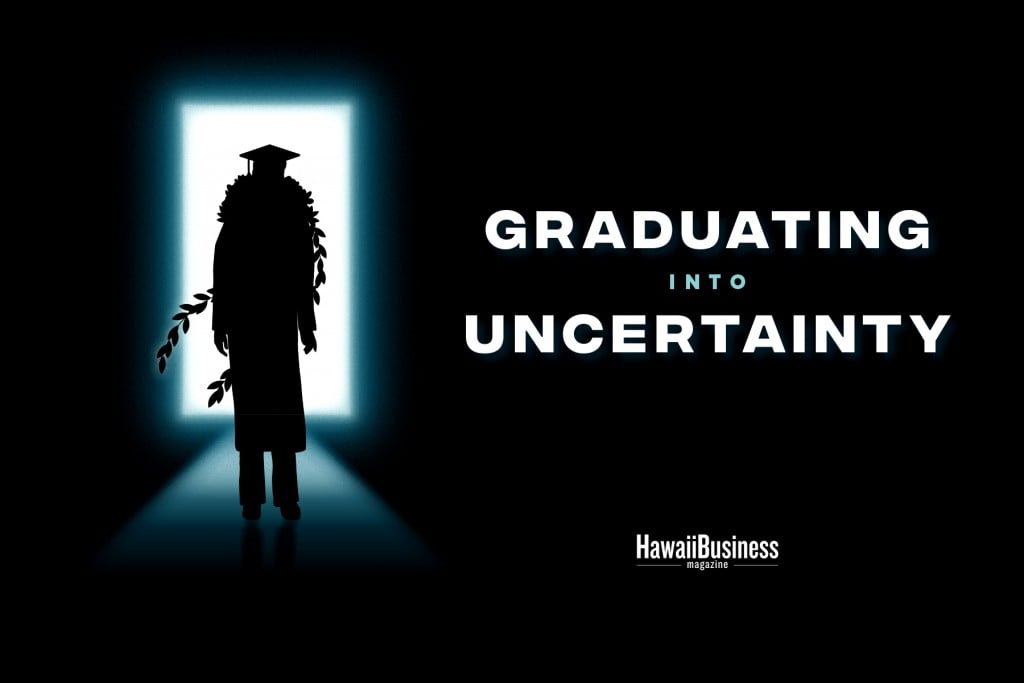 It is a bittersweet May for UH-Hilo seniors.
They will graduate this month with a hard-earned bachelor's degree, but without the emotional triumph of a commencement ceremony and with their post-graduation plans on hold.
Bethany Anderson, a psychology major from Hilo, is one senior whose plans have been delayed.
"I was planning to move to Boston this fall, but I think I will need to postpone that to the summer of 2021 or sometime next year, due to the virus," Anderson says. "I figured I should stay here a bit longer with everything going on, because I'm already having a difficult time adjusting as it is. I also wanted to move out of my parents' house as soon as possible, but I may have to wait on that because I'm not really sure what's going to happen."
Rosannah Gosser, an anthropology major from Kea'au, had plans to train for a career in journalism.
"I was accepted into a study abroad program through ieiMedia that was based in Italy and focused on multimedia journalism," Gosser says. "Upon this acceptance, I was enormously excited not only to be able to travel to an ancient, walled-in town in northern Italy and immerse myself in a foreign culture, but to get a head start into the professional world of journalism. The program is canceled for obvious reasons, but I'm hoping that perhaps it'll be rescheduled, and I'll already be a bit of a shoo-in."
Clara Scheidle from San Diego, soon-to-be graduating with both a B.S. in astronomy and a B.A. in physics, feels "so much has been taken away from me."
"I don't get to walk at commencement, or to feel that moment of triumph and pride that comes with it. My friends and family won't get to visit me like they planned to, and I don't get to say goodbye to the Big Island that I've come to love. But I must return home, especially because school is over, and all my friends have already left."
Heather Padilla, Kea'au, who is graduating with a B.A. in English and a certificate in creative writing, is deeply disappointed about commencement being canceled.
"Don't get me wrong, I have still earned that hard-fought-for piece of paper, but the milestone feels like a stolen moment," Padilla says. "Sure, they have discussed rescheduling, but we all know it won't be the same. Students will have gone home or off to grad school and won't be able to attend. It is amazing how five short seconds walking across a stage can mean so much."
Anderson had also been looking forward to her last appearance in UH Hilo's end-of-semester dance collective show, Great Leaps, which has also been canceled. Gosser says she feels imprisoned by the virus.
"I would be lying through my teeth to say that I haven't had some extremely tough days since the beginning of the outbreak. I've been working towards my college degree for six years, after barely getting out of high school with a GED, so the fact that the already fragile plans I had set in place for the future have been vacuumed out of the realm of possibility is pretty devastating," Gosser says.
She had considered road tripping and backpacking around the Mainland but acknowledges everything has changed and now it all boils down to safety and security. She says the planet feels like a much more volatile place.
Padilla says that among all the other disappointments and challenges during the shutdown, the hardest part has been balancing her schedule with the schedules of her two children, now also stuck at home. It is difficult, she says, "making sure they do their work while I'm in a Zoom meeting, having to stop and make lunch and switch gears in order to 'go' back to school."
---
Read other reports in this series written by college and high school students called "Graduating Into Uncertainty."