Sages Over 70: Lloyd Sueda
He was the inspiration behind Kahauiki Village, an affordable housing community for formerly homeless families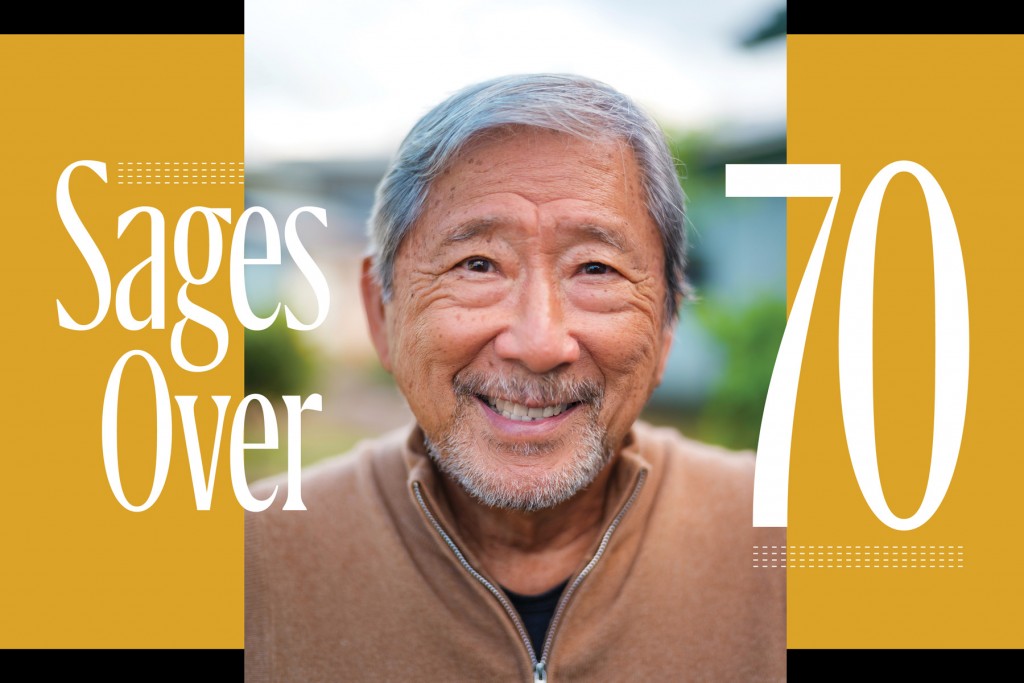 Sixth in a series of profiles of Hawai'i's "Sages Over 70"
---
After 50 years as an architect, Lloyd Sueda still gets up every morning and wants to go to work.
"This is my life. If you gave me a choice if I wanted to be a doctor, lawyer or whatever it is, I would be an architect," Sueda says.
He says he initially followed his father and expected to be an artist. But when he was 12, his Boy Scouts leader, who was an architect, brought him into his office and started teaching him more about the trade. "He got me started, and I've never looked back," Sueda says.
Then after receiving his architecture license and opening his first practice, the 26-year-old Sueda met Maurice Sullivan, the founder of Foodland.
"Sully was not only my mentor, but he was like my father. If you are lucky to meet one person in your life that made you who you are today, mine would be Sully. I owe everything to him."
They worked together six days a week for about 30 years, until Sullivan died in 1998, and along the way Sueda met many entrepreneurs. One was billionaire businessman Harry Weinberg, founder of the Harry and Jeanette Weinberg Foundation, which now has an endowment of $3 billion and has funded hundreds of projects around the Islands.
Sueda says he was put in charge of renovating 250 properties and increasing their value, so they could be sold to make more money for the foundation.
He says he enjoyed doing charitable work with the Weinberg Foundation, which inspired him to start another humanitarian project: Kahauiki Village, an affordable housing community for formerly homeless families.
As we get older, we don't have to work to make a living because we have all of this knowledge that we've gathered throughout the years. We need to share, and we need to give back. That's my philosophy." – Lloyd Sueda
Duane Kurisu, CEO of aio, the parent company of Hawaii Business Magazine and many other local companies, was a longtime friend when he partnered with Sueda on Kahauiki Village.
The idea was born when Kurisu and Sueda were on a flight home from Hawai'i Island and Kurisu asked what his dream project would be.
"Lloyd said it's to work on a building with all recycled things and to do a project that will take care of those who are less fortunate than us. And as we're flying back to Honolulu, and flying over the Sand Island area, we both looked out the window, and I said, 'Lloyd, let's do your dream,' " Kurisu says.
The area they were looking at from the airplane is exactly where Kahauiki Village was built, on Nimitz Highway between Ke'ehi Lagoon Beach Park and Sand Island Access Road.
Kurisu says with support from the community and then Mayor Kirk Caldwell, the project was expedited from its original four-year plan to being built and housing the initial families within six months. Once finished, the community will have 144 units and house 750 people, and Sueda continues to work on it without any compensation.
"It's his generosity and authenticity, which are skills that young professionals look at him for and are inspired by," Kurisu says. "Lloyd does so much free work for people that a lot of times he's underappreciated. He's the kind of guy that doesn't put his name on a building."
Sueda prefers traditional, freehand architectural renderings compared to the now popular digital systems. He says he still brings his sketchbook everywhere, from local golf courses to Europe. "It's a lost art. Doing things by hand truly helps you build your dexterity in finding solutions to problems," Kurisu says.
Sueda says he has no plans to retire from architecture and drawing. "As we get older, we don't have to work to make a living because we have all of this knowledge that we've gathered throughout the years. We need to share, and we need to give back. That's my philosophy."