The Ideal Solution to Payroll & HR Services in Hawaii
simplicityHR by ALTRES makes difficult work easy for Signature Shade Solutions.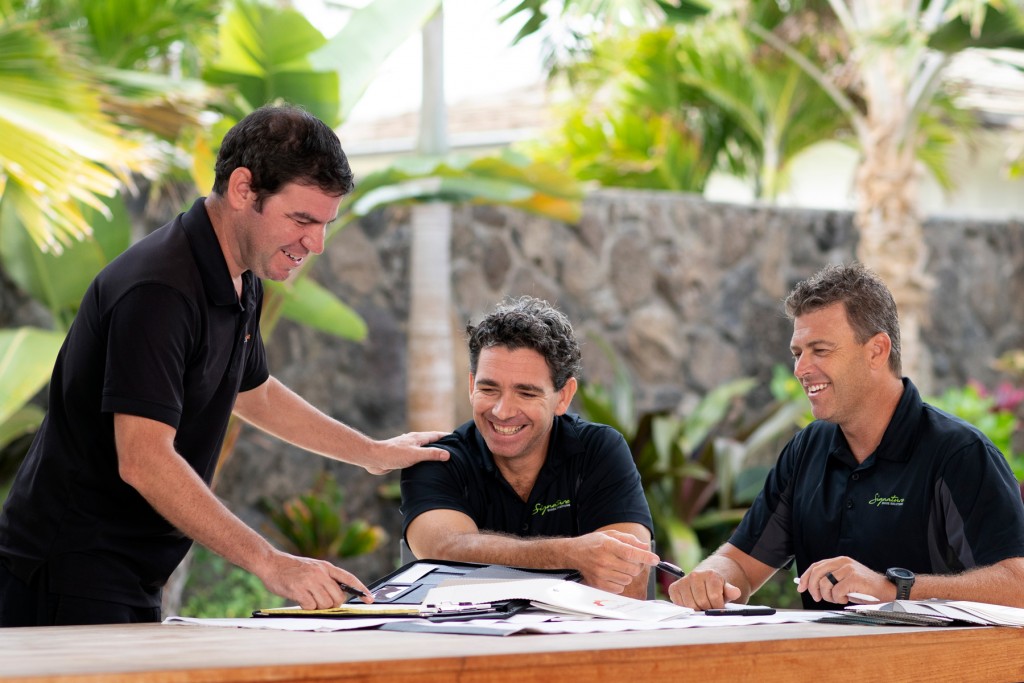 Brad Gaul and Travis Grant were already experts at helping clients find shade and privacy when they started Signature Shade Solutions in Hawaii, but they didn't know anything about providing payroll and HR services in the United States. The co-owners are both former professional athletes from Australia, where Gaul also founded a shading business. Payroll, health insurance, and other employee benefits work differently Down Under, and the Australians needed help navigating that landscape in Hawaii. A friend suggested they call Jim Phillips, an HR consultant at simplicityHR by ALTRES, Hawaii's leader in payroll and HR outsourcing.
Phillips met with them and went over everything simplicityHR by ALTRES could do for Signature Shade Solutions. Gaul and Grant knew on the spot that simplicityHR by ALTRES was the right choice. "It's been a great partnership ever since," Grant says.
Free to Focus on What They Know
A company's first few years are often a whirlwind of work as the founders strive to establish a foothold in the market and develop a reputation of excellence. Gaul and Grant have their hands full building relationships with customers, growing the company, and sourcing the best shading solutions possible.
Thanks to simplicityHR by ALTRES, HR services is one area they don't worry about. Just like having a mechanic service a car or an accountant prepare taxes, the duo has passed on their HR needs to trusted professionals. Gaul says he hasn't felt the need to learn all the nuances of payroll and employee benefits in Hawaii because he knows those services are in good hands with the team at simplicityHR by ALTRES. "Whatever they do works quite well because we don't have any problems. Our staff is happy, we're happy, our accountant is happy. So obviously, they're doing a good job," he says.
Like most business owners, Gaul doesn't like to be stuck in the office doing paperwork and crunching numbers, but he knows it's necessary. The HR Symphony app makes it easy because it provides Gaul with the tools to do payroll from anywhere in the field. "That, from an owner's perspective, is unbelievable," he says.
When COVID-19 hit and assistance for small businesses was announced, simplicityHR by ALTRES was there to go over the available options. The simplicityHR by ALTRES team quickly pulled all the necessary information Signature Shade Solutions needed to apply for the Paycheck Protection Program. All Gaul and Grant had to do was send one email to their banker.
"Our staff is happy, we're happy, our accountant is happy. So obviously, they're doing a good job." Brad Gaul – Co-Owner, Signature Shade Solutions
A Simple Solution
With help from simplicityHR by ALTRES, Signature Shade Solutions weathered the early days of the pandemic and now the company is busier than ever. They recently hired a few new employees and the simplicityHR by ALTRES team onboarded the new hires.
From the very first days of Signature Shade Solutions in Hawaii to the company's now thriving growth, the team at simplicityHR by ALTRES has provided comprehensive payroll and HR services. "We're just like, 'Hey, Jim, what do we do?', and they just do it for us. You know, it's really quite simple. I guess that's why they call it 'simplicity'. It's quite a clever name," Grant says.
Interested to learn how we can help your business? To schedule a free consultation on the advantages of human resources outsourcing, contact simplicityHR by ALTRES.