Big Brothers Big Sisters Helps At-Risk Youth Achieve Their Full Potential
Young people do better in school and form healthier relationships when a caring adult has their back.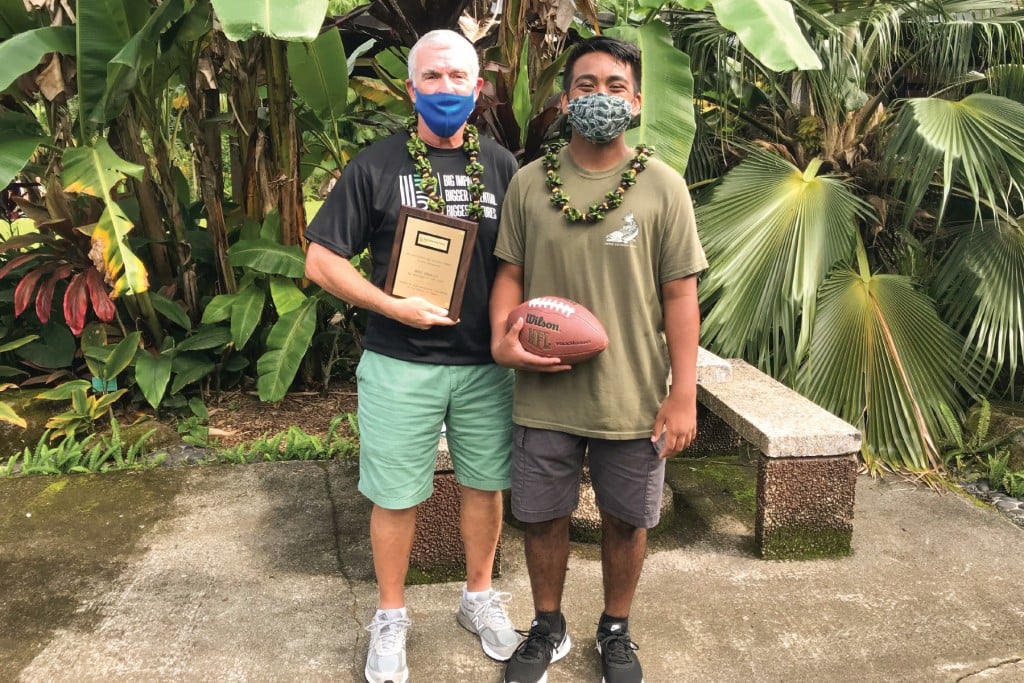 Dennis Brown's involvement in Big Brothers Big Sisters Hawaiʻi has come full circle.
The nonprofit's president and CEO for the past 23 years says his entire 40-year career in human services was inspired by his experience as the state's first "little brother" in 1964.
"Out of all the people that helped me back then … the one that stood out to me was Henry (his big brother) because I knew that this wasn't his job. He did it because he wanted to and he was still in touch with me all those years later," says Brown.
Big Brothers Big Sisters Hawai'i aims to create meaningful one-to-one relationships between adults and at-risk children. A case manager and match support specialist are assigned to each pair to ensure they build a relationship and follow an individualized plan to help the child avoid risky behavior and reach their potential.
Each volunteer big brother and sister must make a long-term commitment and go through regular screening classes during the matching process. The match support specialist ensures the pairs go on frequent outings, preferably two to four times a month.
"It's really more about social emotional development. We tell them, 'You're not a tutor, you're not a babysitter, you're certainly not taking the place of the child's parent. You're somebody else – you're always ready to be a friend,'" says Brown.
Learning Experience
Mike Hinkley was inspired to become a big brother as a way to serve his Kāne'ohe community. He was paired with Vance four years ago and the two remain in contact weekly and go on frequent outings such as golfing, kayaking, hiking and other outdoor activities.
Hinkley's dedication to the program and his little brother earned him the title of 2020 Big Brother of the Year. The retired Navy attorney models his mentoring on personal experiences: Growing up, he had parents and athletic coaches he could trust, and later other naval officers to mentor him.
"I do not believe you can go into mentoring thinking that you know all the answers," says Hinkley.
Being a big brother has been a learning experience and helped him develop patience and active listening, he says.
"The experience has been a great one. I think we have developed a mutual trust, which is very important. I feel that both my little brother and I can talk just about anything that he is interested in.
"To me it's amazing how much you can help somebody based upon your own experiences."
Positive Results
According to internal studies of all 250 Big Brothers Big Sisters agencies in America, young traumatized participants build resilience through the program.
Locally, 90% of youth involved with Big Brothers Big Sisters Hawai'i programs improved in one or more of these areas, based on the organization's annual measure of outcomes. The results come from surveys of each youth, mentor and parent or guardian:
Grades/scholastic competence.
Relationships with classmates, family and friends.
Bullying (they're less likely to be bullies or to be bullied).
Graduation from high school and college.
Self-worth and confidence.
Drug/alcohol avoidance (they're also less likely to join gangs and skip school).
Brown says Big Brothers Big Sisters Hawai'i hopes to continue to grow, begin group and peer mentoring programs, and include more programs for teenagers.
"The more we can create good responsible citizens from a young age, then they'll grow up to be those people who are not only successful, but that are more competent, more confident and more caring."
Big Brothers Big Sisters Hawai'i operates on O'ahu, Maui and Kaua'i. To donate or volunteer, visit BBBSHawaii.org.
Are you willing to talk to a reporter about how and why you mentor? Let us know at HawaiiBusiness.com/Mentoring