Reviving a Legend: The Coco Palms Resort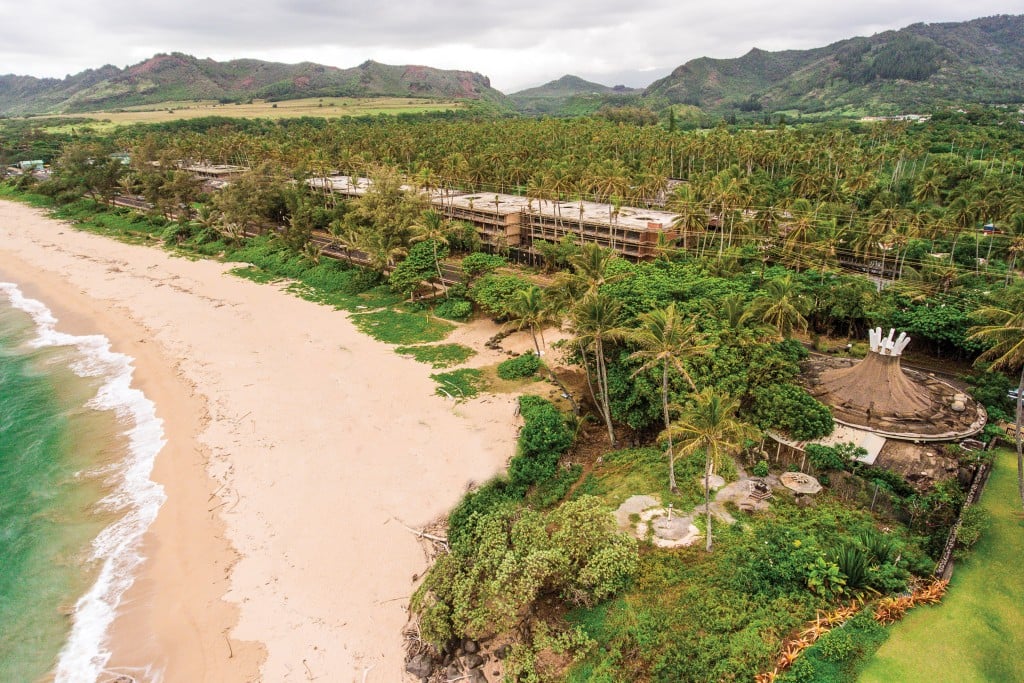 Familiar Place
Agor introduced the project to Coco Palms Hui. After a dull year-and-a-half long retirement, Agor, who had grown up on Kauai, spent six months developing a renovation plan and budget to resurrect the Coco Palms. As part of that process, he met with state and county agencies and researched Federal Emergency Management Agency requirements to make sure his plan would be approved.
"My philosophy was to rebuild Coco Palms in such a manner that when it's completed, those who returned to visit Coco Palms would feel, 'Yeah, I'm back at Coco Palms,' " he says. "I didn't want … to depart too far from the existing architecture, the existing buildings. I wanted to just take it as it was and enhance it so that when people go there, they'll recognize it as being the Coco Palms they used to know."
Greene and Waters jumped on board and formed Coco Palms Hui in 2013. One of the early challenges was getting the Kauai County administration to extend the Iniki ordinance, Agor says. That ordinance allows buildings damaged during the 1992 Category 4 hurricane to be restored to their pre-hurricane conditions, utilizing the same footprint, without having to adhere to current, stricter building codes. Greene says the ordinance essentially speeds up the rebuilding process, but in 2013, county administration had moved to repeal it. "I knew if the Iniki ordinance was terminated, no one could feasibly bring the hotel back," Agor says.
The County Council decided that 20 years had been "sufficient time to protect property, provide shelter and mitigate damages resulting from Hurricane Iniki. Therefore, it is time for the last 'Iniki Ordinance' (Ordinance No. 716) to be repealed," reads a 2013 Council bill that extended the ordinance's expiration to 2015. That was enough time for Coco Palms Hui to get the necessary building permits.
Coco Palms Hui closed on the property in May 2016 and demolition began later that year. Select buildings, like the King's and Queen's cottages, which front the property's 2,000-tree coconut grove, were torn down and will be rebuilt 8 feet above sea level to comply with FEMA standards to mitigate flooding. Others, like the Shell and Alii Kai I and II buildings, will be renovated. Agor says there's about $250,000 worth of concrete repair work for each of those three buildings.
Kauai planning director Michael Dahilig wrote in an email that the current permits issued for reconstruction have a number of submittal benchmarks, exaction outlays and construction commencement dates to make sure the project progresses adequately. He says the community's main concern continues to be the derelict state of the site, which over time has become vulnerable to crime, vagrancy and fires. The county's primary objective has always been to improve its condition, he added.
"We remain cautiously optimistic that the developer can implement their full vision. Having the site no longer sit in a dilapidated state is necessary to keep community pride and enhance the experience for our residents and guests," he wrote.
Some community members have doubts the project will ever be finished, the Kauai-based Garden Island newspaper reported in a recent story.