Reviving a Legend: The Coco Palms Resort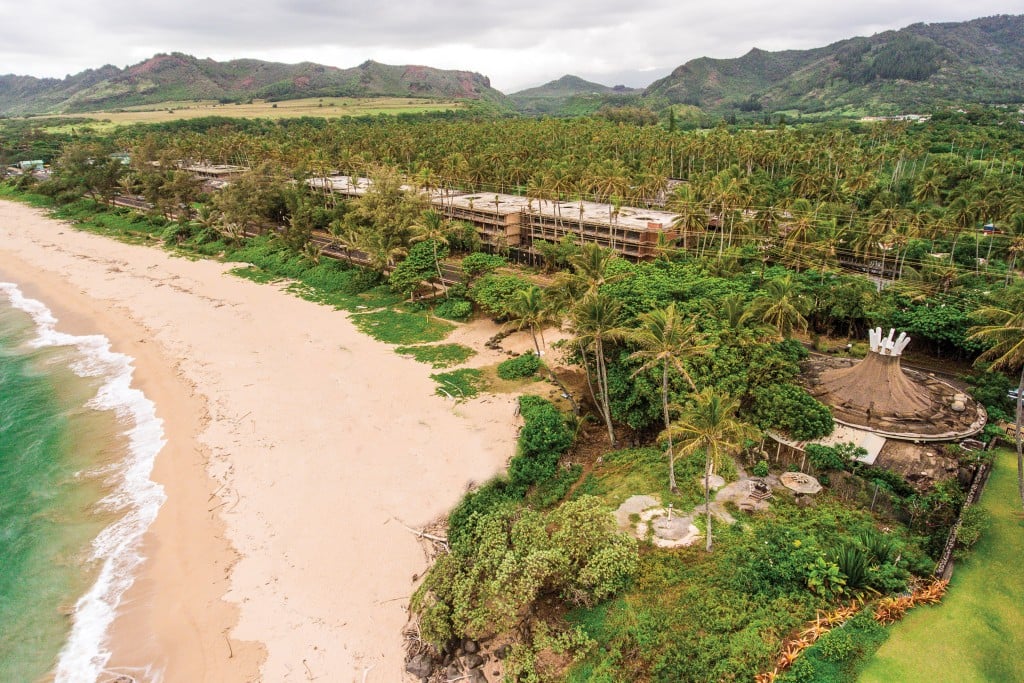 In Waikiki, a New Model for Hotel Renovations
Just as surely as new hotels will be built in Hawaii, renovations will also occur. "That's a constant," says Sue Kanoho, executive director of the Kauai Visitors Bureau, "where you're refreshing and keeping your property with the best amenities that are available. … It's not a do it one time and you're done. It's going to be every so many years you're going to have to change out, refresh rooms, redo parking lots and all that kind of stuff."
In Waikiki, Pacific Beach Hotel is undergoing a $115 million renovation that has resulted in a new name – Alohilani Resort Waikiki Beach. Renovations include a new exterior, lobby, pool deck and retail and restaurant spaces. Its 839 guest rooms and suites were also redone. Construction is expected to be complete in early 2018.
Managing Director Rob Robinson, who has worked at the hotel since 2012, says the work was needed from a decor perspective, but the original plan was only to renovate the guest rooms and freshen up the public areas – not a huge redevelopment project. "What happened was we started to realize that if we spend more money to do this level of renovation, that we had an opportunity to reposition the hotel in the market," Robinson says. "So instead of doing just the much-needed renovations for the hotel to remain competitive, we saw an opportunity to make it competitive at a whole new level with a whole new competitive set of other hotels."
He says Hawaii's isolation and competition with places like Guam and Macao, which are a lot closer for Asia's tourists, requires hotels to invest in large renovations. Waikiki is now filled with renovation projects like the Hilton Garden Inn, the Laylow Hotel (formerly Aqua Waikiki Wave) and the Surfjack Hotel & Swim Club (formerly Hokele Suites Waikiki). "These hotels were gutted, and so it's a different model of renovation that we're seeing now versus just putting new furniture in a room or new carpet down or new paint," Robinson says. "It's true redevelopments."
The Pacific Beach Hotel first opened in 1969. Robinson says the option to tear down and rebuild the hotel was not feasible because of "prohibitive" costs in Hawaii.
Before construction started in spring 2016, the hotel met with groups such as the Waikiki Neighborhood Board and the Waikiki Improvement Association to get community buy-in. The business and neighbor communities are embracing the renovations, Robinson says, because they're improving Waikiki as a destination. Community members had concerns about noise and traffic, but one of the biggest questions was about what would happen with the Oceanarium – a 280,000-gallon saltwater aquarium – and that helped drive the hotel's decision to spend significant dollars to renovate it.
The hotel also worked with a pair of cultural advisors to help it rename the Pacific Beach Hotel to Alohilani Resort, paying homage to Queen Liliuokalani and her beachside home, Kealohilani, and understand the history behind the name. "There's a very clear resurgence and interest in Hawaiian history and culture and language, and we saw this as an opportunity to be a part of that movement," Robinson says.
During construction, human burials were found on the property, which resulted in legal proceedings.
Robinsons says it has been a massive effort to operate the hotel and maintain its 90 percent occupancy average during the renovation. "I think we've learned about the opportunity that exists in Waikiki for projects of this scope," he says. "And we believe that there's continued opportunity for more projects like this."