Reviving a Legend: The Coco Palms Resort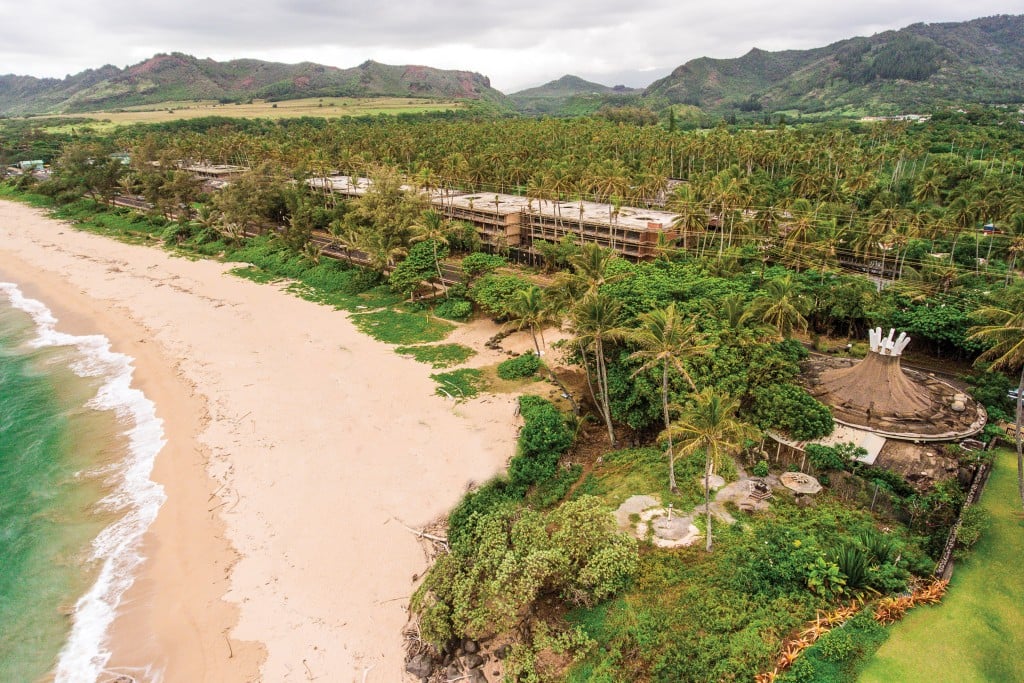 Wait Almost Over
Coco Palms Hui expects to begin its 18-month construction process in the spring or summer of 2018, after investors have been finalized. Because the Coco Palms is a Hawaiian hotel, the group is also looking for local accredited investors, as defined by the federal "Regulation D" program. Greene says Coco Palms Hui felt it was important to give Hawaiian investors an opportunity to invest in the hotel. Hyatt will then get the hotel ready for reopening after construction is complete.
Soma says the cultural advisory committee plans to work with Hyatt in developing an orientation and training program to ensure hotel workers understand their kuleana: to know and share the essence and sense of place at Coco Palms. In addition, the committee will talk with Hyatt about building names and design patterns for furnishings, as well as with Coco Palms Hui to plan programs for the property's cultural center.
Soma says he doesn't know of any development with a cultural advisory committee so deeply integrated into every stage of the process, and he says more projects should have them. "We're in Hawaii, we're operating in Hawaii. We should embrace the values of the host culture so that we can perpetuate the values and preserve the history and culture of that place," he says.
Many people are looking forward to the hotel's reopening. According to a 2014 economic impact study commissioned by Coco Palms Hui, in its first full year of operation, the hotel is expected to generate more than 550 permanent jobs in hotel operations and food and beverage service, have an occupancy rate of 69.5 percent, and generate nearly $19 million in total room revenues, $16 million in food and beverage service revenues and $20 million in revenues from other departments.
However, the iconic Coco Palms brand doesn't preclude challenges ahead. Kauai hotels compete globally and locally. Each new property becomes a competitor to the other properties on the island, says Sue Kanoho, executive director of the Kauai Visitors Bureau: "It's always pricing, service and what is the asset that you have that sets you apart from anywhere else."
To set themselves apart, hotels try to create unique experiences and emphasize sense of place, she says. "Each side of the island kind of has a feel. And it's really having people connect with that place … The east side is known for their sunrises," she says. "So many properties on the east side hang their hat on these incredible sunrises that you can experience."
Kanoho thinks the Coco Palms will be successful – if developers can make good on their promises for the reopened property – because so many people have a connection to the resort. Architect Ron Agor agrees. He thinks the reopened Coco Palms will be popular for the first five or 10 years among people who have been waiting for it to reopen. After that, he says, "management is going to really have to be innovative because people who reminisce about Coco Palms might be gone." Nonetheless, he, too, can't wait for the doors to reopen and recalls the words of Larry Rivera, the longtime local entertainer dubbed Mr. Coco Palms.
"I remember watching the torch ceremony. When I was young, it was just phenomenal. As Larry Rivera once described it, you would hear the drums, you would hear the conch shell, and then you'd see this Hawaiian guy light the first torch and start running around the lagoon and lighting the torches as the drums rolled. And the fact that Guslander introduced that aspect of the hotel every evening, and her goal was to honor Queen Kapule … I can't wait for that first torch to be lit."