Reviving a Legend: The Coco Palms Resort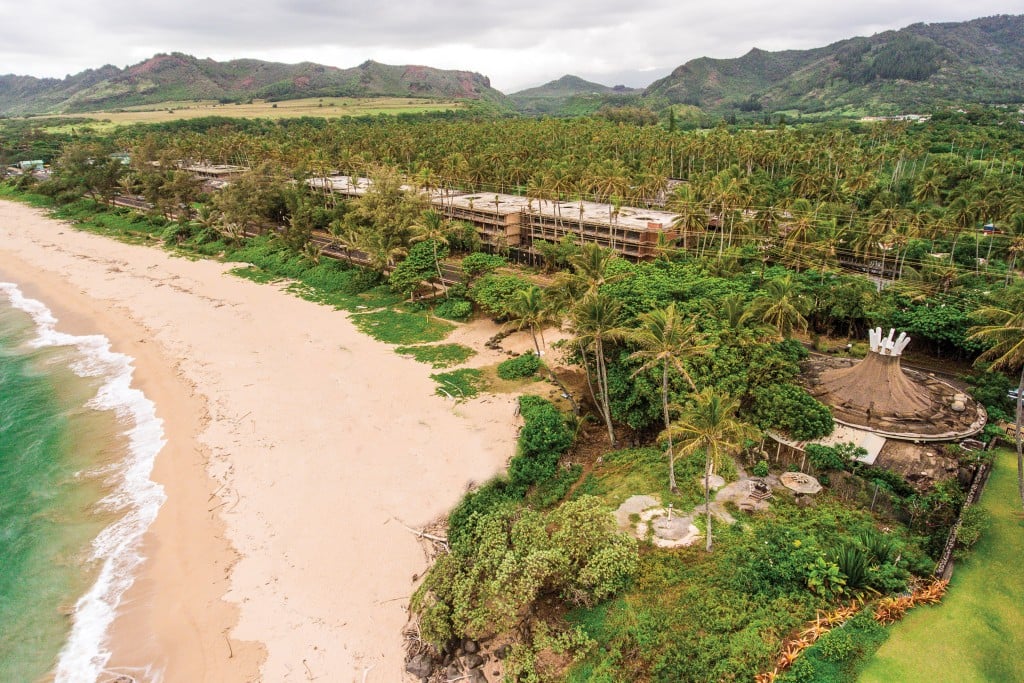 After others failed over two decades, a new team is hoping to rebuild the Coco Palms Resort
The once iconic Coco Palms resort is now a set of dilapidated brown buildings in the middle of a jungle. Guinea grass grows wild, coconuts lay scattered across the ground and some buildings have graffiti sprayed on the remaining interior walls. The property has remained mostly untouched for 25 years, a grim reminder of how Hurricane Iniki devastated Kauai in 1992 and led to the hotel's closure.
But change began in summer 2016, when construction crews started demolishing select structures. Some buildings are now stripped bare to their foundations; others have their concrete skeletons left intact, waiting to be repaired and covered by new walls.
The hotel project, a $135 million effort led by Tyler Greene and Chad Waters of Coco Palms Hui LLC, is on its way to reopening in 2019 as part of Hyatt's Unbound Collection. The plan is to rebuild the hotel with 350 rooms, 12,000 square feet of retail, three restaurants and a cultural center.
This is the farthest any effort to reconstruct the Coco Palms has come since it closed, and the journey hasn't been easy. Other efforts to rebuild the hotel or repurpose it have failed, and even today community members express concerns about how the reopened resort will increase traffic in an already-congested area on Kauai's east side. To get this far has taken commitment, says architect Ron Agor.
"There's a sense of Hawaiian ritual there. And even with the structures being dilapidated as it has been over the last 20 years, when you walk through it, you still feel it. You still feel it," he says. "Sometimes I walk through there by myself, I get goosebumps just envisioning what used to happen there, and the idea of bringing it back."