Hawaii Island Business Report 2019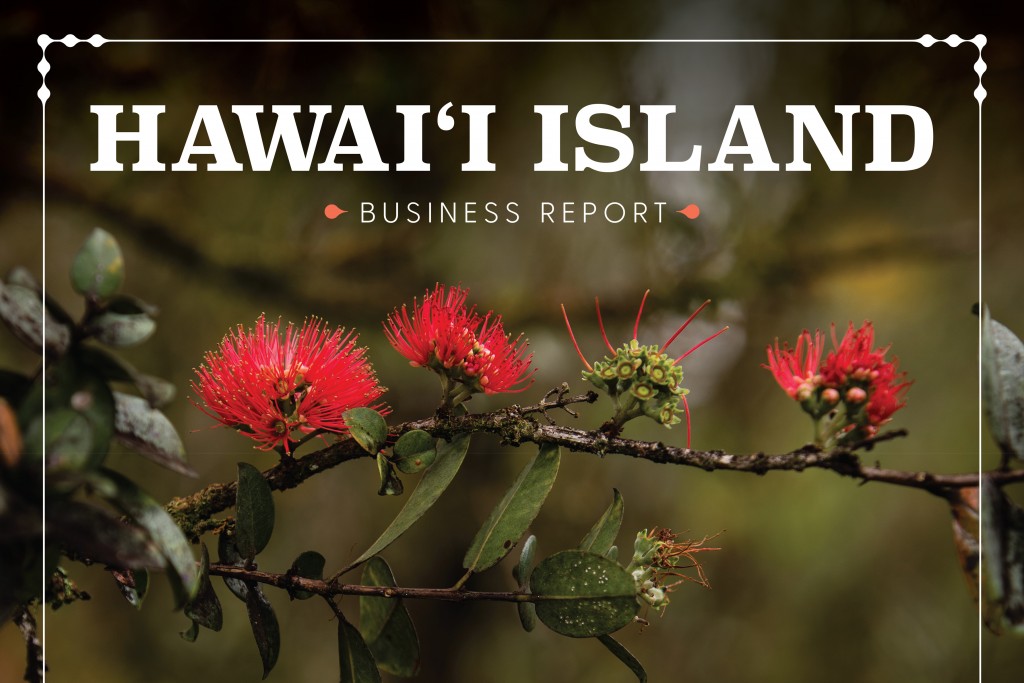 The Farmers' Fight
Hawaii's diversified agriculture is an important part of the state's economy. The Island of Hawaii contributes the most acreage and produces the largest number of banana, coffee, macadamia nuts, papaya and tropical fruit crops. On the Island of Hawaii, 90 percent of the state's papaya industry resides in Puna. That's approximately 450 papaya farmers. These many different farms feed the entire state and supply the farmers markets, restaurants and supermarkets across the Islands.
At the end of October 2018, a report conducted by the University of Hawaii at Manoa's College of Tropical Agriculture and Human Resources (CTAHR) found that last year's Kilauea eruption caused almost $28 million in damage to farms. The majority of the losses were in crops at roughly $17 million, followed by land at approximately $4 million.
"A whole lot of agriculture got displaced in Puna, like an aquaculture farm got covered over by lava, a lot of ornamental plant industries were lost," says Bruce Mathews, dean of the College of Agriculture, Forestry and Resource Management at UH Hilo. "They had the damage from both the vog and those that got covered by lava or cutoff. It's been a huge struggle for any kind of agriculture in Puna and then people trying to cope and figuring out how to re-establish."
Lorrie Farrell, administrator of the commodity and advocacy group Hawaii Farmers and Ranchers United, says crop insurance doesn't fix the problem and only pays up to 25 percent of losses, if lucky.
"A lot of those farms had just planted those crops. They put thousands of dollars into the land with the fertilizer, the planting, all of that, and they were at the point of just maintaining those crops until they started fruiting," says Farrell. "Now the problem is that all their savings are basically invested in that land and they don't have money or resources to replant."
Another concern is farmers deciding to retire rather than rebuild, because of the cost and risks associated.
A land steward, W.H. Shipman licenses its lands to over a hundred different farming operations in Keaau, with approximately 4,500 of its 17,000 acres currently in active agricultural cultivation. All of its lands were outside of the areas covered by lava, but many neighbors and business associates were affected.
REPORTED LOSSES FROM FARM DISASTER SURVEY IN KILAUEA EAST RIFT ERUPTIONS, 2018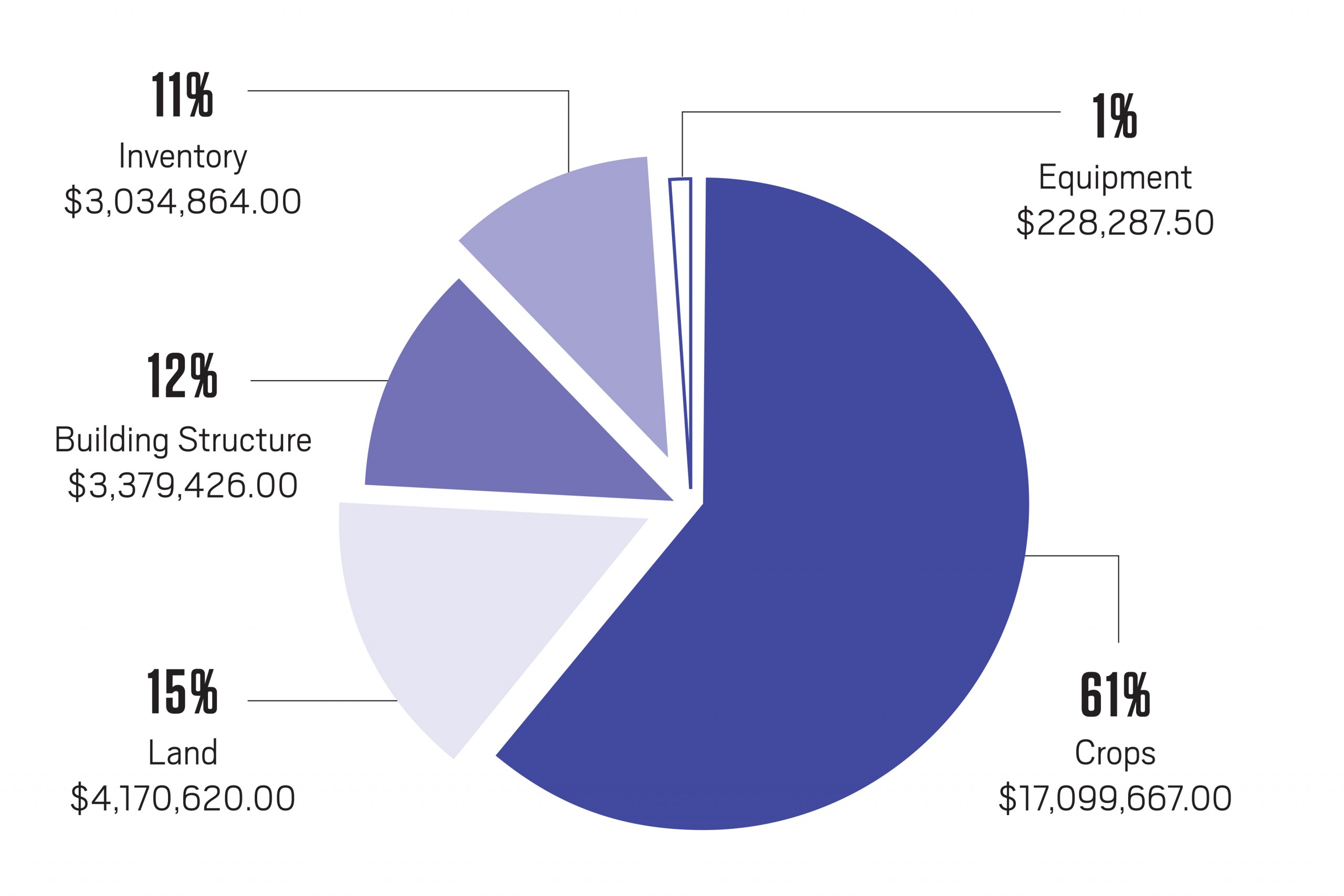 "When it came to this event and all these farmers were losing land, it didn't take a lot of thought on our part to decide we need to try and accommodate as many of them as we can," says Farias. Offering a discounted rental rate, W.H. Shipman accommodated displaced papaya farmers and a noni (Indian mulberry) farmer onto its lands in order to support them.
"I know from our perspective, the big lesson with losing sugar cane was that it's not healthy to depend on a single tenant or a single crop or a single industry to be propping you up because if something happens, you're in trouble. The idea of really diversifying ag holdings and trying to encourage the ag industry to be a variety of different crops and things, I think that's one thing that East Hawaii has done quite well," says Farias. "The lesson I saw that I see continuing to be applied is the need to be more proactive about maintaining infrastructure and looking at how infrastructure can be threatened."
Mathews says UH Hilo is looking into different soil management practices and how moving the industry off of the rocky lands of Puna to other areas of the island would work successfully.
"A lot of the papaya fields were cut off by the lava or just taken over by the lava, so we're looking at how the clearing of new lands will impact papaya productions, and also how growing papaya on soil like they did during the ringspot scare, where they moved the industry up Hilo coast," says Mathews. "We're exploring things to help farmers cope with being displaced from their lands."
Things are moving very slow for the farmers still figuring out what their new norm looks like, but their resilience remains.
"You just got to keep going forward as best you can until you find that normal level. A lot of these guys are having to reevaluate their entire business plan and their farm plans and even their life plan, because it's changing everything for some of them. It's changed where they lived, where they can live, and, for others, it's just changing the farm," says Farrell. "These guys are strong. They're tenacious. And I mean, a lot of these guys are second generation, some are third generation. They're tough and it's in their blood."
As of Dec. 31, 2018, W.H. Shipman had a total of just under 4,900 acres licensed out for agricultural use, all located around the Kea'au area of Puna. The crop breakdown in round numbers, is as follows: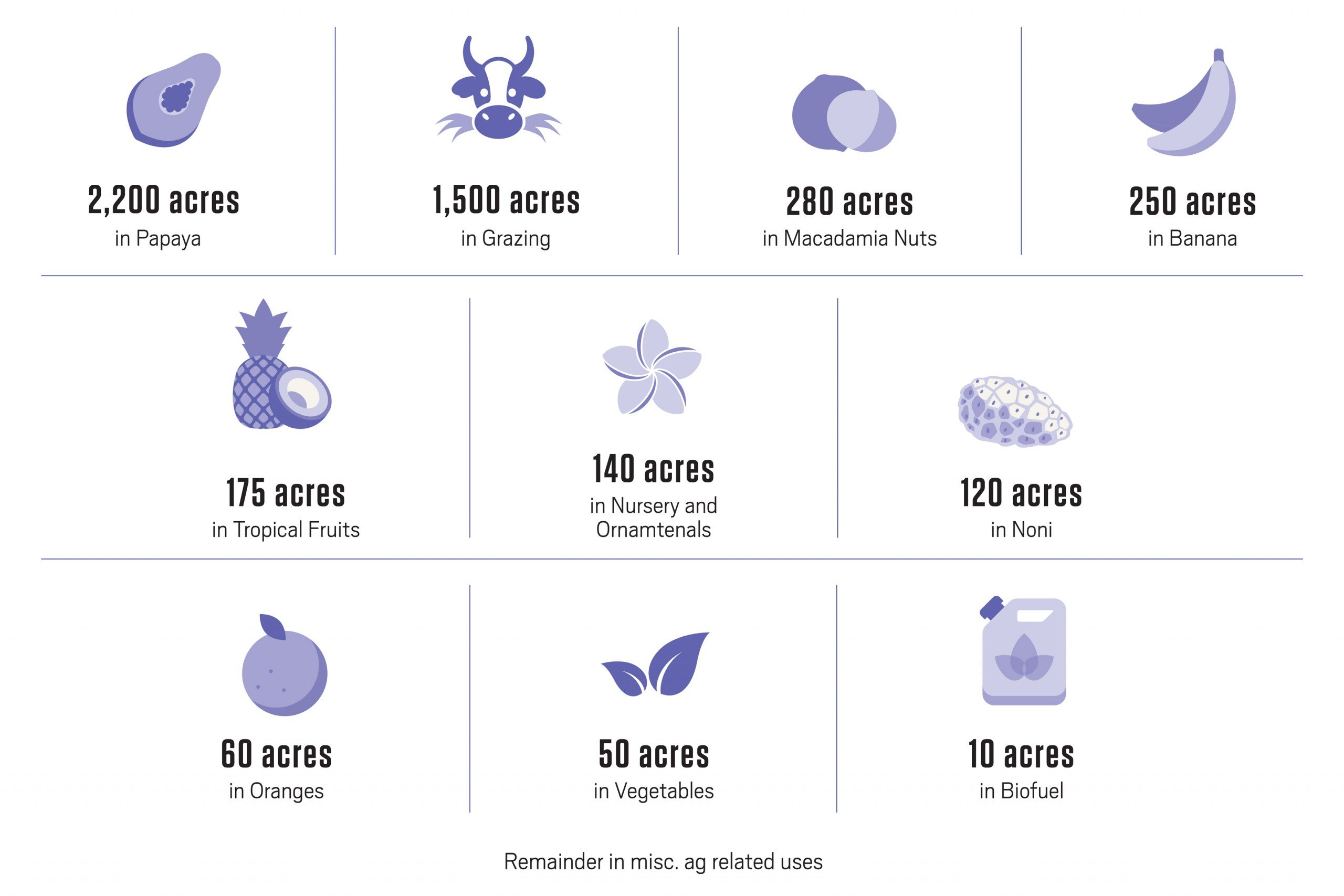 Quicklinks
Company Profiles
Big Island Candies
Grand Naniloa Resort
Hilo Medical Center
UH Hilo
Imiloa Astronomy Center
Hawaii Community College
Kona Brewing Co.
W.H. Shipman