Most Homeowners Say No to Refinance Loans With Mortgage Rates Over 7%
Oʻahu's percentage drop in refi loans during the second quarter was the second largest in the country, according to a national report.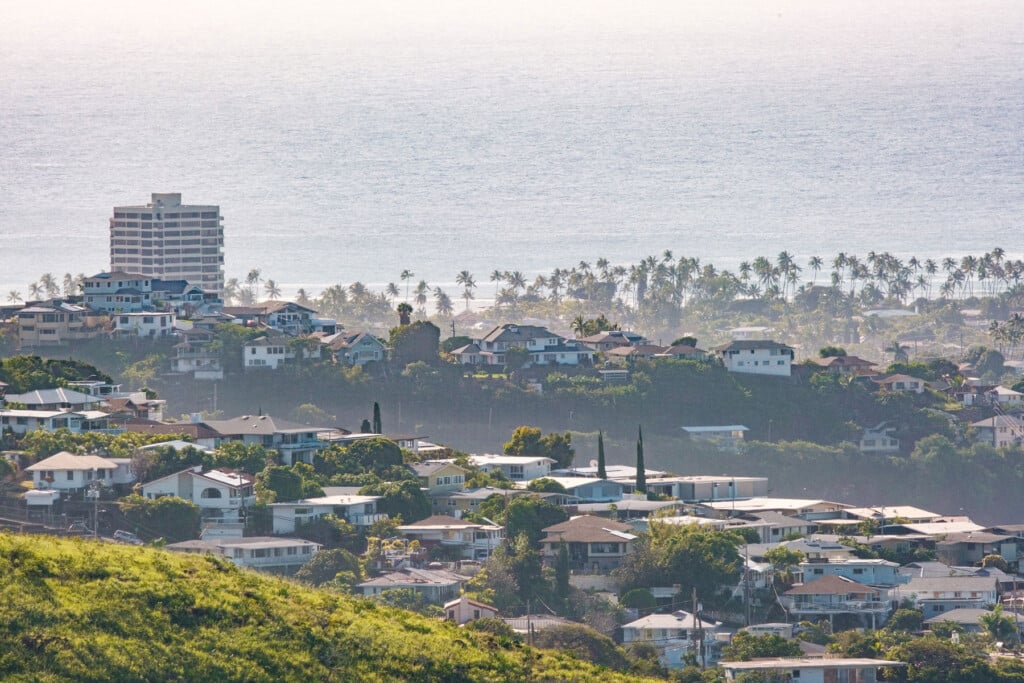 The average mortgage rate is the highest it's been in more than 20 years, and while that's slowed home sales, refinance loans in urban Honolulu have fallen off a cliff.
The average interest rate for a 30-year, fixed-rate mortgage hit 7.23% two weeks ago before receding to 7.18% last week. That means the monthly payment on a loan today can be about 50% higher than a loan originated two years ago at 3%.
Only 739 refinance loans originated in urban Honolulu during the second quarter, down 70% compared to the second quarter of last year when rates were rising but still below 6%.
It was also a 33.8% drop from 1,117 refi loans in the first quarter of 2023, the second-highest quarter-over-quarter decline among large metropolitan areas, after Buffalo, New York, according to a report from ATTOM Data Solutions.
And the second quarter number is an 88% drop from the same quarter two years ago, when mortgage rates were around 3% and 6,155 borrowers refinanced their loans, ATTOM data shows.
"If you're sitting on a 3% interest rate, you're not going to refinance, you're not going to touch your equity," says James Moniz, executive VP of mortgage banking at Bank of Hawai'i, which does more mortgage loans than any other lender in Hawaiʻi.
Life events such as marriages, divorces, downsizing and relocating for work still go on, despite interest rates, so people are still getting mortgages to purchase homes, Moniz notes. His bank's refinance loans are also down, but not quite as much as for the whole market, he says.
Bank of Hawai'i did nearly $1 billion in purchase mortgages last year and the majority was purchase volume, Moniz says. For this year, the overall volume is down, but refinances continue to be significantly reduced in 2023 by more than 50%, he says.
Historically, Mortgage Rates Have Been Higher
The last time interest rates for a 30-year fixed-rate mortgage were above 7% was in the early 2000s. But Moniz notes that rates during the 1990s ranged from 6% to 9%.
Then, from 2003 to 2008, rates bounced around from a low of 5.2% to just under 7% before starting to fall below 5% during the housing crisis of the Great Recession, according to historical data from Freddie Mac. Rates then plummeted during the Covid pandemic before rising sharply last year as the Federal Reserve increased interest rates to curb inflation.
"What we experienced from a rate standpoint was unprecedentedly low," says Moniz, "and then, now, the biggest rise in a short period of time."
The lack of incentive to refinance is also impacting the inventory of homes for sale since homeowners are not eager to move and trade their 3% mortgages for new loans with higher interest rates.
That's being felt by everyone in the mortgage industry across Hawaiʻi. The number of home loans originated statewide by all lenders through the first seven months of this year was about half that of last year, but the dollar volume was down by 66%, according to the Title Guaranty Hawaii mortgage barometer.
"I've been in this business 31 years and it's the worst market I've ever seen," says Jon Whittington, managing director of Hawaiʻi Mortgage Group LLC. "The biggest issue is people are locked into their houses. There's no inventory.
"We've got dozens of preapproved buyers; we're just trying to get home offers accepted," he says. "And it's just not happening."