Old Ways, New Ways, Great Success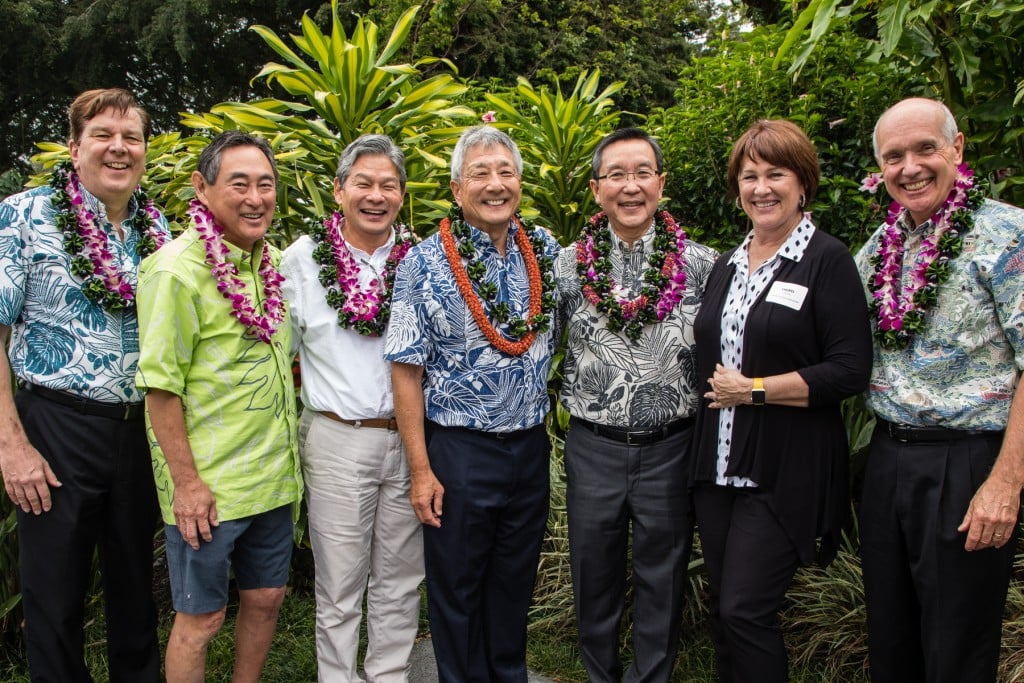 Thursday, January 1, 1970, 11:00 am – 1:30 pm
The inaugural Small Biz Academy Hilo featured an iconic panel of business leaders to a full house on Hawaii Island.
Over 200 people packed the Grand Naniloa Hotel's Crown Room to hear Central Pacific Bank Executive Chair of the Board John Dean, Hawaiian Telcom Chief Administrative Officer and General Counsel John Komeiji, Island Insurance Executive Chairman of the Board Colbert Matsumoto, Big Island Candies President and CEO Alan Ikawa and aio CEO Duane Kurisu.
The focus of the panel was how old Hawaii ways of acting and doing business are more important than ever today. And, the speakers shared how their upbringing helped shape the way they conduct business, strategize, serve the community, engage the next generation of leaders and interface nationally as well as globally. Although all of the five panelists are some of the most respected and reputable businessmen in the 50th State, that didn't stop them from interjecting good old fashioned local humor into the event. All five of the speakers are very good friends and regularly get together explains John Komeiji.
"With these four guys we're really close friends and I enjoy sharing ideas and talking story with them," explains Komeiji, "because we're close friends and we trust each other we can be humorous and maybe this wouldn't go as well in Honolulu, but we are who we are."
At times it felt like watching the "Rat Pack" or a band of brothers on stage. They took every opportunity to roust one another, but were very congratulatory of each other's achievements and endearing leadership qualities. Their jokes did not overshadow the valuable takeaways they left the audience with, and Alana Ikawa, who is a full-time resident of Hilo, was grateful that the Small Biz Academy came to Hawaii Island.
"It's become a global market and you need to expand your horizons so it's good to bring in people who are very successful from Honolulu and the mainland to learn more and see what they went through so you don't make the same mistakes," says Ikawa. "Believe it or not we talk about the same issues that were being discussed today and so these guys are really, really good guys. They're not in it for the money because a lot of guys are bottom line driven, but these guys are not and they're more socially inclined to do what's good for our community so that's why it's fun hanging with these guys."
This was the first time Hawaii Business took a signature event outside of Oahu, and the Small Biz Academy was a good chance for Hawaii Island residents like Ashley Kierkiewicz–who is a senior account executive of Hastings and Pleadwell– to hear the background stories of the panelists firsthand.
"As someone that lives on the Neighbor Islands I don't always get to go to Oahu to attend these kinds of events so I really appreciate Hawaii Business magazine curating such an esteemed panel of businessmen who are motivated to serve Hawaii and give back to the community," explains Kierkiewicz,"I appreciated that learning that in life and in business you need to take risks and at the end of the day it's about doing the right thing and giving back to your community."
In addition to the appreciation of seasoned members of the business community like Kierkiewicz, students who attended the Small Biz Academy Hilo also found a lot of value in the panel's discussion. Shilder College of Business Student Kaeo Awana is one semester away from receiving his Executive Masters of Business Administration degree, and this was his first Hawaii Business event. Awana was invited to attend the Small Biz Academy Hilo with HPM Building Supply, where he is a buyer and plans to work after graduating from U.H. Manoa.
"This was actually my first [Hawaii Business] event and I think it's extremely helpful to hear current business leaders and their perspectives on various things," says Awana, "for me attending with my current business leaders in the local community was extremely helpful."
The next Hawaii Business event is the 31st Annual SBA Awards & Editor's Choice Awards at the Prince Waikiki on Friday, May 4 from 11 a.m. to 2 p.m. Join us for a luncheon as we honor top businesses, lenders, entrepreneurs and advocates in Hawaii's largest Small Business Awards program. For tickets click here.
Grand Naniloa Hotel Hilo – a DoubleTree by Hilton, Banyan Drive, Hilo, HI, USA