Hawai'i Pacific Health's Ray Vara is 2021 CEO of the Year
He has led the nonprofit's growth and improved health care for more than a decade while also focusing on the broad factors that impact the health of Hawai'i's people.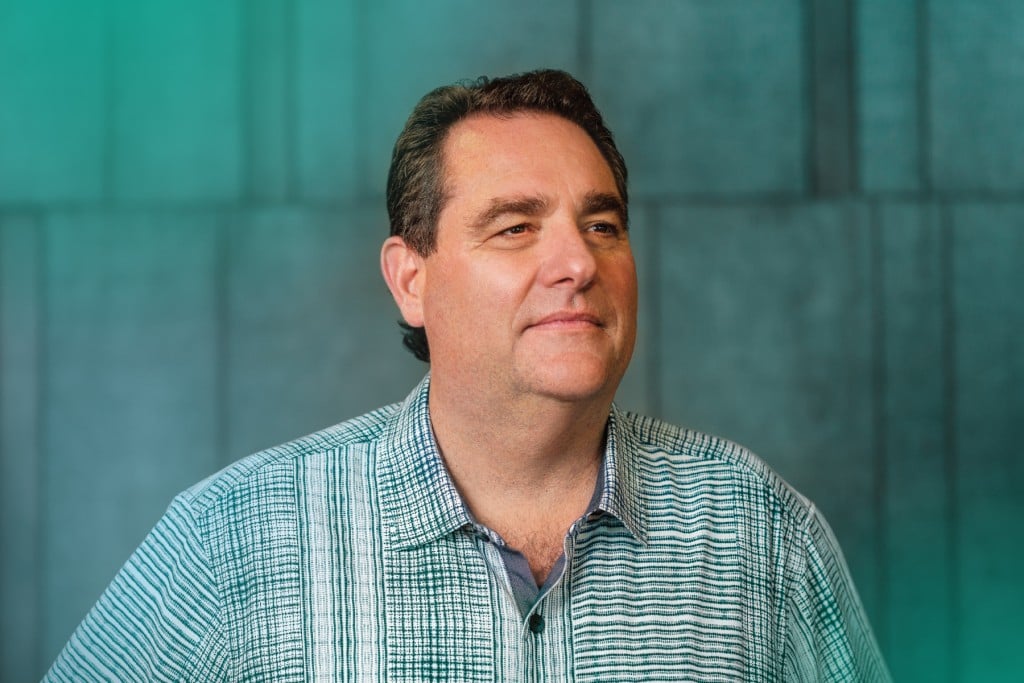 It was January 2021 and nearly 140 Hawaiʻi Pacific Health employees were stationed at Honolulu's Pier 2, ready to serve the 890 people 75 years and older who signed up to receive Covid-19 vaccines on the opening day of the state's first mass vaccination clinic.
Ray Vara, HPH's president and CEO, recalls seeing the worry on some seniors' faces. Some even brought beach chairs because they thought they'd have to wait in long lines, like at many Mainland clinics. But they moved through the process quickly, and as soon as they got their shots, he saw their shoulders drop 3 inches.
"It was buried so deep in them, this fear of what could happen to them if they were exposed to Covid. All of a sudden, they had this sense of relief. And our people could see that – it was physically visible," Vara says.
"It gave (HPH employees) that much more energy, that much more pride. Then they could really feel in a real tangible way – I get chicken skin as I talk about it – they could see the impact they were making."
He adds: "It was something I'll never forget during the course of my career and something I take great pride in the work of what our team did and the impact they made in the community in a time when people really needed this."
That clinic's opening marked a turning point in the local pandemic as people could start to feel hopeful about the future beyond Covid-19. HPH administered over 187,000 doses at that site before it closed at the end of July 2021. It now has vaccine clinics at Kapi'olani, Straub and Wilcox medical centers, plus mobile clinics on Kaua'i and O'ahu. As of Oct. 12, the nonprofit had administered 268,000 doses.
HPH was also the first employer in the state to offer free antibody testing to its employees, and among the first organizations to offer drive-thru Covid-19 testing. And it's helped treat more than 1,200 people sick with Covid-19.
Vara's passion for fulfilling HPH's mission of creating a healthier Hawai'i is unmistakable in his work, whether he's pushing employees to offer excellent patient care, merging three formerly separate health care organizations into today's HPH or striving to help the working poor throughout Hawai'i. For those reasons and others detailed in this story, Hawaii Business Magazine has selected Vara as its 2021 CEO of the Year.
Unified Organization
Hawaiʻi Pacific Health was formed in December 2001 after the merger of three longtime health care organizations, Kapi'olani Health (which included Kapi'olani and Pali Momi medical centers), Straub Medical Center and Wilcox Health on Kaua'i.
Vara joined HPH in 2002 as Straub's CEO. He became CEO of all four medical centers in 2004 and then president of HPH in 2012. The Hawai'i Pacific Health CEO title was added in 2013.
Today, the organization employs 7,000 people and has more than 70 clinics statewide, plus the four medical centers.
Dr. Melinda Ashton, HPH executive VP and chief quality officer, says merging the three entities is one of Vara's greatest accomplishments.
"It's one thing to write the contracts and say we are now an organization but to actually create the cultural change, the leadership change that means we behave as one, we believe we're one, that truly is something that Ray is responsible for," she says.
Vara says HPH is more effective today because it pulls on the strengths, legacies, cultures and commitments of its founding organizations.
"Creating that unifying culture that really puts the patient at the center of the work that we do and makes the broadest impact possible for the community that we serve has really taken every bit of the last two decades to get to where we're at today," he says.
HPH is frequently recognized for excellent patient care. Straub Medical Center has received Healthgrades America's Outstanding Patient Experience Award for 12 consecutive years, and Pali Momi for three. In 2020 and 2021, Straub was the only hospital in Hawai'i to receive Healthgrades' 250 Best Hospitals Award, meaning it's in the top 5% nationwide for clinical excellence.
Straub, Wilcox and Pali Momi medical centers have five-star ratings from the federal government's Centers for Medicare & Medicaid Services, which assigns ratings to hospitals nationwide based on mortality, safety of care, readmission, patient experience, and timely and effective care.
Culture of Care
Vara often talks about touching patients at their souls. Dr. Leslie Chun, CEO of the Hawai'i Pacific Health Medical Group, says that's because Vara doesn't view delivering care as a transaction. Instead, he sees it as a relationship that must be maintained.
"For a non-clinician to understand that and to promote that, it shows his insight and his humanness," Chun says. HPH Medical Group comprises almost 700 HPH physicians, nurse practitioners, physician assistants and other health care providers.
Chun adds that the accolades HPH receives point to Vara's leadership because he provides the environment for excellence to occur.
Art Gladstone, executive VP and chief strategy officer at HPH, agrees: "Under Ray's leadership, he really helped drive us toward that high world-class quality from a clinical standpoint, but also world-class quality from a service standpoint," he says.
"The clinical is what people expect. You come to a hospital, you expect you're going to get the best care you're possibly going to get, right? But the service quality was sort of that wow factor – that we treat people in a way that is respectful, again, calling them by name, explaining things, etc., because that's the engagement part. And the more and more we can engage patients, the more they'll participate in their care."
Vara credits his daughter, Abigail Faith Vara, for changing the way he leads HPH and the expectations he has for the patient experience. An accident in 2004 left the 2-year-old with a brain injury. The family spent a lot of time at Kapi'olani Medical Center before Abbie died in 2015.
"I will forever have gratitude for the care that they provided to her, but I also saw what it was like to be a father sitting on the other side of the bed," he says. "I like to think that I actively and sometimes shamelessly brought those experiences to life to change how we impact other families, not because something was going bad or there was poor care being provided, but because so much of the care we provide has nothing to do with the clinical content.
"It has to deal with how we touch people as human beings, how we touch them at the soul, how we sympathize with what they're experiencing at that time."
"Mission First and People Always"
People who know Vara well, say he is intelligent, genuine, reads people well, and has a knack for quickly and clearly understanding complex issues, breaking them into simple terms and articulating them in ways that can bring people to the table to address them.
"He's one of those rare individuals, executives who can really scale between deeply philosophical, strategic, intellectual types of problems and issues, but then can also get down to the most minute detail in an operation," says Peter Ho, who is president, CEO and chairman of Bank of Hawaii and serves on the bank's board with Vara.
"And so he has great subject matter command, not just in the nuts and bolts of his operation but also in the highest strategic issues for Hawai'i Pacific Health as well as for issues confronting the community."
Vara's leadership philosophy is guided by a quote from Colin Powell, who served as national security adviser, chairman of the Joint Chiefs of Staff and secretary of state: "Leadership is the art of accomplishing what the science of management says is impossible."
Leaders are charged with helping co-workers and employees understand the importance of their collective work, treating them with dignity and respect, and keeping them informed, Vara says. "I've always thought of things as mission first and people always."
He adds that he'll ask his employees to work hard – probably harder than they ever have before – but he also wants to make sure they have their priorities in the right order. And he tells all new employees that at their orientation.
"We go as far as to tell you what your priorities should be," he says. "And first, you got to take care of your personal health and your well-being. Second, you've got to take care of your family and your community. And then I'm going to ask you to bring every ounce of energy that you have left and leave it on the table for the benefit of our patients. And most of us get that order all wrong unless there's something that triggers us to change."
He also believes leaders must be visible and present in their organizations and operate with integrity, which he defines as doing the right thing even when no one is looking.
Hawai'i Community Foundation is one of HPH's partners. Micah Kāne, the foundation's president and CEO, serves with Vara on several local boards. He says Vara is not afraid of being the first person to advocate for something that he strongly believes in, even if it's unpopular.
In the early days of the pandemic, "he was one of the first leaders that was saying, 'We have to look at shutting down,' and that's a hard thing to say for someone like him," Kāne says. "I mean he's a very pro-business guy, but at the same time he's never going to put those decisions in front of the health of our community, and he was one of the first leaders who was advocating to the governor for that."
Stability Amid Hardship
Vara was part of Gov. David Ige's Laulima Alliance Covid-19 advisory panel and serves on the Hawai'i House Select Committee on Covid-19 Economic and Financial Preparedness.
He says he and other HPH leaders feel a responsibility to help shape policy that balances the risks and threats the community and health care system face from Covid-19, with the other risks and threats faced by the state's most vulnerable populations.
"One thing we know is in the long view of health care, the greatest enemy of health is poverty," Vara says, and that perspective must help drive policies and decisions.
Richard Wacker is the former CEO of American Savings Bank and has served on HPH's board of directors since 2018. He says Hawai'i is better off because Vara and his organization were a strong voice for keeping the economy going and came up with creative ways to expand HPH's care for coronavirus patients and to deploy and scale vaccinations.
In addition to the vaccine doses administered, HPH opened four respiratory evaluation clinics that have had 3,820 clinic visits, launched a program that tested 3,607 of its employees for Covid antibodies, tested 136,445 people for Covid at drive-thru sites and converted in-person medical visits to telehealth. Ashton says telehealth appointments still make up about 50% of all visits. HPH doctors also worked with UH engineers to reconfigure a ventilator so it could be used on four patients at once if needed.
Vara says the organization has used the term "poised under pressure" a lot during the pandemic, and that despite having resources and capacities stretched at times, people could always count on the health care system to help them.
Chun says the Pier 2 mass vaccination clinic's execution, efficiency and customer service was a first-class experience thanks to Vara's leadership. He says Vara has a talent for seeing around corners, past the current issue and looking at what's needed next, and he empowers his leaders to make things happen.
"In times of hardship, leaders rise, and leaders show what they're truly made of," Chun says. "And he's done that in so many different facets of health care and the community and beyond."
---
Join us as we honor Ray Vara, President & CEO of Hawai'i Pacific Health at our 2021 CEO of the Year event.
---
Army Career
Vara was born in Canton, Ohio, to a stay-at-home mother and a father who worked in the gaming industry, so most of his childhood was spent in Las Vegas. He was the youngest of four kids and spent a lot of time playing football, basketball and baseball. But his life was shaken by his father's death when he was 15. Three years later, he joined the Army.
"My life was in a state of disruption at a young age, and that just seemed like a path that could provide some clarity," he says.
His first long-term posting was in Honolulu. He took night classes at Hawai'i Pacific University and later received an Army ROTC scholarship. He earned a business administration degree and became an officer in the U.S. Army Medical Service Corps.
While stationed in Washington state, he met and married Tiffany, who was also an Army officer in the Medical Services Corps. They have four sons, who are now ages 30, 29 and 24 (twins).
Vara was only in his mid-20s and a medical platoon leader with the 9th Infantry Regiment in 1994 when many Cuban refugees were being placed at Guantanamo Bay. His role there was to help oversee the care of U.S. soldiers and to help screen the refugees for serious medical conditions.
"I wasn't the only one doing that work, there were a lot of us there, but given that I was an officer and overseeing medical personnel as part of care process there, it felt like a lot of responsibility at a young age," he says.
Honoring Family
After two other army assignments, during which Vara learned about health care finance and earned his MBA, he and Tiffany left the Army in 1998. The next stop for them and their four sons was Los Alamos Medical Center in New Mexico, where he was CFO and then CEO. After that opportunity, the Vara family moved to Hawai'i.
Ho, Bank of Hawaii's CEO, has known Vara for over 10 years and calls him an "incredible family man."
"Just a real model family between Ray and his wife, Tiffany, and his kids," he says. "As a parent and husband myself, he's someone to really model and emulate."
Vara's days are often busy and long, and he remembers having to be selective about the times he spent with his children when they were young. All his children played sports, so he'd block out times for games as if they were meetings.
"I said, look, we've got a lot of responsibility, I've got a lot of kids, I've got a lot of work obligations, and so here's what you can count on is if you've got a game, a match or something like that I'm always going to be there," he says. "You don't ever need to worry about that. But the other side of that is I'll almost never be at practice. I'm never going to be the coach. I'm never going to be the team parent. But I'm going to be at every game."
Ray and Tiffany's sons are now grown and have their own careers. Vara says his proudest accomplishment is that he and his wife successfully raised four tremendous young men who call each other their best friends.
He also says his late daughter, Abbie, was the glue that shaped his family and turned those boys into the men they are today.
"She taught them a lot, and that experience taught them a lot about humility and challenges and about how to overcome those things and how to persevere and how to, frankly, enjoy sometimes the simplest things in life," he says. "And oftentimes that's just time together."
The family continues to talk every day and has group texts. And he knows his sons are watching him and the decisions he makes.
"I wake up every day open to do work that honors my family," he says. That work includes service on several local boards, like the Hawai'i Executive Collaborative, and he is the 2021-2023 chairman of the American Heart Association's national board.
Broader Impact
Early in the pandemic, Vara was driving from the North Shore toward town when he came across cars lined up for miles in the far-right lane of the highway. All were waiting for food distribution to start at Aloha Stadium.
"I remember this hollow feeling in my stomach: All these people are sitting here waiting in line for a food distribution at 6:30 in the morning for something that doesn't even open until 8 a.m.," he says. "And they just wanted to get in to get food to be able to feed their family."
Inside and outside of HPH, Vara advocates for food security, better housing and education, and other quality of life issues for Hawai'i's people. For instance, those food distribution events were supported by the Hawai'i Community Foundation's Resilience Fund, to which HPH contributed $200,000 in 2020.
For Vara, "health care is just one piece of this equation, a big piece, but there's much more than just us, our existence in this community to take care of people when they need us," says HPH chief strategy officer Gladstone. "We have to be taking care of people before they need us."
Kāne says Vara realizes that housing is a key indicator of well-being and if people aren't housed properly, they're going to end up at one of HPH's facilities.
"By the time it gets to him within his walls, many times it's too late," Kāne says. That's why Vara advocates for wellness factors beyond traditional health care.
For more than a decade, Vara says HPH has been conditioning itself to focus on the health of the overall population: building strong families and resilient children by supporting food security, housing stability, self-sufficiency, and child and family development.
Those commitments require restructuring how the organization delivers care, engages with the community, finances health care and partners with others, he says.
He notes the real work around workforce development is being done within Hawai'i's education system; HPH tries to add value to those efforts in specific areas where it has expertise, including through a medical assistant training program for high school students that began in 2018. Medical assistants perform administrative and clinical tasks like checking in patients for appointments, updating medical records and explaining physicians' instructions to patients. Students participate in two semesters of coursework and a 225-hour externship. HPH, which developed the curriculum, then guarantees students a job as long as they pass the national certification exam and meet other hiring requirements.
"A lot of these young folks, they're 18 years old, they're right out of high school, and I see them sitting at new employee orientation, and in many cases, they have a career trajectory that is greater than probably anybody else in their family currently or maybe even in the past," Vara says.
HPH now has training programs for medical assistants, nurse aides, surgical instrument processing technicians and phlebotomists at 13 public high schools.
The organization also provides summer internships for high school and college students, an eight-week summer student research program, and five fully funded scholarships for students attending UH's John A. Burns School of Medicine.
"You wouldn't believe how many kids go from that internship program to the summer research program, because the summer research program is very competitive," Vara says. "And so you get kids into that, and they go off to medical school and then we've got folks who have gone through all that and come back and work for us. Its connectivity to our organization and to the mission of creating a healthier Hawai'i runs deep."
Call To Action
Vara ofter points to the pandemic's impact on Hawai'i's ALICE population as why HPH and the community urgently need to improve the health of all local people. ALICE stands for Asset Limited, Income-Constrained, Employed – people and families who work and earn more than the federal poverty level but still can't afford child care, adequate housing, food, transportation, health care and other necessities.
Pre-pandemic, 42% of Hawai'i households were considered ALICE or below. Today, it's 59%. And while Covid isn't gone, Vara says the greater risks to Hawai'i are the socioeconomic factors that make it impossible for ALICE families to make ends meet. One example is that there's a decade difference in the life expectancy in Waimānalo and West O'ahu versus affluent Hawai'i Kai.
"If we don't figure out how to activate our community and put a spark in the economy in a meaningful way, I think we can bring longtime harm to our community that is much greater and has a much longer impact on our community than Covid itself," Vara says. "So we've got some work to do."
He adds: "We'll know that we're successful at caring for the health of the population when based on all indicators an empty hospital bed is more valuable than an occupied hospital bed because we don't have people lined up for sick care because we're involved in their lives and worked with the community to create a healthy population."
Wacker says Hawai'i is lucky to have Vara.
"He's the kind of leader who could take a lot of opportunities outside of Hawai'i at a national level, but he chooses to stay here and contribute to a healthier Hawai'i and a better economy for our state, a better living situation for all the people of Hawai'i," Wacker says. "And I think we're extraordinarily fortunate that he and his family have that passion for Hawai'i."
---
Related Stories: Hawai'i Pacific Health CEO Discusses Precautions as Hawai'i Reopens, Ray Vara, President and CEO, Hawai'i Pacific Health
---
Vara recently spoke to 550 HPH leaders and guests during the organization's annual board and leadership retreat. During the virtual event he asked everybody to change their view from speaker to gallery so they could see one another. He then clicked through the thumbnails to look everyone in the eye.
"This is a call to action," he said as he concluded his remarks. There is no greater force than when "we come together, when we lock arms and when we can make a commitment to those things that really matter."
He promised he's committed as the organization's leader, and people will have his support if they're willing to help create a Hawai'i that everyone can be proud of.
"I have a selfish reason for this, a very selfish reason, and I'm not shy about it and I'm not ashamed of it," he says. "As you all know, I've got four sons and they're grown and they're out of college and they're having their own careers. But someday, they'll want to come home. Someday I want them to come home.
"And unfortunately, the Hawai'i I see today is not a place where that's realistic from a livability and affordability standpoint, and so we have to change that. We have to change it for my sons, we have to change it for your families, and we have to change it for a generation of kids who are out there and all want to come home."
Correction: A previous version of this story incorrectly stated that Hawai'i Pacific Health CEO Ray Vara served on the Hawai'i Community Foundation's board. Vara serves on several local boards, including those of Bank of Hawaii and the Hawai'i Executive Collaborative, but not the foundation's. We also incorrectly stated that Vara became an officer with the Medical Services Corps. The correct name of that corps is the U.S. Army Medical Service Corps.
---
A Growing Health Care System
Hawaiʻi Pacific Health has opened or renovated/expanded 35 clinics in the last 10 years.