Talk Story: Su Shin, President & GM, Hawaiian Telcom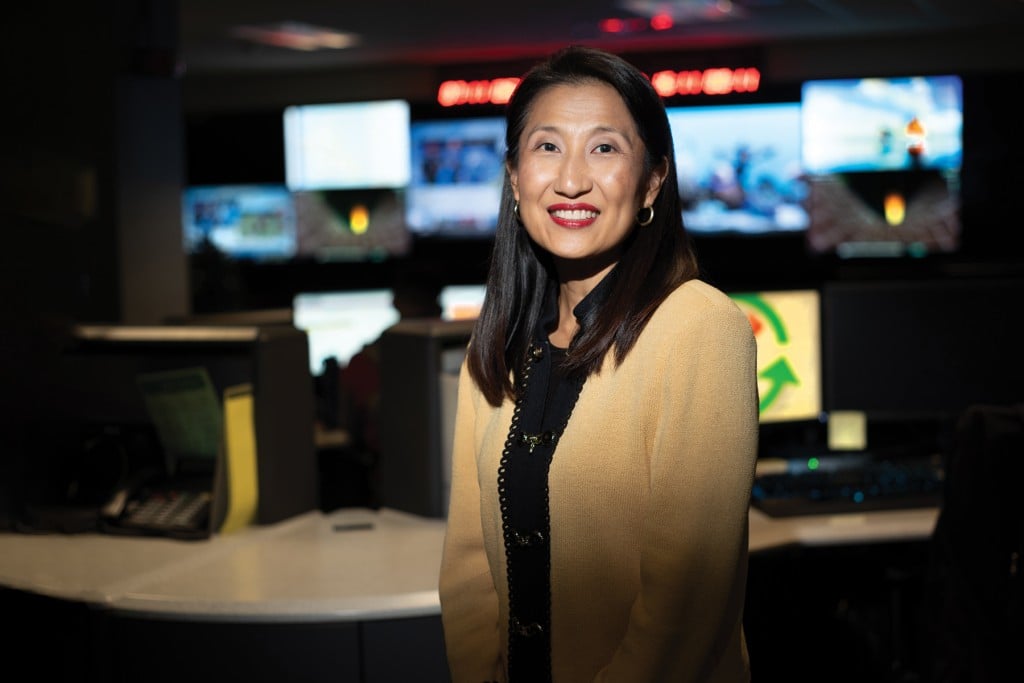 Hawaiian Telcom's first female leader takes the helm with the 136-year old company at a crossroads. 
In Part I of this extended Talk Story, she talks about her personal journey as part of an immigrant family from South Korea striving for the American dream. In Part II, she talks about how Hawaiian Telcom's investments in a local and trans-Pacific fiber-cable network will support Hawai'i's broadband and 5G needs.
PART 1
What prompted your family to move to America?
Shin: My mom emigrated with me and my brother from Korea in 1977 when I was around 5. My dad had died unexpectedly and left my mom with two young kids to raise.
She had two concerns. At the time, Korea wasn't as progressive and modern as it is today. They didn't have affordable public schools and many families would prioritize the education of their sons. My mom, herself, only had a middle school education. And a fatherless child would be somewhat ostracized.
My mother's sister was living in Hawai'i with her husband, who had a Department of Defense job. She sponsored us, so we moved to Hawai'i. It was the whole American dream story for my mom. Her children could get an education, and if they worked hard, they could do well. In America, you are judged on who you are.
What was life like in Hawaiʻi?
Shin: We eventually got into public housing, and that's where I grew up. We became naturalized citizens when I was in the sixth grade. My mom was diligent in that way.
I graduated from McKinley High School. I knew we didn't have the means, so initially I wasn't thinking I could go to college. But I remember applying on a whim to the University of La Verne in California because it was waiving application fees. I hadn't told my mom. 
When I got the acceptance letter and the full financial aid package, I was so nervous to tell her. I remember her looking at me in the eye and saying: "If this is what you want, then I will support you."
What did you learn about yourself at school?
Shin: I grew in so many ways. I learned about strength, leadership and extending beyond my comfort zone. I pushed myself a lot. I majored in journalism and wanted to be the next Connie Chung, upholding ideals around journalism. I also learned just how special Hawai'i is, with its physical beauty and amazing people. Going to college was a great experience, but I knew I wanted to come home after.
What happened when you came back?
Shin: Hawai'i is a small market. There were only three TV news departments when I got here. I got an entry level job. At first I was on the business side of the station in sales and data entry. Looking back, it was a blessing because I learned a lot. Eventually, I was in the right place at the right time with the right education. I landed a job in the newsroom, which was great.
I met my husband, and we started a family. After I had my first daughter, I gave myself a year to balance having a family and working in news. I realized, however, that my priorities had shifted with my daughter being born.
How did you take a new career path?
Shin: I joked around that ex-journalists either go into politics or public relations at the time. I looked at different opportunities and heard that Joan Bennet's public relations firm allowed employees to set up home offices. As a new mom, that sounded fantastic.
I loved PR. There is so much strategic counsel and planning. You play an important role in understanding a company's audience, workers and brand. (She ended up as senior VP at Bennet Group. She joined Hawaiian Telcom in 2013 as director of corporate communications.)
All of that experience really translated to my role as chief of staff and then president of Hawaiian Tel. The more time you spend on thinking through the impact and the strategy, the easier it is to bring people along.
There is a direct correlation between good leadership and good communication skills. I believe that if a person is a poor communicator, they will have trouble leading, regardless of their expertise.
PART 2
You are the first female CEO in the company's history. How will your leadership style be different from your predecessors?
Shin: We talk a lot about EQ versus IQ. Empathy comes so naturally to women. Some view it as a strength while others view it as a weakness. Somebody might say that as a leader, you need to be firm and strong – anything else may be seen as weak.
I argue the opposite. We are changing as a society. Employees want to feel appreciated. They want to feel like they are part of a team. For a leader to show vulnerability means they are genuine and authentic. You should be who you are all of the time.
I'm never going to be John Komeiji. I need to stay true to who I am. Those traits have brought me success. I don't need to change because I have a different title.
Your previous job at Hawaiian Telcom was chief of staff. Does it feel different now that you are at the helm?
Shin: It would be a problem if it didn't feel different. I feel a tremendous sense of responsibility, both to Hawai'i and our employees. Our company is the backbone that enables local people and businesses to connect with what matters most to them. But we also live in a global marketplace and cannot compete if we don't provide that connectivity outside of the state.
In a lot of ways, we are the victims of our own success because if we do our jobs well nobody is really talking about us. But candidly, our 1,200 employees work hard every day to make sure things run smoothly.
We are a retail and a wholesale company. Our customers include the biggest cell phone providers. We are the backbone for all communication in Hawai'i. That is not an understatement. I take my role as their leader very seriously.
How are you differentiating yourself in this competitive industry?
Shin: We have a fierce competitor in this space (Spectrum). We respect them, but what sets us apart is our employees. They are the heart and soul of this company. Our employees live here, work here and raise their families here. We have a vested interest in the success of the company because it equals the success of the state.
Another powerful differentiator is our fiber network. At one time, Cincinnati Bell and we were the only companies in the sector investing in this type of network. Now, more companies have followed suit, but they may have done too little too late. Some of them are trading at 40 cents a share now.
Hawaiian Telcom has invested more than half a billion dollars in a next-generation fiber network, including a submarine fiber-cable system in the Pacific. What ROI are you seeing?
Shin: The fiber network effectively future-proofs our network. The biggest cost in deploying a network is the construction, while the equipment that bookends the fiberglass lines is physically accessible and keeps improving. Updating the electronics enables the fiberglass to handle an exponentially higher amount of data. We made the decision to invest about 10 years ago, and it wasn't an easy decision because it was a tremendous amount of capital. We could have paid dividends, but instead we invested in our future.
What role does Hawaiian Telcom play in 5G cellular service in Hawaiʻi?
Shin: On the wholesale side, we are the predominant provider to the wireless companies. There are other technologies in that 5G space that we are also looking into. It is certainly not ready for prime time, but at a minimum the wireless providers are our partners and we get involved in that way.
Currently, the 5G space requires fiber density, which we can provide. The fiber network keeps coming up as being critical to our long term success.
Two companies, Macquarie Infrastructure and Real Estate Assets and Brookfield Infrastructure Partners, are trying to buy Cincinnati Bell, which is the parent company of Hawaiian Telcom. Should this acquisition get regulatory clearance, what are the implications for operations in our state?
Shin: I can't comment on any specific acquisition. Our hope, however, is that there is continued investment in our fiber network, which is so critical for Hawai'i. It will not only help us remain competitive as a company, but help Hawai'i when it comes to telehealth and distance learning and all of those applications that require bandwidth. Cincinnati Bell CEO Leigh Fox has described our company as that nice house in a really bad neighborhood. The bad neighborhood is the telecom sector. As a publicly traded company, we could be doing great things but our stock price would still drop partly because of the sector we are in. We have companies in this industry trading at sub 40 cents and are effectively getting ready to file for bankruptcy. They are dragging everyone down. But it now feels like the market is recognizing that we are undervalued. I think it is exciting and our employees are excited.
What aspects of Hawaiian Telcom's integration with Cincinnati Bell worked well for Hawaiʻi?
Shin: The merger with Cincinnati Bell has gone really well. They made good on the promises and our employees have seen that.
One of the things that Cincinnati Bell agreed during that merger was to have two local board members on its board: Walter Dods and Meredith Ching, which is important to us because Hawai'i's voice is heard. They also maintained local management, which is good.
Workers tend to get jittery during corporate mergers. How are you quelling nerves to ensure everyone stays focused and productive?
Shin: I am hosting about 20 all-hands meetings throughout the state. These are all face-to-face meetings during which I answer any questions employees have. It is a big investment of time, but I think it is important because our workers are at the heart of our success. They are like family and we value what they do.
Former Hawaiian Telcom president John Komeiji encouraged a culture of innovation and let teams try new things. Is that still Hawaiian Telcom policy? Can you cite some successes from that policy?
Shin: One of our recent initiatives is the Entrepreneurs Sandbox in Kaka'ako. We have a presence there and are extremely committed. You have Servco, Central Pacific Bank, etc., and you may wonder, what do we all hold in common? We are all companies that are invested in Hawai'i. Why not get together in a common space and innovate and share ideas together?
We are also with UH on innovation. We want to work on projects and partner with their students and faculty. For us, it is the right thing to do because we live and work here and many of those young people are our future workforce.
This interview has been edited for clarity and conciseness.