Top Industry Leaders In Real Estate 2020
Hawaii Business Magazine identified the leading real estate companies and invited them to submit their Top Performers for 2020.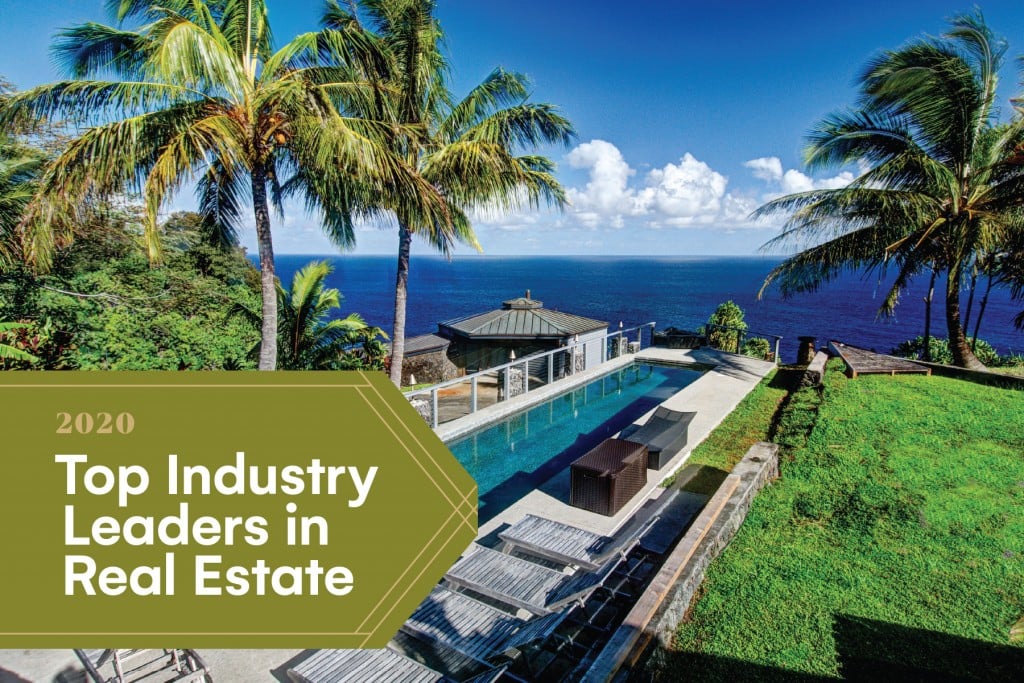 This section profiles these Top Performers in real estate, as well as Top Mortgage Companies. Consider these agents and companies when preparing to make your next real estate transaction.
Berkshire Hathaway HomeServices Hawai'i Realty
Wanaʻao W. Eldridge – Oʻahu
Gregory M. Kerner – O'ahu
Scott D. Larimer – O'ahu
Malia Siu & Lisa Camacho – O'ahu
Sharon P. M. Chai- O'ahu
Jennifer Stellmacher – O'ahu
Mary M. Beddow – O'ahu
Donna M. Maier – O'ahu
Team Maxey – O'ahu
Etsuko Morita Fields – O'ahu
Berkshire Hathaway HomeServices McGeehan & Pineeiro Realty
Lucy Parkin – Hawaiʻi Island
Berkshire Hathaway HS MP
Alex Iskenderian – Maui
Zee Mahan – Maui
Tim O'Connor – Maui
Alex Pinto – Maui
Adam Falb – Maui
Better Homes & Gardens Real Estate Advantage Realty
Kim Wong Balisacan – Oʻahu
Diane Bosworth – Oʻahu
Larry Chun – Oʻahu
Krisztina Kollo – Oʻahu
Neil Kuioka – Oʻahu
Matthew Ngo – Oʻahu
Michelle Nouchi Ogata – Oʻahu
Lena Aipa – Oʻahu
Grace Koreyasu – Oʻahu
Magarita Munden – Oʻahu
Scott Adams – Oʻahu
Brett Aka – Oʻahu
Myron Kiriu – Oʻahu
Colin Lee – Oʻahu
Mei Pang – Oʻahu
Rolanda Racoma – Oʻahu
Jaymes Song – Oʻahu
Sean Takamori – Oʻahu
Francis Van Rafelghem – Oʻahu
Tim Tengan – Oʻahu
Better Homes & Gardens Real Estate Island Lifestyle
Renee Kraft – Hawaiʻi Island
Angel Wannemacher – Hawaiʻi Island
Jana Kaholoa'a – Hawaiʻi Island
Eileen Lacerte – Hawaiʻi Island
Clarke Realty LLC
Rose Delfin – Hawaiʻi Island
Steven J. Ellison – Hawaiʻi Island
Chiaki Yamada – Hawaiʻi Island
Reagan K. Matsumura – Hawaiʻi Island
Rick Oliver – Hawaiʻi Island
Linda West – Hawaiʻi Island
Coldwell Banker Island Properties
Derinda Thatcher & Team – Hawaiʻi Island
Kelly A. Akao – Hawaiʻi Island
Marco A. Silva – Hawaiʻi Island
Carla Womack – Hawaiʻi Island
Kendall C. DiDonato – Hawaiʻi Island
Terry Alling – Maui
Rhonda Smith-Sanchez – Maui
Max Blair – Maui
Geoffrey Cook – Maui
Patrick Franta – Maui
Kim Insley-Morrell – Maui
Gary Mooers – Maui
Sherrie Stinger – Maui
Kento Tanaka Tamaki – Maui
Volker Weiss – Maui
Ilona Coffey – Maui
Brenda Crawford – Maui
Kelly Liberatore – Maui
Coldwell Banker Pacific Properties
Tracy Allen – Oʻahu
Orion Barels – Oʻahu
Diane Ito – Oʻahu
Anne Oliver – Oʻahu
John Peterson – Oʻahu
Ruth Manzano Javier – Oʻahu
Meilinda A. Pinter – Oʻahu
Mikiko Terahira – Oʻahu
Leian A. Harosky – Oʻahu
Derek Kamm – Oʻahu
Elite Pacific Properties
Myra Brandt – Oʻahu
Tony Kawaguchi – Oʻahu
Mary Lavoie-Olson – Oʻahu
Sandra Sagisi Moser – Oʻahu
Alesia Barnes – Oʻahu
Susan Borochov – Oʻahu
Joel Cavasso – Oʻahu
Ruthie Kaminskas – Oʻahu
Thomas Wilson – Oʻahu
Tom Loratta – Oʻahu
Yvonne Khouri-Morgan – Hawaiʻi Island
Jenni Lee – Hawaiʻi Island
Kelly Shaw – Hawaiʻi Island
Rebecca Keliihoomalu – Hawaiʻi Island
Annie Mendoza – Hawaiʻi Island
Donna Duryea – Hawaiʻi Island
Erik Jacobson – Hawaiʻi Island
Tony Pinkert – Hawaiʻi Island
Nicole Vincent- Hawaiʻi Island
Dennis Rush – Maui
Debbie Arakaki – Maui
Greg Burns – Maui
Robert R. Myers – Maui
Gretchen Booma – Maui
Mark Waite – Maui
Sean Ahearn – Kauaʻi
Jim Karlovsky – Kauaʻi
Joyce Wright Funk – Kauaʻi
Hannah Sirois – Kauaʻi
Peter Sirois – Kauaʻi
Hapuna Realty
Harrell Baker – Hawaiʻi Island
Bob Furneisen – Hawaiʻi Island
Jill Furneisen – Hawaiʻi Island
Catherine Klug – Hawaiʻi Island
Tomoko Matsumoto – Hawaiʻi Island
Margery Mayo – Hawaiʻi Island
Leaana Runningbear – Hawaiʻi Island
Ken Shamel – Hawaiʻi Island
Pat Strausse – Hawaiʻi Island
Hawaii Life
Sanjay Arora – Oʻahu
Sean Ginella – Oʻahu
Micah Grafsgaard – Oʻahu
Erik Hinshaw – Oʻahu
Kumu Logan-Blomfield – Oʻahu
Dan Madden – Oʻahu
Kinga Mills – Oʻahu
Julia Napua Fetzer – Oʻahu
Cindy Nash – Oʻahu
Ben Puccetti – Oʻahu
Leiola Augustine – Hawaiʻi Island
Pam Deery – Hawaiʻi Island
Mike Despard – Hawaiʻi Island
Renee Hill – Hawaiʻi Island
Denise Nakanishi – Hawaiʻi Island
Carrie Nicholson – Hawaiʻi Island
Jan Nores – Hawaiʻi Island
Jeanna Rimmer – Hawaiʻi Island
Erika Stuart – Hawaiʻi Island
Beth Thoma Robinson – Hawaiʻi Island
Lori Decker – Hawaiʻi Island
Ray Chin – Maui
Harry "Dev" Devery – Maui
Mary Anne Fitch – Maui
Dave Futch – Maui
Robert Hasson – Maui
Josh Jerman – Maui
Mary Kerstulovich – Maui
Dave Richardson – Maui
Anna Severson – Maui
Jeremy Stice – Maui
Billy Eckert – Kauaʻi
Amy Frazier – Kauaʻi
Susan Higgins – Kauaʻi
JJ Leininger – Kauaʻi
Neal Norman – Kauaʻi
Tiffany Spencer – Kauaʻi
Ben Welborn – Kauaʻi
Kauai Dreams Realty
Keller Williams Honolulu
Taniguchi & Associates – Oʻahu
Patricia Case – Oʻahu
Erin Cooper – Oʻahu
Team Lally – Oʻahu
Anthony Pace – Oʻahu
Tongg + Partners – Oʻahu
Joe Pineda – Oʻahu
Sean Sonoda – Oʻahu
Ihara Team – Oʻahu
Devin Tryan – Oʻahu
Kona Resort Properties
Bob Myers – Hawaiʻi Island
Kuki'o Properties
Ben Garner – Hawaiʻi Island
David Johnston – Hawaiʻi Island
James Schneider – Hawaiʻi Island
Keller Williams
Vegod Dutt – Kauaʻi
Michael Huddleston – Kauaʻi
Carol Lopez – Kauaʻi
Ryan Nunez – Kauaʻi
Catherine Pennell – Kauaʻi
Koa Yukimura – Kauaʻi
List Sotheby's International Realty
Esther Park – Oʻahu
Toshi Saegusa – Oʻahu
Judy Whitfield – Oʻahu
Heather Selvitelle – Oʻahu
Drew Read – Oʻahu
Mari Hirano – Oʻahu
Jeffrey Hughes – Oʻahu
Aileen Rodriguez-Chizer – Oʻahu
Victor Brandt – Oʻahu
Locations Hawaii
Bryan Balisacan – Oʻahu
James Chan – Oʻahu
Stephanie Chan – Oʻahu
Glen Fujihara – Oʻahu
Megumi Nekotani – Oʻahu
Kendra Okihiro – Oʻahu
Lisa Onishi – Oʻahu
Rina Shinagawa – Oʻahu
Corinda Wong – Oʻahu
Rowena Wong – Oʻahu
Maui Real Estate Advisors
Robert Dein – Maui
Kenneth Hayo – Maui
Metzler Realty
Joni Metzler – Hawaiʻi Island
Oceanfront Sotheby's International Realty
Jennifer Acoba – Kauaʻi
Danette Andrews – Kauaʻi
Greg Bloss – Kauaʻi
Mark Goodman – Kauaʻi
Louis LaFratta – Kauaʻi
Steve Latham – Kauaʻi
Moksha McClure – Kauaʻi
James O'Conner – Kauaʻi
Jacqueline Shockley – Kauaʻi
Pacific International Realty
Hana Dawley – Oʻahu
Brad Long – Oʻahu
Melanie Long – Oʻahu
Toni Maehara – Oʻahu
Lori Miano – Oʻahu
Christine Mitchell – Oʻahu
Kimberly Mok – Oʻahu
Earl Tsuneyohi – Oʻahu
Candyce Tsuneyoshi – Oʻahu
William Kaleo Wong – Oʻahu
Premier Island Properties
Lisa Barry – Hawaiʻi Island
Justin Marshall – Hawaiʻi Island
Cindy Wild – Hawaiʻi Island
RE/MAX Kauai Living
Yvonne Summerfield – Kauaʻi
Lynda Gill – Kauaʻi
Kymry Perez – Kauaʻi
Bill Thesken – Kauaʻi
Sachi Hawaii – Pacific Century Properties LLC
Tomoko Yamamoto – Oʻahu
Sachi Braden – Oʻahu
Damon Rhys – Oʻahu
Amanda Uchida – Oʻahu
Shizue Goldblatt – Oʻahu
Sue Brown Realty & Associates
Hilary Brown – Hawaiʻi Island
Sue Brown – Hawaiʻi Island
Tim Brown – Hawaiʻi Island
The Choi Group with Hawaii Life
Sanjay Arora – Oʻahu
Patricia Choi – Oʻahu
Julianna Garris – Oʻahu
Cynthia Nash – Oʻahu
Timbers Kauai Ocean Club and Residences
Wailea Realty Corp. + Windermere Real Estate
Lydia Pedro – Maui
Alana Rucynski – Maui
Dale Richardson – Maui
Gigi King – Maui
Chris Haywood – Maui
Eddie Neimeyer – Maui
Lauren Peacock – Maui
Bradley MacArthur – Maui
Melissa Montgomery – Maui
Roger Pleski – Maui
Diane Pool – Maui
Leslie M. Smith – Maui
Tom Tezak – Maui
View the extended profiles of the Top Industry Leaders In Real Estate by island: