High School Seniors on Kaua'i Face Disappointment and Uncertainty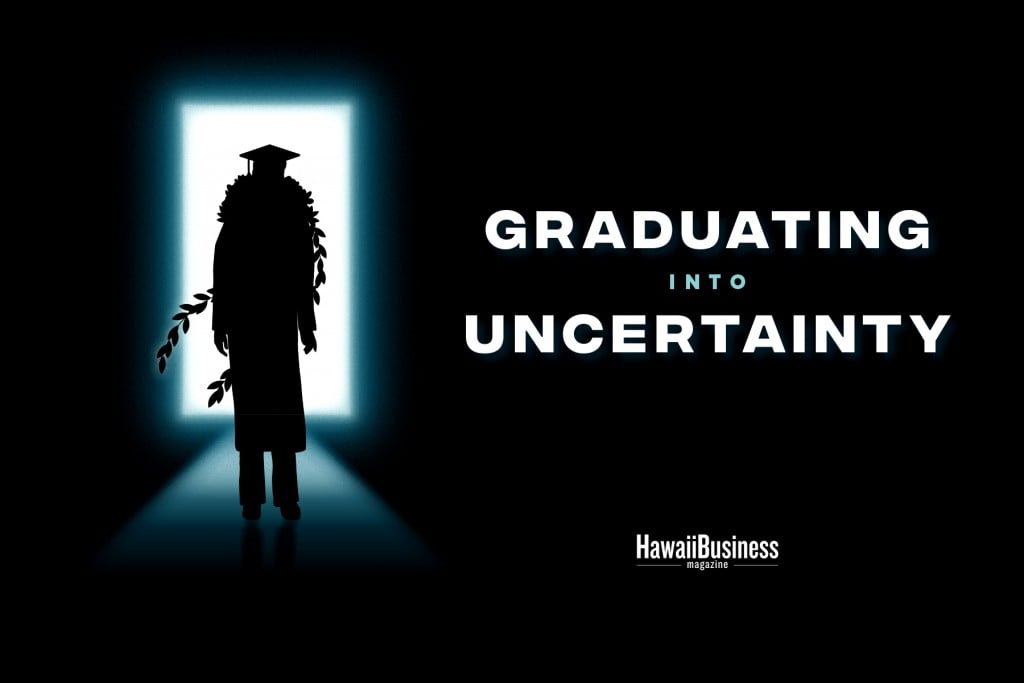 The closing of schools across the Hawaiian Islands affected all students, parents and teachers, but seniors felt it the most. Everything they had built toward during their school years had been ruined by a virus: prom, spring sports seasons, senior capstone projects, their final weeks with friends they love and graduation.
What may be even worse, their futures are now uncertain. "I can't really make a decision. I don't want to be in a situation that's bad for my future," says Kalia Hamid, a senior at Island School on Kaua'i.
Renate McMullen, Island School's college counselor, says Hamid's anxiety is shared by many high school seniors.
"A common theme is trying to live with a lot of uncertainty … right in the middle of this big life transition. It's supposed to normally be a time with a lot of excitement, but now they have a layer of uncertainty over them," McMullen says.
"I've had at least 10 conversations with seniors about deferment" – taking a gap year before attending college, she says.
Hamid is one of those students. She received acceptance letters from Santa Clara University, Cal Poly San Luis Obispo, Lewis and Clark College and others, but due to the COVID-19 pandemic, she canceled her college visits.
"I was pretty certain I wanted to go to college. I didn't see a point of taking a gap year. But I don't really want to go to college (next year) anymore, because it's so expensive and there is no guarantee of it happening. I don't want to pay $20,000 a year for an online education," she says.
Hamid is now considering enrolling in classes at UH or Kaua'i Community College because "all the online education seemed the same."
But there's a complication. Many Mainland colleges do not allow their deferred students to take classes at other colleges that would count for college credits, McMullen explains. If they take classes at KCC or UH, they would become transfer students and need to reapply to their colleges, adding another layer of hardship and uncertainty.
Maddie Hoesel, a senior at Kapa'a High School, still plans to move to Massachusetts this fall to attend Wellesley College. "Hopefully my future plans won't change, but things are changing so fast that I'm just trying to stay positive," she says.
"Obviously I'm disappointed at how my senior year has been affected, but I'm trying to look forward to my future. I know a lot of other people who are in difficult situations because of this crisis and my heart hurts for them all. I am hopeful this crisis will bring us all together and we will be able to make the changes we need to support everyone as we move toward the future." 
Island School senior Moriah Shafter planned to study dance at college this fall but is now skeptical about that experience. "I was extremely excited to attend college and live on my own and have a huge change/new chapter in my life. Now, everything is so uncertain and my future may not go the way I was planning. I can't take dance classes online," she says.
"For me, leaving home was a huge part of what excites me about college, and now, everything including college is being done from home and remotely."
Brant Tanaka of Kaua'i High School still plans on attending Cal Maritime (California State University Maritime Academy) in the fall, but says he is disappointed with the Hawai'i Department of Education's decision to cancel graduation ceremonies instead of postponing them.
"What people don't realize or have forgotten is that everything changes after high school. The friends we made over the years and tight-knit bonds that we put so much into, start to weaken and drift away," Tanaka says.
Others share their disappointment at not being able to enjoy their senior year. "I really do miss school and I hate that I don't get to spend the last part of this year with the people who I really care about," says Island School's Olivia McSweeny.
Classmate Jackson Gamby says she is "really bummed we didn't get to do all of the typical senior stuff like the boat trip, senior prank, and (senior) ditch day."
She doesn't want to complete her first semester online, she says, because that ruins the whole "college experience."
Ashley Crawford, a Kapa'a High School senior, still plans to enter UH Mānoa's nursing program, but is upset much of her hard work is going unrecognized. "I've worked super hard to get to where I am, and it would suck for it to all go down the drain. Everyone's focus has always been to go to college, and now … all of your hard work doesn't get appreciated."
Island School's Yongkong Lin expresses both sadness and hope. "Today, I got my cap and gown from school, went home, put it on, and I just burst into tears. I can't lie, I miss it, and it hurts. I've spent years with these people, just to miss out on the best months," Lin says.
She adds: "Although there is no way to change the past, we can make an impact on our future. I can only hope that COVID-19 has opened eyes for a safer, cleaner, more sustainable future."
Kaua'i High School's Julia Safford reminds people to stay positive. "I am very sad that I will not have the opportunity to participate in a milestone as big as my graduation. However, I am trying to keep all the good that the virus has brought in mind. I have been able to bond with my family, especially my brother, these past couple of weeks," says Safford. Her brother had been away at college but is now home with family.
Many seniors accept the necessity of combating the virus. "It outweighs the alternative of continuing senior year," says Island School's Matthew Vickers. "Letting the possibility of coronavirus spread would be disastrous to the student body and the administration. Someone dying would be a lot more devastating than me missing my senior year."
Kaohu Ranis agrees: "More than anything, I'm just worried for my grandparents and my friends and making sure they're all right."
The silver lining to this crisis, Ranis says, is that it's brought him closer to his family. "I'm not so consumed in school, and I can give them my attention," he says.
Gianna Detrolio, an Island School senior who plans to study biology at the University of Utah, says the crisis has brought more gratitude to her life. "I have gotten a lot closer to my family. I started appreciating things more and stopped taking them for granted," she says.
Though they are making the best of a bad situation, McMullen says, Hawai'i's high school seniors need their community's encouragement and comfort now more than ever. "All we can really do is rally around them, give them our support and celebrate their accomplishments." 
---
Read other reports in this series written by college and high school students called "Graduating Into Uncertainty."