UH Mānoa Seniors Finishing University with Disappointments and Anxiety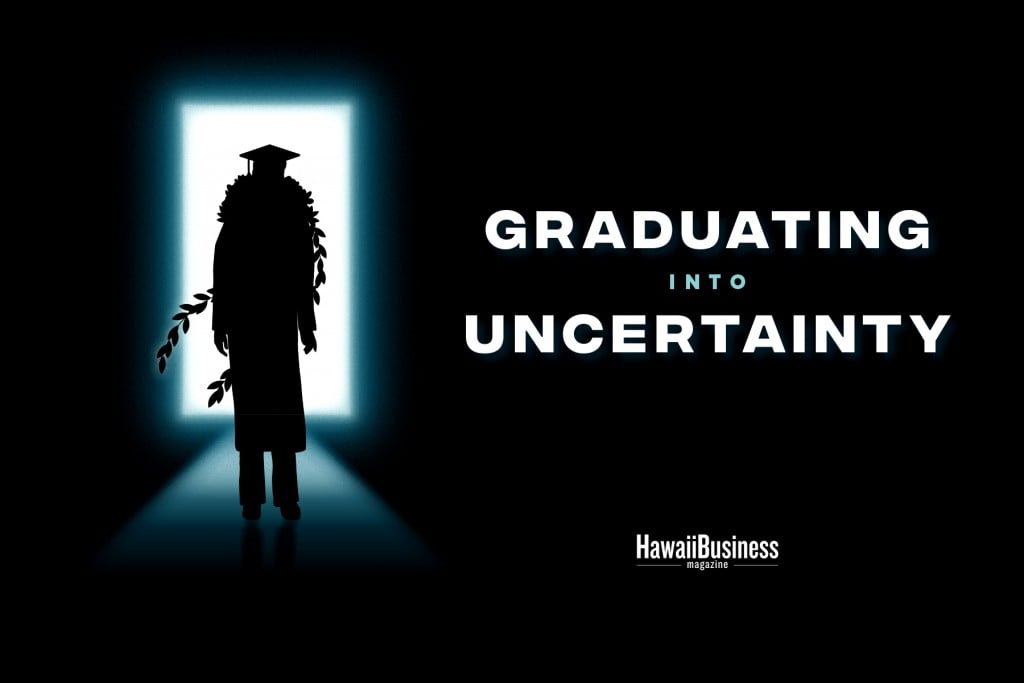 The final months of college are supposed to be an emotional high and an optimistic door to the future.
Instead, UH Mānoa seniors are experiencing lost jobs, no commencement ceremony, canceled internships and athletic competitions, premature goodbyes to close friends and anxiety about their futures.
Everyone has been forced from real classrooms to virtual ones. For Kira Vitella, a senior in UH's nursing school, the lost in-person learning could have high stakes. 
Nursing students are supposed to have 270 clinical hours in hospitals and similar health care settings, but all of that hands-on clinical training was canceled as a precaution against COVID-19. "I am nervous that I would not be as prepared if I would have completed all 270 hours in the hospital setting," Vitella says.
"The remaining 270 hours must be completed through online simulations and modules. The staff is working hard to provide opportunities for us, but the online classes do not provide the same hands-on experience that is learned in the hospital."
As she moves closer to her first nursing job, during a pandemic, that lack of hands-on experience is making her nervous and "just scared that I didn't learn everything I need to know and how that will affect my future," she says.
With the unemployment rate spiked high, the question stuck in most graduating students' heads is: If all these people with plenty of experience can't get a job, what employer is going to hire me?
That's been on the mind of journalism major Chaz Mihara. "I am excited but also nervous for my future. I know it won't be easy," he says. "Trying to get a job while our state is dealing with this pandemic will be challenging."
Kelly Sojka had a head start on the class of 2020. She graduated in December with a degree in travel industry management and landed a job at the Aston Waikiki Beach Hotel. She was loving life.
"I just got my activities coordinator job, which was a goal of mine, and I still got to work at the front desk. Everything was falling into place," Sojka says. Then one day in March she showed up for a regular shift and was told to pack her things and head home.
The hotel was under 10% occupancy when she was told she had been temporarily laid-off, and the occupancy rate has dropped since. "I wasn't too surprised, but I was like, 'What do I do now?' There are no hotels accepting new hires.
"I don't know what the future holds. I love Hawai'i and working here but maybe I will need to move to Alaska and catch fish to sell to people – they still need to eat right?" Sojka jokes.
Journalism major Megan Lucas was a member of UH's sailing team. "My sailing season was cut short, and our chance to qualify for nationals for the third time in my four years is only a faint thought. We missed qualifying by one point last year and this was our year to redeem ourselves," Lucas says.
"My favorite internship with 'KITV4 Island News' was suspended as was my chance to anchor the UHM TV show for my broadcast class's final project in the studio with my close friends. We will now have to try to film it at home."
Lucas points out that online classes have changed the learning experience. "Instead of spending two maybe three hours in front of a computer screen every day, I am now spending about six, seven hours a day staring at a computer screen."
Lucas says she and the three other young women she lives with have found some upsides to the crisis. "The lockdown taught us to enjoy the small things together that our everyday lives were too busy for. We found ourselves playing cards, doing puzzles and just talking more. Once this is over, maybe we will be able to have more of a positive approach to it all," she says.
For UH Mānoa students who went home to the Mainland, online learning via Zoom provides extra challenges. Janelle Gong, an animal science major, returned to the San Francisco Bay Area for spring break and never came back to Hawai'i.
"The Zoom lectures themselves are easy to follow, yet personally my biggest challenge is the time difference. Being from California, my class that normally starts at 9:30 a.m. begins at 12:30 p.m. here," Gong says.
"Compared to some of my classmates, I have it pretty good. Some are from the East Coast and their daily schedules are completely thrown off."
Christian Young was devastated that UH, like other universities, canceled its spring commencement
"I was heartbroken when I found it out," Young says. "After all that work, you know you're not going to get that satisfaction of, 'I did it!' "
But he was happy with some of the side effects of the shutdown and online learning.
"It is nice to wake up and not have to drive 40 minutes to UH. I can get out of my bed, put some clothes on and go on my computer for class."
And being forced to stay home has brought more time for reflection and his family.
"We have been having dinners, doing game nights. It's been nice catching up with my siblings and my parents."
---
Read other reports in this series written by college and high school students called "Graduating Into Uncertainty."