Immigrants Get The Job Done In Hawaii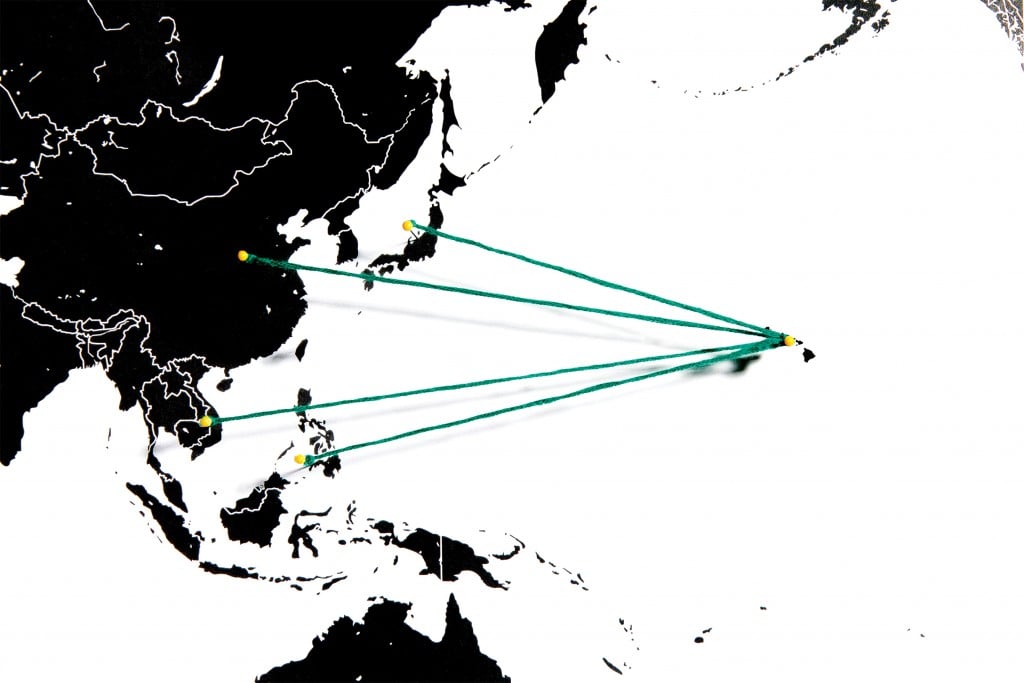 The Emperor of Plate Lunch:
Eddie Flores Jr.,

owner, L&L Hawaiian Barbecue
Everybody knows the up-from-nothing story of Eddie Flores Jr., who built L&L Hawaiian Barbecue from a single location into a Hawaii-based international food empire. Flores, who is Chinese and Filipino, arrived in the U.S. from Hong Kong at age 16. His first job was in San Francisco, selling magazines door to door.
"They taught us to pitch: 'Can I see the lady of the house?' I (didn't) even know what that means," he says.
Flores put himself through UH with scholarships and hard work – "my tuition was $125 a semester back in 1966" – and says his immigrant status "made me a little tougher. I had to scratch for it. There was nothing easy."
His parents couldn't smooth his way, he says: "They had a less than sixth-grade education, so they don't even know how to tell us what to do" to succeed in college and beyond. "I had no idea about CliffsNotes."
"When you talk about immigrants," says Flores, "we work much harder than a lot of people. No one mentors us to tell us what to do. We don't have financial support, we don't have connections. We have to work harder; we just don't have the advantage." Flores has taken his firsthand knowledge of the immigrant experience and built it into the foundation of a franchise with almost 200 locations nationwide and in Japan.
"Our business model has been, 'If we use immigrants, the chance of success is much higher, almost 100 percent improved,' " says Flores, estimating that 80-90 percent of Hawaii locations are run by immigrant families.
"The husband is working, the wife is working. When they're busy, the parents fill in. Very few (immigrant-run locations) fail. They're all successful. They can't speak English, but their kids go to private school."
And he gives back. Over the years, L&L has supported many nonprofits and organizations, including Goodwill, the Hawaii Foodbank, Chaminade University, the Filipino Chamber of Commerce and the Chinese Chamber of Commerce. He was also a member of the Honolulu Police Commission in October when it selected Susan Ballard as HPD's new chief.
He's taught classes on business management at UH and manages to give nearly a speech a week to groups that ask. "Even if a high school calls me, yeah, I'll come down and talk to your students," he says. Over the years, Flores and his wife, Elaine, have donated $2 million to UH.
Although L&L has spread far and wide, Flores says he's concentrating his philanthropy in his adopted home state: "Hawaii is where I made my money, and Hawaii is where I'm going to give back."
The Social Problem Solver:
Izumi Kinney,

founder, Proficio Hawaii
It's been 20 years since Izumi Kinney, who describes herself as a "tomboy" who didn't fit in with the culture of her Japanese girls school, traveled to California to attend community college. To learn English faster, she says, "I chose a university that didn't have (many) international students," says Kinney. She found the math easy but the required computer skills bewildering ("keyboarding and typing" were the extent of what was taught at school), and set to work catching up.
After graduating from Cal State San Marcos in San Diego, she moved to Orange County and took a job with an insurance company, taking advantage of the one-year OPT program. She parlayed that into an H1-B visa, then moved to Honolulu.
"In California, the commute takes so much time," says Kinney. "It was work, work, work – that's it. Not much balance." With some of the time she freed up, she joined Match.com at the urging of another friend ("I almost gave up on marriage"); by the time her one-month trial subscription was up, she had met her current husband, a lawyer and insurance broker who loved surfing as much as she did.
Today she serves as an insurance broker and consultant for Japanese small businesses that want to set up shop in Hawaii. But that's not all she does. Three years ago, while sending her son to a day camp at the Children's Discovery Center in Kakaako, she became troubled upon seeing children in the homeless encampments there.
"All day long at the waterfront park, I was watching kids, 4, 5, 6 years old. They should go to school. They deserve a better life," says Kinney. She also noted that homelessness was a growing problem statewide, and wondered about solutions.
Traditional methods of construction are costly, but Kinney knew that a type of prefabricated housing used successfully in Japan could work here, too. When she approached Japanese manufacturers, though, she was often quickly rebuffed because she was young and a woman. "They didn't take me seriously," she says.
Then she contacted the manufacturer of the prefabricated housing that had sheltered Fukushima's tsunami evacuees, Japanese multinational Komatsu. When that company expressed interest in helping, Kinney connected them with Duane Kurisu, who had announced the Kahauiki Village project, an experimental community that provides homeless families with houses, jobs, laundry and day care, all within walking distance. It was a perfect fit.
Kinney founded Proficio Hawaii LLC to coordinate with Komatsu and Kahauiki Village, and has been working with them ever since. Everything she has done for Kahauiki is pro bono. As Kahauiki's opening approached, she was at the site two or three times a week. In January, the first families moved in.
Whenever she visits Japan, Kinney says, "I feel like I like living in the United States. I feel like women are more independent in the U.S., and can express more." And she loves life in Hawaii. "The air is clean, the water is clean. We have to take care of those things. And there are so many cultures: Filipino, Japanese, Hawaiian – everything is accepted."