Sizzling Parties by Accel Event Rentals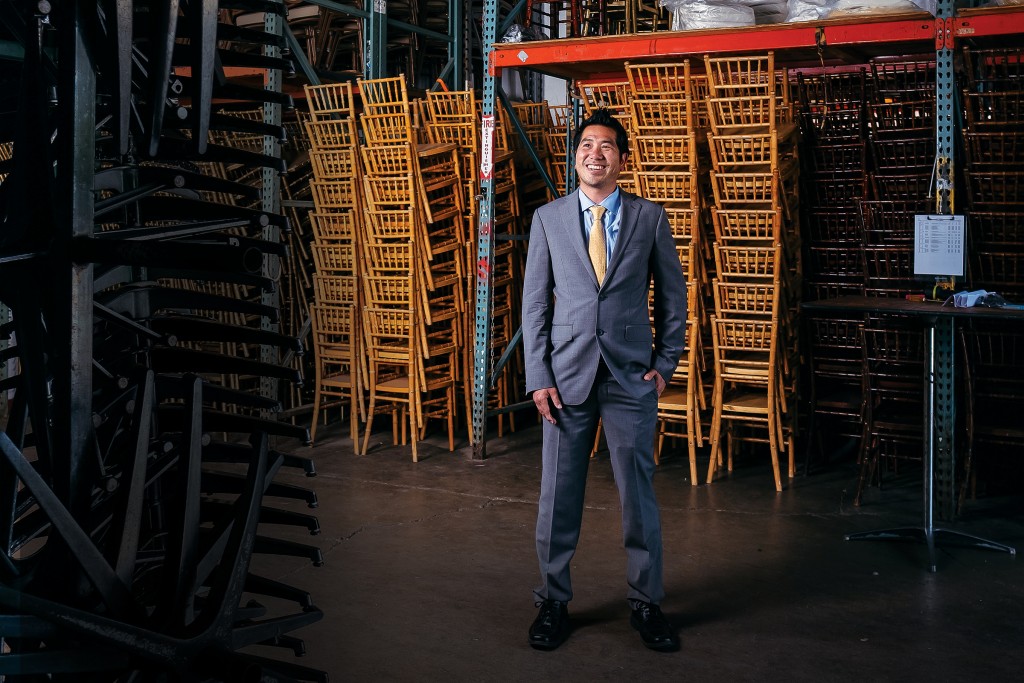 Accel Event Rentals has staged events for Rihanna, Kanye West and Donald Trump, and can do yours too
"I may seem relatively young, but I'm actually a veteran in this industry," says Scott Rabe, 36, president of Accel Event Rentals in Aiea. "There are pictures somewhere of me at age 6 at one of my dad's picnics, handing out drinks.
"I'm a 'lifer' at special events. I enjoy improvising solutions for my clients on the fly, and then there's the instant gratification at the end when it all works out."
Rabe believes that creating superior events can help elevate Hawaii's economy. "Events are a commodity-based industry: You need product and labor. If there are no tables, you can't have a dinner. If you can't have a dinner, you can't bring Amway China here. Then all of that business goes to some other destination."
Rabe (RAH-bay) was home-schooled by his mother, who was educated as a teacher. After taking one semester of business classes at UH Mānoa, he transferred to Simon Fraser University in British Columbia because of its well-ranked business program. Rabe graduated in 2004 with a bachelor's in business administration.
But before leaving for SFU, he worked for two years as a banquet waiter at the Halekulani. "The two things that shaped who I am as a business person today are SFU for my technical knowledge, precision and work ethic, and the Halekulani to hone my service skills.
"What I learned from the Halekulani was 'total quality management' – to anticipate your clients' wants and needs before they ask for it."
Accel was founded in 1994 by Rabe's father, Michael, "but my younger brother, Ryan, and I actually did the labor," Rabe says. He was only 14 at the time.
When Rabe returned home from college in 2004, he assumed more managerial duties and became its president and main stockholder. "We pioneered a lot of things in the events industry in the early days, such as pushing the envelope on visual presentation or improving product quality," explains Rabe. "But when I came home in 2004 we started to make inroads into the process, servicing and pricing.
"For example, if you're renting chopsticks from us, we won't make you wash them or return them the next day – but just don't make it a week," he quips. "We may even offer to pick them up from you, at no extra charge. And we'll give you comparable pricing.
"Transparency in pricing is another area. Even before Google, we were putting our prices out there so the customer could compare without even talking to us."
Rabe believes such innovative thinking helped Accel grow into the largest event rental company in the state. Among the celebrities the company has serviced are Rihanna ("We did her birthday party at The Kahala and had to custom-build a paparazzi screen at the last minute to hide her from the cameras."), Kanye West, President Trump and the many heads of state in town for the APEC conference in Honolulu in 2011.
---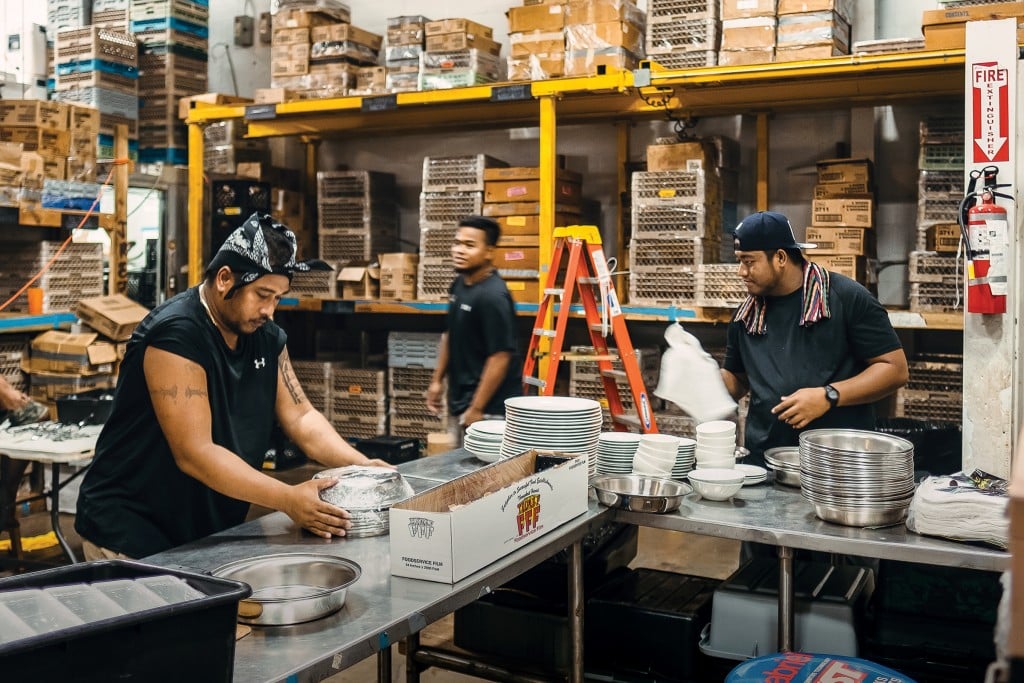 Excel with Accel
Premium china:
"This is a new brand that are our 'top-shelf' items," Rabe says. "You've got your basic dishware, but then you've got your high-end crystal Riedels and gold flatware. We decided to service an area of clientele that we hadn't serviced before."
Lighting and electrical:
This includes string lights; white, round Japanese lanterns; crystal chandeliers; lanterns on bamboo poles and Honda generators.
Portable kitchen:
"We also rent kitchen equipment – such as convection ovens, grills, hotboxes, baking racks – so chefs can build a satellite kitchen in the middle of wherever," Rabe says.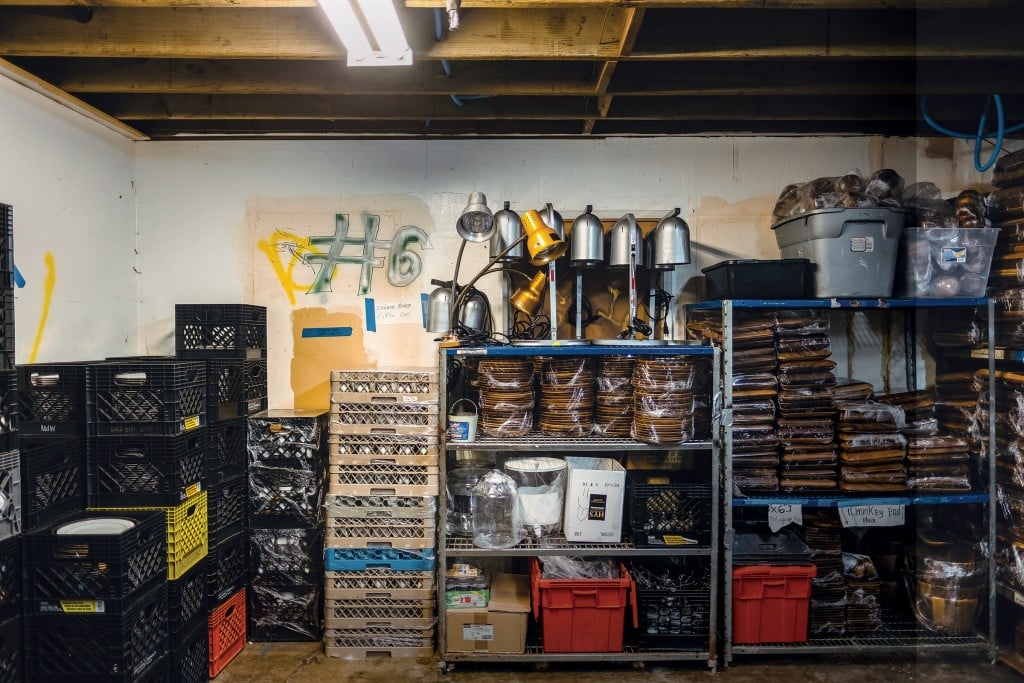 ---
Accel's 21 full-time and 60 part-time employees recite a "CARE chant" during morning meetings, according to Rabe, the gist of which is to be Cautious, Aware and Responsible to ensure Excellent results.
Rabe's younger brothers, Jordan, 31, and Beau, 28, have worked their way up through the company to become regional managers of East and West Oahu, respectively.
The positive team attitude seems to have paid off, says Rabe, with the number of events going from 2,900 in 2013 to 4,900 in 2017.
The need for storage has also grown, from a 300-square-foot space at Koolau Ballrooms in Kaneohe in 1994, to the current 19,000-square-foot digs spread over four warehouses in Aiea. Accel recently announced plans to expand to locations in Waipahu and on Maui.
"We had a little bit of a downturn during the 2008 recession," Rabe admits, "but what we learned from that is our industry is relatively recession-proof. Events like weddings will still happen, but people just won't be frivolous with them."
Vanessa Hollinger, weddings and special events sales manager at Kualoa Ranch, has worked with Accel for about 12 years, beginning with her own catering business.
"I have rented everything, from tents and lighting to stoves and burners, from them," she says. "They have provided rentals for both small and very large events.
"Recently, they helped on every single wedding/bridal expo Kualoa had. They also played a huge role in our first annual 'Wedding Faire in the Country' we had at the ranch. Guests could not stop talking and inquiring about the setup they had.
"We've also had a few corporate events lately where we've had to call them for last-minute items. They are always so accommodating and really bend over backward to get us what we need."
Although it's a bit too early to talk about Rabe's children taking over the family-run business, he does see some interest from his 8-year-old daughter, Peightyn. "Every once in awhile I'll take her to a job site and let her help.
"My dad allowed me to pursue my passion, and I'd like to give my children the same opportunity."