The Next Generation Takes Over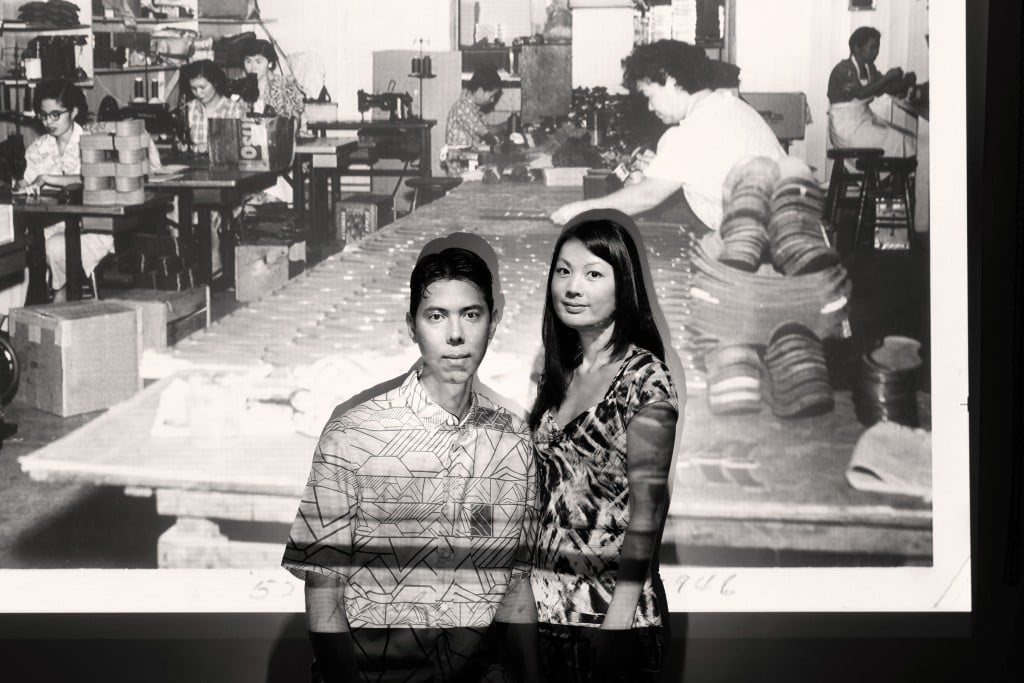 Saving Local Slippers
Matt and Tersha Carpenter changed careers to come home and take over Island Slipper, his family's business
Island Slipper
EST. 1946
How do a financial analyst/trucker and an electrical engineer end up making slippers for a living?
The answer: By moving home to Hawaii from Arizona, and slowly assuming leadership of a company that still designs and manufactures slippers in Hawaii.
"We were never really asked to come back," says Matt Carpenter, VP of Island Slipper, the business his dad bought in 1986 and turned into a major local slipper company.
"But for me it's a good opportunity, and I cared about the business's future and the employees who have been here.
"It would be sad if a big corporation took over the name and outsourced it. We're kind of like the last of the Mohicans."
Matt worked in the business during summers in high school and college and saw it was an all-encompassing passion for his father and mother, John and Daisy Carpenter.
"I saw the hardship as they turned around the business from their early mom and pop days," Matt says. "John would start his morning doing bookkeeping and then he was upstairs at the Dillingham factory helping the production line.
"Through all those years I remember my mom saying 'Oh Matt, you don't want to do it. Go do something else.' That was kind of ingrained in my head."
Matt and Tersha met at Iolani School, went through UH together, got married and moved to Tucson, Arizona, where they both worked for Raytheon, the defense contractor. As an electrical engineer, she mentored under the chief engineer and Matt worked as a financial analyst and then in the environmental test lab, and every so often drove a diesel truck across country, one of his childhood passions.
It began to change when Matt's dad, John, needed help with the company website and Tersha assisted remotely. She, too, had grown up helping her father, who was CFO at Jams World for 20 years. Each summer, she'd go to trade shows with him, and help with accounting and inventory. "I learned a lot of what I ended up applying at Island Slipper," she says.
The catalyst came in 2011 when they were expecting a child. She wanted to come home to be close to family. They'd already been helping from afar, so it was an easy decision and easy leap into the family business.
But there was no real transition plan as they slowly assumed more responsibilities. In quick order, they expanded the factory production space and opened two stores – one at the Royal Hawaiian Center in 2013 and another at Ala Moana Center in 2015.
"Ala Moana was a strategic move for us because we knew the Ward Warehouse store was closing," Matt says. "With the retail stores, that was a really big growth period for Island Slipper and that's what we've been working on."
They're weighing more expansion but doing it under Tersha's fiscal guidelines.
"John loves to leap," says Tersha. "But because we're doing analytics, I pretty much need to know solid numbers. He'll say, 'That looks about right,' and I'll say, 'I think we should tighten this up a bit more before I think this is the way to go.'
"I started doing financials and then, once the retail was growing, I took over all the retail management," she continues. "And on the other side, Matt revamped all of the operational side and took over a lot of the sales, especially building the relationship with our international customers. Matt and I are opposites. Our strengths match each other's weaknesses, so we work well together. "
Says he: "If Tersha has a financial suggestion, I don't question it. I would just trust her judgment. And, when I tell her something operationally, she says, 'Yeah, that sounds good.' "
And John is still a mainstay of the design team, an area in which he excels.
New technology and the internet dramatically changed the business style that had worked so well for the previous generation. "Their belief is we hire someone and they work from the ground up, and I say, 'No, you might want to find an expert in that area,' " says Matt. "When I let all of our sales reps retire, (John) said, 'What are you doing?'"
Tersha adds: "Because of the digital age and people can place orders online, we don't need the sales reps. We target customers directly based on analytics. You can do business with anyone from anywhere. You don't have to be there to meet them."
The second-generation business leaders also documented the whole process of making each slipper, including color coding – something that had never been done. It simply existed in the heads of the people doing the work.
"Coming from Raytheon, we were both document-centric," says Tersha. "We worked out making product detail sheets applying to slippers, organizing all that information about how to make each different design. There were so many things we learned at Raytheon that helped us organize Island Slipper."
Some changes made John uncomfortable.
"We ended up revamping all of the branding, including the insole logo, which was a big deal because that was the one John designed in the '80s," says Tersha. "Once he saw the whole package with the boxes, hangers and logos put together, it was OK. But he was very attached to the way he designed it."
An outside consultant helped iron out differences between the two generations, says Tersha. "All the big stuff we talk out, for sure. Communication is key." Says Matt: "We don't normally try to do anything out of anyone's realm."
The company now sells slippers in 11 countries: Japan, South Korea, Taiwan, Singapore, China, the United Arab Emirates, Israel, Uruguay, Bolivia, Canada and the Netherlands.  It's working on New Zealand and Australia, but Japan remains the biggest foreign customer with more than 100 accounts. And that's something Matt's dad built.