Best Regional Business Magazine – Again
Hawaii Business Magazine wins 24 national and state awards — becoming the best regional business magazine in the country for the second year in a row. The accolade was one of six national awards and 18 state awards we received this summer for work published in 2018.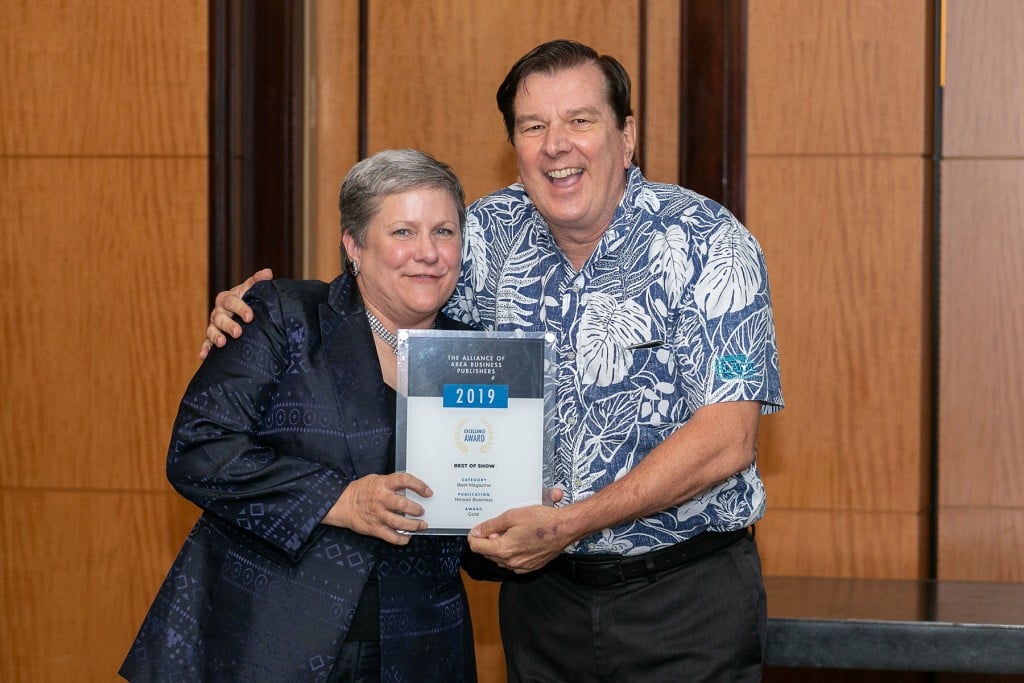 The national Alliance of Area Business Publishers (AABP) awarded us its gold medal for best magazine, with business magazines covering Dallas and the state of Florida finishing as runners-up. We won the same first-place award last year.
The judges said: "Hawaii Business offers its readers so much in so many ways: Beautiful, bold and colorful covers entice the reader. Stories are told not just through words but visually with distinctive, fun typefaces and design. Each story has its own compelling stamp. The editing reveals a strong sense that diversity matters. The result captures a world that's not just about money and buildings but much more, where small businesses have stories worth telling as much as those of big businesses."
The Hawaii Business Magazine design team swept gold in every national category it was eligible for: best overall design, best overall use of photos and illustrations, best cover (for the September cover focus on "Building for Climate Change") and best feature layout (for "Two Jobs" in the January issue). The design team included Creative Director Kelsey Ige, Art Director Amy Ngo, Associate Art Director Shana Yoshinaga, former Creative Director Janelle Kalawe-Ching and former Associate Art Director Lilian Cheng.
For the overall design award, the judges said: "The depth and variety of the design, photography, illustration, and visual layouts make for a rich and rewarding experience. Yet there remains a consistency of brand that is deliberate and well-devised."
Staff writer Noelle Fujii and contributing writer LiAnne Yu won second-place silver for best local reporting of a national business/economic story for their reports on "Building for Climate Change" and "The Cost of Climate Change" published in the September issue. "A thoughtful, well-sourced and graphic-packed report that examines both the philosophical and ground-level challenges in adapting to climate change," the judges said.
Their dual report competed in the large category, which included entries from much bigger publications based in New York, Chicago and other major Mainland cities. Find all the winners and judges' comments in the national awards here.
Hawaii Business Magazine also won 10 first-place awards and eight other honors for work published in 2018 at the annual awards of the Society of Professional Journalists Hawaii Chapter.
Our three-part report on tourism in the January issue won first-place awards for both business reporting and industry or trade reporting in magazines. The stories were by Fujii, and former staff writer Lavonne Leong.
"This series was an intensive look at the good, the bad and the ugly of the vital tourism industry in Hawai'i. It was very well-written and sourced, with many entry points and supporting information," the judges said.
Yu won first place for feature writing/long form for her report on "Opioid Nightmares in Paradise" in the June issue. "Powerful. Wonderful narrative storytelling, great use of quotes and imagery." Yu also won third place in the same category for her report on the "The Cost of Climate Change."
"Alohatown," our informative and colorful look at the City and County of Honolulu won two first-place awards: for data journalism and for illustration, categories in which all Hawai'i media competed. The feature in the April issue was a collaboration of Leong, Ige and illustrator Chris Danger. It also won third place for best feature layout
Hawaii Business Magazine won first and second place in informational graphics. Ngo won the top award for "BOSS Survey: Finish the Rail" (August) and Ige won second place for "Long Commutes" (September).
Our staff won two other first-place awards from the Society of Professional Journalists Hawaii Chapter and each was a team effort: first place for headlines and for overall design. For the latter award, the judges said: "The Hawaii Business design team is absolutely amazing."
We also won:
Awards also went to student journalists, including two Hawaii Business interns from UH.
In the category of student feature reporting in any media, Darryl Kaneyuki won first place for the "The Future of Recycling" in the September issue, with the judges calling it a "thoughtful, in-depth piece about the political and practical challenges of the recycling business." Kaneyuki will be leaving the Islands soon for graduate studies at prestigious Keio University in Japan.
Nicole Tam won first place in student investigative reporting in any media
for her exclusive report on "Maternity Tourism in Hawaii," which broke the story on companies that arrange accommodations and medical care for pregnant Chinese women who give birth in Hawai'i so their children have U.S. citizenship. "Outstanding investigative reporting," the judges said. Tam is now a full-time reporter for KITV.
Find all the SPJ results and judges' comments here.