Construction Industry Outlook 2018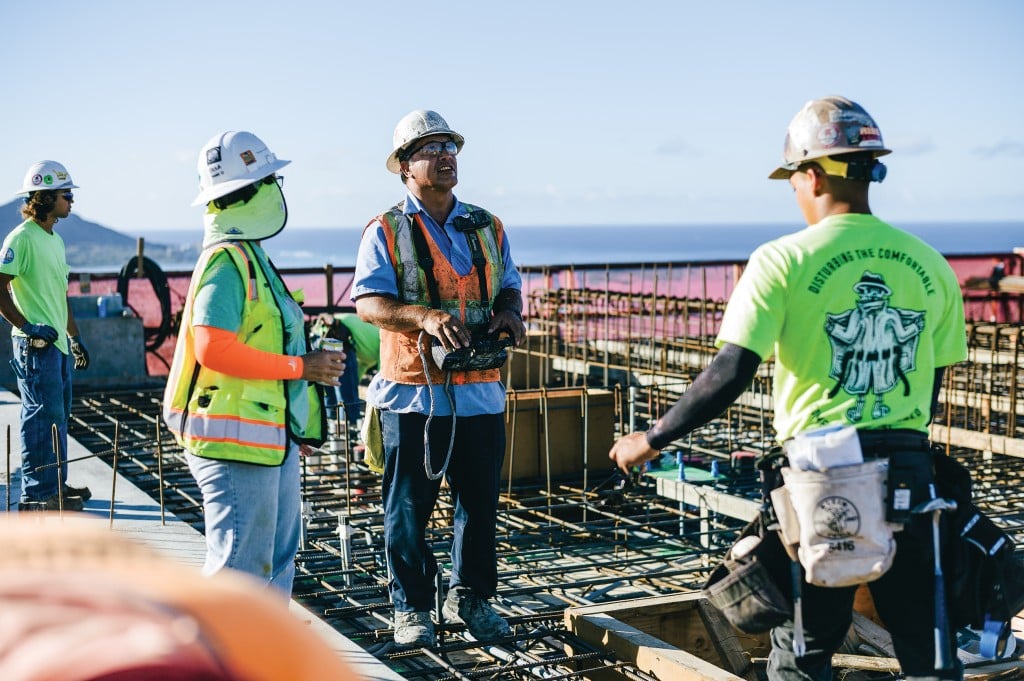 The Challenges: Overcoming Obstacles
As an island state, we must face unique hurdles that others are fortunate enough to avoid. We have a growing population, with neighbor islands forecasted to grow at even higher rates than Oahu, and we have limited space. Further, building to keep up with our demand necessitates shipping the majority of our resources from elsewhere. We have to create a supply that can meet our demands while also figuring out a way to navigate the bumpy roads that come with regulations.
Supply and Demand
According to another DBEDT report, the housing market is unbalanced when compared to population growth. There is constrained supply and at the same time increasing demand, which leads to increased pricing.
The state has offered potential solutions for our housing issues, inclusionary zoning policies among them. These are policies aimed at providing housing for households with what are referred to as "gap" incomes. These households earn between 80 and 140 percent of median income. The inclusionary zoning policies act as a tax on developers, which subsidizes housing, according to the University of Hawaii Economic Research Organization (UHERO). However, in their report, UHERO found that inclusionary zoning policies have largely failed in other jurisdictions and are also failing on Oahu. They have actually acted counter-intuitively, lowering incentives for developers and resulting in raised prices and a reduced quantity of "market-priced" housing units. UHERO states that "eliminating inclusionary zoning and easing development regulations will result in more housing units and lower housing prices."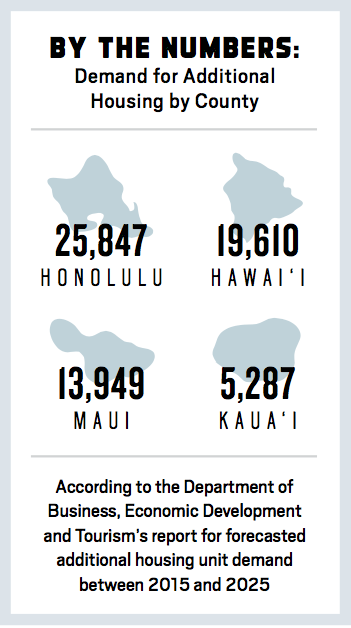 But the challenges for increasing supply do not stop there. When it comes to nurturing growth, we must also provide the right foundations for growth to occur. In this case, it means we need additional and improved infrastructure as support.
"The lack of sufficient infrastructure capacity (such as roads, water, sewer, drainage, etc.) is going to prevent any meaningful density from being developed along the transit corridor on Oahu," says Dean Uchida, president of the Building Industry Association (BIA) of Hawaii. "Ideally, the proposed transit stations would have sufficient sewer and water infrastructure in place to support the planned growth/density that would provide for more housing units."
Regulations
Before work can begin, however, permits must be obtained, and these often include several hurdles. What people may not recognize is that development incurs many costs beyond materials and labor. Twenty-four percent of the final cost of a home is due to regulatory costs, according to the NAHB. Three-fifths of that total is associated with land use. Regulatory costs for homebuilders are up 29.8 percent over the last 5 years, according to a 2016 NAHB report. Once you have a budget that can withstand those added costs, you then have to be ready for the time it will take to obtain the permits.
"There really is a greater need to improve the overall development review process in the state, which includes entitlements, rezoning of land, environmental permitting, and construction document reviews," says Terrance Arashiro, president of Austin, Tsutsumi and Associates Inc. "All except the last require public hearings and input, and developers typically place a minimum five-year timeline from project inception to just breaking ground. For more complex projects, it could unfortunately turn into 10 years or more."
Uchida points to this extended time as a major reason why Hawaii has relatively few small-to-medium-sized developers.
"The State Land Use Commission reclassification of land and the county zoning processes are time-consuming and require substantial upfront costs," he says. "The process favors developers/companies with deep pockets who can carry the project through the land use entitlement process."
That is not to say that the regulations in place were set with ill will, and Arashiro recognizes that.
"These are good, intentional safeguards in the current Hawaii state and county laws, but the timeline is not acceptable to anyone," says Arashiro. "There is a plausible link between this extended timeframe and shortage of housing, high cost of homes, lag in infrastructure to support development within new communities, and even quality of schools as related to growing our economic base."