Read About Past CEOs of the Year
Recent honorees include Micah Kāne, Bettina Mehnert, Mark Fukunaga, and Bob Harrison. Earlier CEOs successfully led Hawaiian Airlines, Hawaiian Telcom and Central Pacific Bank out of bankruptcies.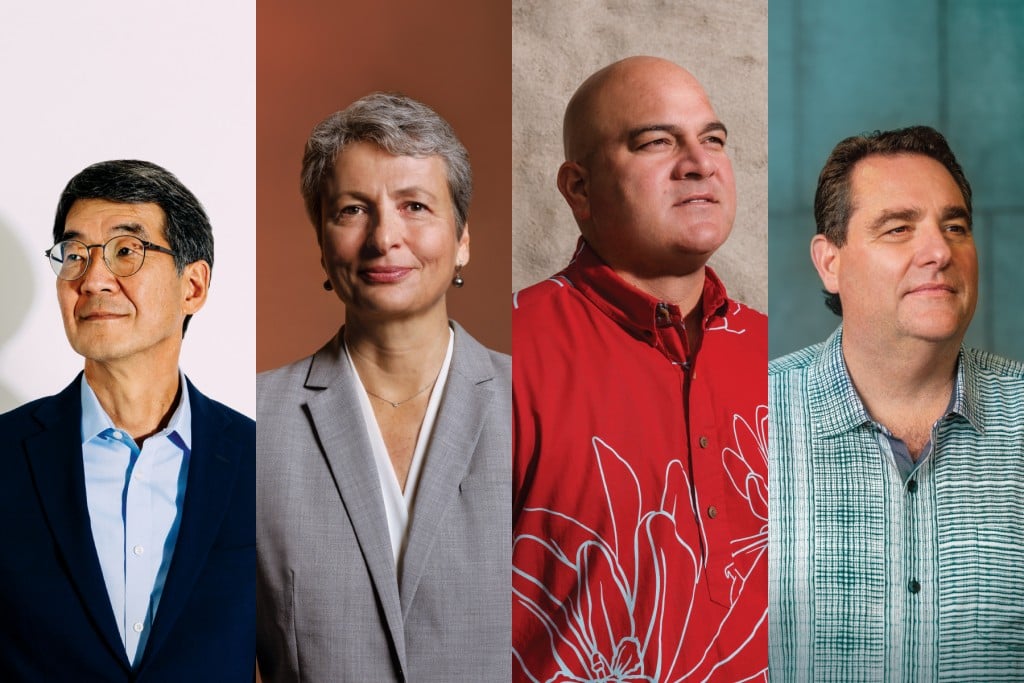 Ray Vara of Hawai'i Pacific Health is Hawaii Business Magazine's 2021 CEO of the Year. You can read his profile here.
Now catch up on past CEOs of the Year.
2020
Micah Kāne, Hawai'i Community Foundation
Kāne ensures the foundation focuses on both the long-term quality of life statewide and the immediate needs of people who might otherwise be forgotten …Read more

2019
Bettina Mehnert, AHL (Architects Hawaii)
Mehnert is as a nationally recognized architect and architectural leader, especially in sustainable design, and is a leader in helping Hawai'i face the challenges of climate change …Read more

2018
Mark Fukunaga, Servco Pacific
He grew the family business by selling off sideline companies, focusing on core competencies and excelling on both customer service and employee satisfaction, all while constantly reinventing the company …Read more
2017
Bob Harrison, First Hawaiian Bank
He transformed FHB into a publicly traded company after 15 years as a subsidiary of the Paris-based multinational banking group, BNP Paribas …Read more
2016
Patrick Sullivan, Oceanit
Sullivan leads the pioneering Hawai'i high-tech company that, in three decades, has created more than 300 products that are helping shape the future …Read more
2015
Henk Rogers, Blue Planet Foundation
The foundation was a catalyst in Hawai'i's leading-edge climate change policies and his business accelerator, Blue Startups, has invested in and nurtured young companies and entrepreneurs from the Islands and around the world …Read more
2014
Art Ushijima, Queen's Health Systems
Ushijima's resolute leadership made the difference as Queen's renovated and reopened the only hospital serving the growing population of Leeward O'ahu and expanded operations on the Neighbor islands …Read more
2013
Stanley Kuriyama, Alexander & Baldwin
Stanley Kuriyama did something all too rare for a CEO: He put his company's success ahead of his personal interests ...Read more
2012
John Dean, Central Pacific Bank
He came out of retirement in 2010 to help save the struggling community bank …Read more
2011
Eric Yeaman, Hawaiian Telcom
Yeaman's stamina and discipline help carry Hawaiian Telcom from bankruptcy and back to profitability, reliability and employee engagement …Read more
2010
Mark Dunkerley, Hawaiian Airlines
He has guided Hawaiian to become one of the world's most profitable airlines, even while the rest of the industry struggled …Read more