The Best of Small Business 2019
Profiles of 26 local companies and business leaders who won this year's SBA Hawaii awards, plus the inaugural members of the Hawaii Small Business Hall of Fame, and the Editor's Choice Awards.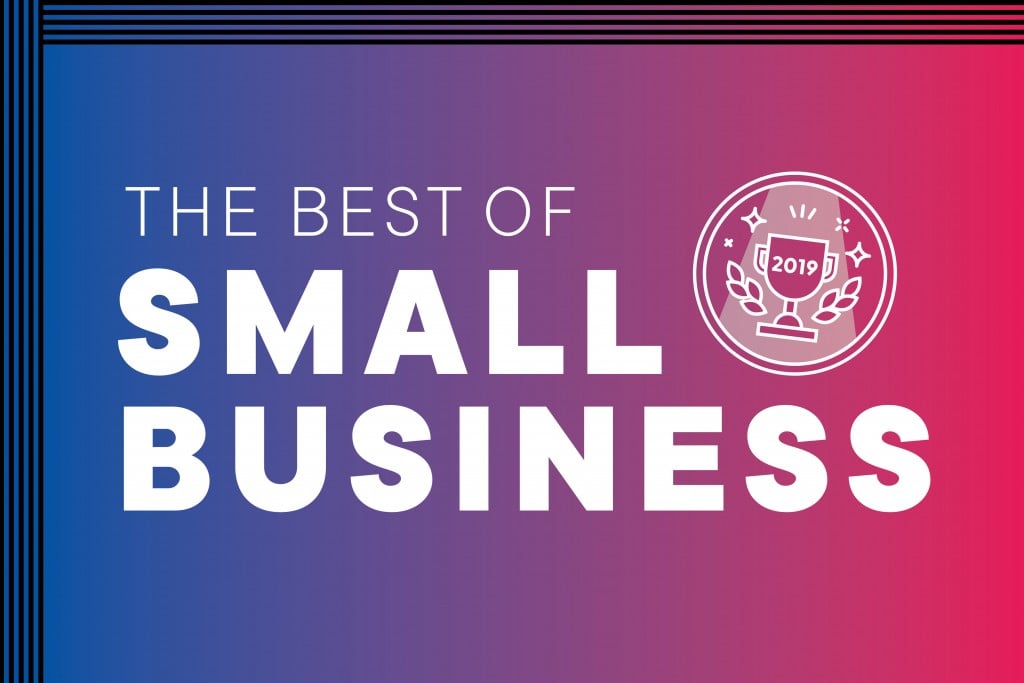 Small Business Person of the Year
Hawaii Energy Systems
Rolf Klein, Chief Executive Officer
Alvin Bongolan, Chief Operating Officer

Two friends from work sat down for dinner and began strategizing.
Believing their current employer wasn't doing so well, and that they would fare better if they formed their own business, one of them started drawing a plan on a napkin.
That sketch led Alvin Bongolan and Rolf Klein to launch Hawaii Energy Systems in 2006. "It was me and Rolf and a couple of guys," says Bongolan. "Today we have 50, 51 employees, and I can't even tell you how many clients we have, in both the public and private sectors."
HES is in the building science business. "Taking care of the lighting, the HVAC, the fresh air, anything that has an effect on an occupant's experience," explains Bongolan. HES consults on, creates and installs building automation, energy management and energy-efficient systems – think "smart buildings" – for the government, hotels, luxury home builders, commercial office spaces and schools. Examples include all seven towers of the Hilton Hawaiian Village, and Michael Dell's Raptor Residence, an 18,500-square-foot estate on Hawaii Island.
"I have watched them grow from a tiny little operation, in a small rented space, to where they are now," says Angeline Shiroma, an assistant VP and branch manager at First Hawaiian Bank. A few years later, Shiroma says, "We helped them purchase their own premises at Halawa Industrial. They have their own warehouse, a place they can call home."
HES does business throughout the Pacific Rim, largely in Hawaii, Guam and Japan. "They are growing so quickly, they are looking to buy property in Guam, because as business grows, they need to house engineers there," Shiroma says.
As business owners, Bongolan and Klein are a perfect match. They are both passionate about their business, but Bongolan is a gregarious go-getter who loves to ski – Shiroma calls him "the Energizer Bunny" – while Klein prefers to mull things over and is known to be more cautious. Even the company logo has a yin yang theme, Bongolan explains. "The red was originally for heat, on the control side, and the blue is the cooling, and the ball is Earth. It's about not destroying everything in our path."
"Alvin and Rolf are the consummate teammates from what I can tell," observes Steven Guzelimian, president of Optergy, maker of energy management and building automation software. HES is a reseller partner for Optergy. "Alvin is a longtime technical person and was always responsible for operations and all things technical. Rolf is the professional salesperson with relationships with so many local contractors and building owners. In our industry, the best performers have this complementary ownership, where one person is the operations lead and the other the sales business lead."
As with many small businesses, they had to learn to let go of some of the day-to-day work as the company expanded. "We needed to create an engineering team, a programming team. We is greater than me," says Bongolan. Now he's focusing on what he calls "complacency avoidance" with the staff, "making sure people are still self-policing. We have targets on our backs from much larger, national companies."
Another secret to success is being flexible with clients. "Energy-efficiency control companies tend to want you to buy their whole system," says Shiroma. "But Alvin and Rolf decided not everybody can afford that. They will work around whatever system the customer already has, and because of that, people are more comfortable with them."
Greg McGrath is the senior regional sales manager for Honeywell and is based in Las Vegas. "They have great knowledge of all the properties out there, all the players providing environmental and energy systems for hotels and hospitality clients. They are our chosen partner, our sole distributor, in the Hawaii market," he says. "It's been nothing but positive; we receive great reviews."
He also says HES is a great evangelist for Honeywell's message that a hotel can save money and be more eco-friendly by saving electricity.
"Their business has grown year over year, through innovative uses of technology, geographic expansion, and through applying technology to achieve great outcomes for their customers," adds Guzelimian. "Hawaii has some of the highest energy costs in the U.S., and using their technology and applications, they have managed to help lower energy costs, improve indoor comfort for improved productivity, and reduced the carbon footprint for their customers. Their successful track record bodes well for generating new business; I see only good times ahead for them."
Sponsor: Angeline Shiroma, First Hawaiian Bank


Entrepreneurial Success of the Year
Sunshine Helicopters Inc.
Ross R. Scott, President
Anna M. Scott, VP, secretary & treasurer
Flying helicopters is not the easiest thing to do. But, the end result of flying these people was just dynamite," saws Anna Scott.
Anna and Ross Scott opened Sunshine Helicopters on Maui in 1985 with two helicopters. Back then, Anna worked the phones, Ross flew and one of their sons helped. "It was a real family deal when we first got started," says Ross, who remembers they started the business to put one of their sons through college. Today, Anna has almost entirely moved away from the day-to-day operations, and Ross handles in-office affairs only, leaving the flying to his pilots.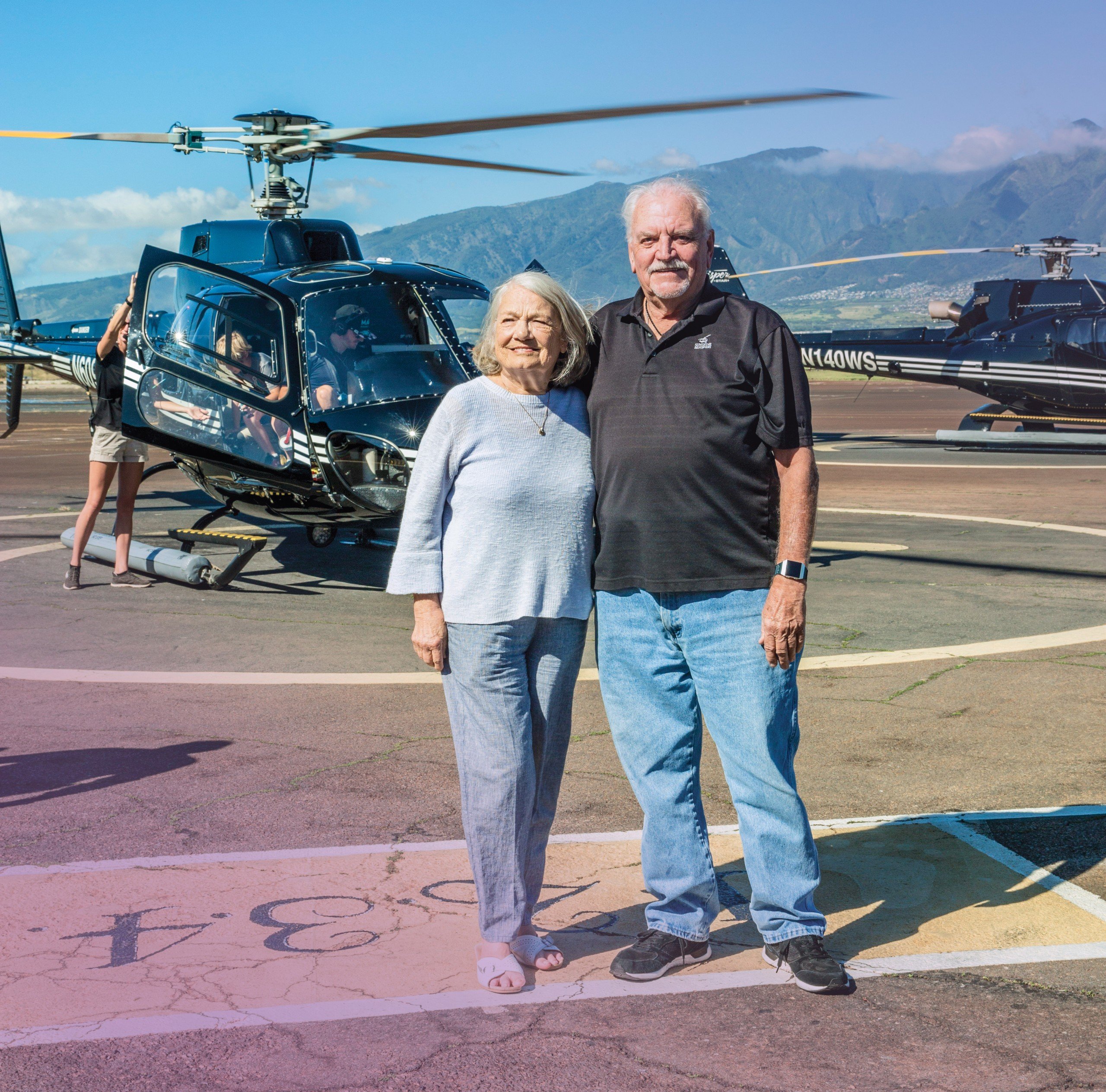 Ross was a helicopter gunship pilot in the Vietnam War and managed a large aviation company in Alaska, so helicopters were familiar to him. And when the Scotts first moved to Maui, they opened a sailboat charter company –so they were no strangers to the rigors of small business ownership.
"When you first start, it's hard to take any time off . It's a lot of hard work," says Ross, who adds it was three years into Sunshine Helicopters before he and Anna took a vacation. "Be prepared for long hours."
Today, you'll find Sunshine Helicopters on Maui, Kauai and Hawaii Island, with 96 employees, including 12 pilots. The Scotts always try to hire local and make sure their employees are happy and cared for. "It's probably the most important thing we do," he explains. "If people like what they're doing, they (pass) good service to the customers.We've taken in some really young low (flying) time pilots, trained them, and they've had a very successful career with us. We have a very low turnover statewide."
Anna says experiences with customers are rewarding. She laughs – and sometimes tears up – as she recounts memories of grateful and happy clients. One client booked a flight for his mother, over land their family owned. Along the way, the Sunshine Helicopter team learned about the history of the area and Hawaiian culture from the mother, says Anna.
"She cried and she just sat there. She said, 'I thought I'd never be able to go all the way into the back of the valley,' " Anna says. "It was a great job. I mean, where else do you work where you meet so many interesting people, and they're always so grateful afterward? It's just been a really pleasant experience."
Sponsor: Bill Russell, American Savings Bank


Small Business Exporter of the Year
Hawaiian Agricultural Products LLC
dba Hawaiian Shochu Company

Ken Hirata, Managing Member
The story of why Ken Hirata is making the Japanese liquor shochu in Hawaii surprisingly starts with poi.
"Twenty years ago when I was visiting Hawaii from Japan as a tourist, I was eating poi, and poi is a fermented food from taro, right? I thought, oh if they have something like this in Hawaii, maybe I can make shochu," Hirata says.
Fifteen years later, Hirata quit his job and became an apprentice under shochu master Toshihiro Manzen of Kagoshima. Manzen told him: "It usually takes 10 to 15 years to learn, but if you do that you're going to be too old to start your own business. So I give you three years. After three years you learn by yourself and struggle."
When Hirata and his wife moved to Hawaii with their life savings, their path was filled with obstacles. Angie Shiroma of First Hawaiian Bank, their banker, says that during construction of their building in Haleiwa, Hirata paid the contractor and crew but they left him with only the foundation.
When his neighbors found out, "the people in Hawaii, they're so warmhearted, they would come over the weekends on their own time to help him finish," says Shiroma.
But they were still in a bleak place financially. If they did not sell their first batch of shochu, they would be finished. Meanwhile, Hirata and his wife "strung lei to survive, so that's why, when they were ready for production, he named (the first batch) Nami Hana because of the flowers that kept him alive when he was down," Shiroma explains. Nami and hana mean wave and flower in Japanese.
The first batch, with bottles designed by his wife, sold out.
The shochu is made from sweet potatoes grown by farmers across the Hawaiian Islands and rice grown in California. Each batch is unique, as the sweet potatoes vary from farm to farm, and island to island.
Shiroma says a lot of his sales today are to Japanese visitors buying directly from the Haleiwa location, both for themselves and as omiyage.
After surviving the initial difficulties, Hirata says he feels blessed. "Now we live in Hawaii making shochu, so it's like a dream come true. It's really nice."
Sponsor: Angeline Shiroma, First Hawaiian Bank


Family-Owned Small Business of the Year
McKinley Car Wash
Craig Yoshikawa,VP
Max Yoshikawa,Treasurer
When a business becomes a landmark, it's doing well. When it's been a landmark since 1964, it's a legend.
McKinley Car Wash was founded in 1947, moved to its current location in 1964, and has spiffed up literally millions of cars. The 800 to 1,000 customers who line up at the car wash daily are in the hands of the second generation of Yoshikawas: Craig and Max, sons of owner Yukio "Yuki" Yoshikawa. He still comes to work, at age 93, an ambassador who chats with customers while they wait for their cars to get dried.
"In the past, with a neighborhood service station, the owner was always there," explains Craig. "We're something like that."
Sponsor Derick Tam, in the corporate banking department of Hawaii National Bank, started working with Craig and Max about 3 1/2 years ago after another executive retired. "They are super good guys." He's amazed at how prescient it was to put up a car wash as Honolulu was about to develop all around it. "I don't know if it was the dad's vision or ultimately luck, but it's gold. It's a thriving business."
No one is resting on their laurels though. "It's all hands on deck, all the time," says Craig. "Because we are open seven days a week, we're both outside interacting with our customers, helping our employees process the service quickly."
They also maintain the car wash itself. "Most of the equipment is from a company called Belanger, and we want it to clean (the car) the best it can without damaging the car. We have high-end cars coming through and want people to feel safe," says Craig. "The car wash is just like a car: If it goes down, we can't service the public, so we're always doing preventative maintenance."
About 35 people work in the vacuuming and car wash process each day, says Craig, plus a few more cashiers and maintenance staff. The majority are full time. "Even though it costs us more, we find full-time employees are more responsible than part-time ones," says Craig.
Employees receive health and dental coverage, paid time off, a 401(k) plan with matching contributions, and profit sharing. "We take care of our employees because they take care of our customers," says Craig.
Sponsor: Derick Tam, Hawaii National Bank


SBA Young Entrepreneur of the Year

Kauai Juice Co LLC
Kristal Muhich, Member
Kristal Muhich started Kauai Juice Co. with kombucha and a Kickstarter.
She didn't have a background in business; what Muhich had was a passion for wellness. "What really excited me was all the different possibilities and things that made people live better and have healthier lives. The experience around it all was really eye-opening for me and inspiring," she says.
Armed with a knowledge of fermentation and a determination to navigate the sometimes daunting ins-and-outs of the small-business world, she launched a small wholesale kombucha operation on Kauai almost a decade ago. Later, the cold-pressed juice craze inspired her to rebrand as Kauai Juice Co., which opened to the public out of one window at a small commercial kitchen in Kapaa.
Today, the company employs a team of 40 at three locations on Kauai, and offers kombucha, juice, grab-and-go food, pickles, sauerkraut, kimchi, hot sauces and more. Muhich says maintaining a high-quality product and supporting other small businesses is everything.
That's why locally sourced veggies, fruits and ingredients are at the heart of her juices. "Where you spend your money affects so much more than just that purchase. Everything that went into that purchase is where your money is going," she says. "If you buy something that is a product that is supporting local farmers or other small businesses, that is actually where your money is going."
Muhich attributes a lot of her success to the community, including local farmers, longtime regular customers and her dedicated staff . "Our people are amazing," she says, "whether it's our customers or our employees."
Reka Starr and Zsolt Csillag have been a part of that community from the beginning. They met Muhich years ago as coconut-water vendors for her personal use, and then as Kauai Juice Co. vendors. "It has been such a joy for us to see her business blossom into such a successful operation," says Starr. "As they say, thriving people create thriving communities and Kristal and Kauai Juice Co. are a great example of this."
Sponsor: Jeffrey Murata, First Hawaiian Bank



Small Business Advocate of the Year
Legacy Award: Makana Hooko no Ke Ola
Naomi Masuno
VP, Channel Sales Manager
Bank of Hawaii
While attending UH, Naomi Masuno thought she'd earn a degree to become a teacher. The hitch: There were already enough would-be teachers back then. Masuno went in for accounting instead, but still found a way to be an educator: by sharing business and leadership skills throughout the community.
"Small businesses – the stores, the service industries – they are the backbone of the community," says Masuno, who was named the 2014 SBA Financial Services Champion for the State of Hawaii, and received the SBA Director's Choice Award in 2016. She's also sponsored many of the SBA award winners profiled in Hawaii Business Magazine over the years.
Now, Masuno is honored with the SBA's Special Award for Lifetime Legacy: Makana Hooko no Ke Ola.
"I know hundreds of people in the small business arena and few have the impact that Naomi has," says Julie Percell, owner of 21st Century Business Consulting, who has known Masuno for 20 years.
"I've been teaching entrepreneurship in the UH system (adults, continuing education) since 1991 and found I wanted an authority to talk about lenders and what they look for in a business," she says. "Naomi fit the bill perfectly. She created a Powerpoint presentation, offered to look at the students pro forma financial statements, and followed up after class with specific advice."
When Percell took over the SBA's Emerging Leaders class (an MBA level class for CEOs) in 2011, the curriculum called for experts to provide Q&A sessions. "Naomi was the first person I thought of. She helped me identify other experts, both in traditional and nontraditional positions. She knows everyone, and they know her, too."
Percell calls Masuno a can-do person. "If there's a problem, she'll find a solution. If she can't do it herself, she'll find someone who can. I think one of the reasons we became close friends as well as colleagues is that she also likes to celebrate the win. We like to talk about what went right, how we can improve, and what other resources might be of value to the students."
Masuno is active with the annual Hawaii Small Business Fair, this year taking place May 4 at Leeward Community College, and is a leader with the Rotary of West Honolulu.
"With Rotary, it's good to use your skills," Masuno says. "Assessing the community, thinking, 'What do you need?' It's all about service." She points proudly to the polio eradication project led by Rotary International. "To think you are a part of an organization that is doing so much good, it's a great feeling."


Small Business Advocate of the Year
for Media & Journalism
Jay Fidell
Founder, president & CEO
ThinkTech Hawaii
Many with a journalist's career started with a "J-school" degree, but Jay Fidell's path was more unusual. Originally from Queens, he served in the U.S. Coast Guard as a lawyer and military judge before embarking on 40 years of private law practice.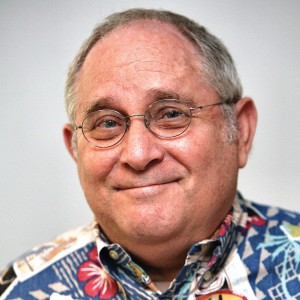 But he was always intrigued by technology, fueled by experiences with an early Apple computer. In 2000, he founded ThinkTech Hawaii – a digital media nonprofit that covers how issues of technology, energy, diversification and globalism affect the Islands. He works with a team of 60 volunteer citizen journalists to produce video talk shows available via online streaming, podcasts and broadcast TV.
"The people who do this with us care intensely about the news and their areas of interest. If you're interested, if you're sentient, you can be a journalist," Fidell says.
ThinkTech is "connecting the dots – not just reporting on what is happening today, but also finding the continuum." Linking reporters and contacts from Singapore to Brussels, Fidell's model could be the future of journalism.
"We have a lot of consolidation of media these days, and it would be better to democratize it," Fidell says. "We're doing exactly that. It's a different model but I think it will gain traction." The Trump administration, he says, "has made this whole experiment much more poignant. I treasure journalism. I treasure the First Amendment."
Sponsor: Cathy Wiltse, Hawaii Small Business Development Center


Small Business Advocate of the Year
for Business & Industry
Mary Begier
Principal Broker
Mary Begier Realty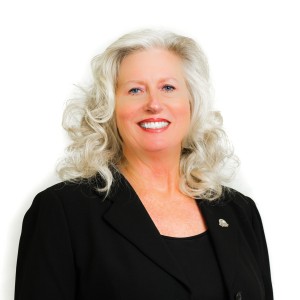 The eldest child in a family of nine kids, Mary Begier had no choice but to become a leader. "I'm not bossy," she jokes. "I'm just surviving."
She moved to Hawaii while in the Navy and lived in Waianae – where "they were forgiving when I put Thousand Island dressing on the lomi-lomi salmon because I thought those were tomatoes." After her time in the service, she entered real estate, the field she's excelled in for 39 years.
Begier lives on Hawaii Island and has offices in Hilo and Honolulu. "I love working with first-time homebuyers," she says. "In this era, everyone has access to the same information, so it's your ability to understand the client that separates you from other Realtors. I have instances where I've sold real estate to three generations in the same family."
She's a busy volunteer, too, working with the Junior League of Honolulu on domestic violence prevention, and on real estate issues with the Hawaii Association of Realtors and the National Association of Realtors. "It's an incredible network," she says. "We have 1.3 million members, so if you don't have the answer, someone else has gone through a similar experience and can help out.
Sponsor: Steven Sylvester, Bank of Hawaii


Small Business Advocate of the Year
for Veterans
Noela Napoleon
Consultant/Business Owner
Patsy T. Mink Center for Business & Leadership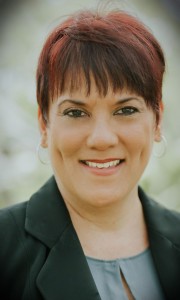 The word "bootstrapping" keeps coming up when you talk to Noela Napoleon. It applies both to her history as a small-business owner, and to the people she now lifts up as a business consultant.
Napoleon, who grew up in Kailua, says she never expected to own a company dealing with frozen confections. But when the opportunity arose in 1995 to buy a company selling syrups and dispensers, she and her husband took the leap. The result is Frozen Fun!/Slush Puppie Hawaii, a wholesale distributorship and party rental service specializing in frozen beverages and ice creams.
Napoleon was so successful she launched her own consulting business, helping others shine. She also works as the lead business counselor at the Patsy T. Mink Center for Business and Leadership, and as an instructor with the U.S. Veterans Business Outreach Center.
She often helps servicemen and servicewomen plan their transitions into post-military life. "I'm a local girl from Hawaii, and I'm teaching interstate business," she says. "We work together to piece the puzzles together. What is the economy like in Minnesota? What are the chances of opening your motorcycle shop in your grandma's barn? You have to give them hope. Business is like a jacket. It has to be tailor-made to you.
Sponsor: Dennis Kwak & Viktorija Aniulyte, Veterans Business Outreach Center


Small Business Advocate of the Year
for Women
Leslie Wilkins
President & CEO
Maui Economic Development Board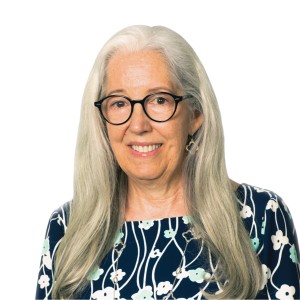 "Diversity fosters innovation," says Leslie Wilkins, who started at MEDB in 1999, when her background already included commercial banking and consulting. She was originally tasked to spearhead the MEDB Women in Technology Project, which addresses gender disparity in STEM education and workplaces.
What began as a Maui County pilot project, seeded by the late Sen. Dan Inouye, has grown to programs and an original curriculum that have garnered national recognition. More than 40,000 participants benefit, on every island statewide, and the result is a homegrown workforce trained in computer-aided design, programming and coding, cybersecurity, graphic design and creative media, 3D printing, and clean energy.
"MEDB now invests half its resources in building the STEM education-to-workforce pipeline across Hawaii, with outreach to girls, women and other underrepresented groups," says Wilkins. "MEDB knows that economic development must be strategically aligned with workforce development."
Wilkins became MEDB's president and CEO in 2017 and has an inclusive management style. She is quick to give credit to her "creative, dedicated and mission-driven team." And she hopes to always create "diverse teams, with differing skill sets. This ensures we are looking at challenges and opportunities through many lenses and perspectives, which in turn produces a stronger outcome."
Sponsor: Terri Funakoshi, Patsy T. Mink Center for Business & Leadership


Small Business Advocate of the Year
for Minorities
Melanie Martin
Civil Rights Coordinator
Office of Civil Rights, State Department of Transportation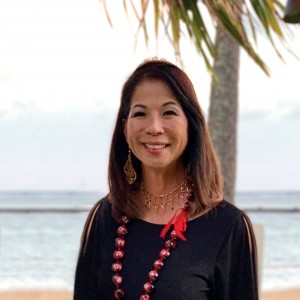 Melanie Martin oversees the civil rights program within the Hawaii DOT, including the Disadvantaged Business Enterprise program, or DBE. "The purpose of this small-business program is to level the playing field for minorities, women and other socially and economically disadvantaged individuals to participate in contracting opportunities with the HDOT," says Martin.
"We certify small businesses to become DBEs so that they can participate in our program. We provide technical assistance through a supportive services program, hold networking events to foster business relationships, and we partner with the SBA, Minority Business Development Agency and other resource partners to provide workshops that help small businesses grow."
Honua Consulting, a minority-owned DBE firm, is a good example of this program's success. The firm attended an SBA E200 class, got certified as a DBE and was awarded three contracts with the rail project totaling over $1 million, Martin reports. The firm also landed two HDOT contracts as a DBE.
Martin likes to keep her personal wheels turning, too. This self-proclaimed gym rat can be found most mornings at the UFC Gym or Nuuanu YMCA either lifting weights or doing a spin class.
Sponsor: Dana Hauanio-Lore, UH MBDA Business Center


Small Business Advocate of the Year
for Innovation
Omar & Tarik Sultan
Co-Founders & Managing Partners
Sultan Ventures
"For me this all goes back to when Tarik was born," jokes Omar Sultan.
But seriously, Sultan Ventures is a family affair, with the brothers as managing partners and their sister, Dr. Aya Sultan, who practices medicine in Honolulu, as a partner.
Sultan Ventures was formed in 2009 to help create an ecosystem in Hawaii based on innovation and entrepreneurship. Sultan Ventures focuses on startups and now has five employees. "Eighty percent of the companies we work with have come in pre-revenue and we're the first ones in," says Tarik. "Our goal is to grow them to be revenue generating."
The company manages the Upside Fund, which invests in UH intellectual property startups; XLR8HI, which conducts courses and events for innovation in the community; and XLR8UH, a public-private partnership that helps fill the gaps between the university's initiatives and commercialized technologies. One success story: helping birth KinetiCor, a biometric company whose equipment does real-time corrections for motion during MRIs.
"Our goals are to accelerate innovation here in Hawaii," says Omar. "It became evident quickly that it's not enough to cut checks. It's also about building on-ramps. The world of work is changing. Having an entrepreneurial mindset is what's needed to succeed, whether it's in academics or business."
Sponsor: Piia Aarma, Pineapple Tweed