Here's How Generational Differences Play a Role in Family Business Succession
A new survey found that the retiring and upcoming leadership differ in terms of perspective, approach and attitude toward the succession process and commitment to that process.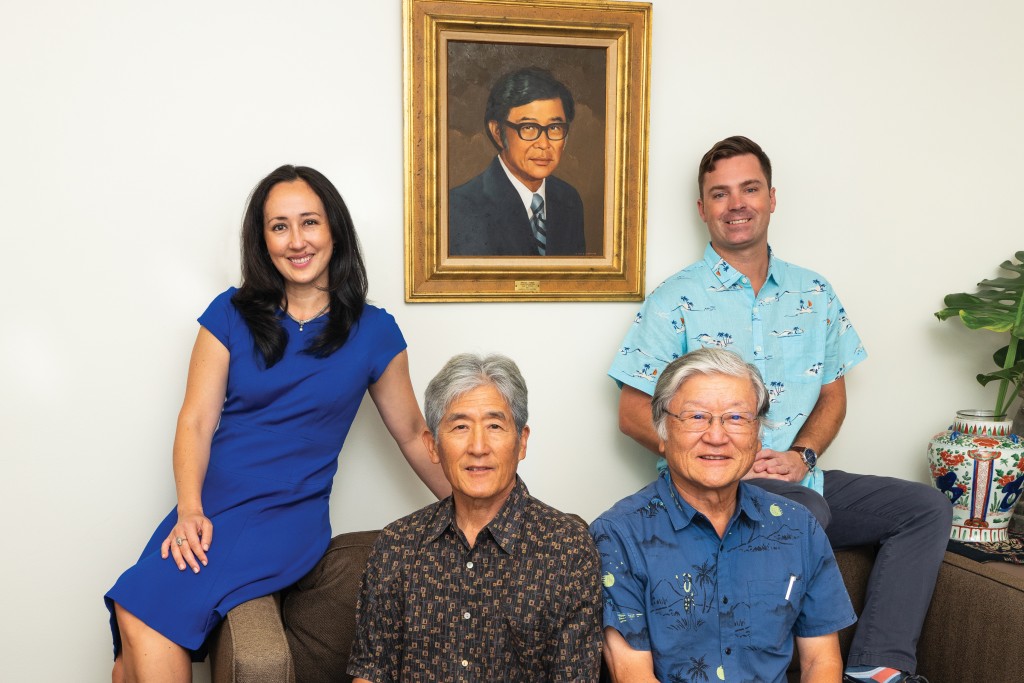 The hit TV show "Succession" is a biting satire with four outrageously wealthy offspring maneuvering to control a ruthless patriarch's media empire. Real life isn't so cleverly scripted, but family business succession is indeed a process that can create disagreements and requires thoughtful navigation.
In its latest annual survey of family businesses, Honolulu-based Business Consulting Resources discovered a marked generational gap in how family members approach handing over the torch. Titled "Generational Difference in Family Business Succession," the survey focused on how the generation letting go of the helm differed from the generation stepping into leadership, in terms of perspective, approach, attitude toward the succession process and commitment to that process.
It is the fifth annual study by BCR looking at various aspects of leadership transition. This year's research was conducted during May and June 2021 and involved an online survey as well as focus groups with participants, held virtually because of Covid.
Covid has sped up the pace of family-business successions, says Jean Santos, a co-founder and VP at BCR. She spearheaded the generational differences research.
"There is a sense of the first generation being really at a loss, like, 'No one gave me a playbook for this for my business,' " she says of the pandemic's impact. "This contributed to a willingness to let go. The rising generation feel it's a moment in history when they can apply their education, their new lens, the way they feel about work and the world, and they were saying, 'Yes, I'm ready to do this.' "
A Petri Dish
According to the BCR Survey, there are two distinct parts of a business transition: the leadership/management succession and the handover of the company's actual ownership.
"One part is, how is the company going to operate? Who will be in the position to keep doing what the business has been doing?" Santos explains.
"The second part is the ownership of the company and how that asset will be passed from one generation to the other. The business isn't the only family asset. How are the kids going to be treated in terms of the entire estate?"
The process requires estate attorneys, especially those well versed in tax law, she says. "Everyone on the team needs to come to the table to see how things can work out as a collective, for the benefit of the family," she says.
The BCR survey also warns, "The very process of embarking on a succession plan is a petri dish to breed conflict." It reports that some of the biggest areas of conflict for a family business include the vision, goals and strategy that the company will embrace, how growth will be managed, and how decisions will be made regarding the future of the company.
The research found many differences between the "rising generation" – those about to take on leadership of the business – and the "departing generation" letting go of the reins, including lifestyle preferences, management style, risk tolerance and views on innovation.
Members of the rising generation ranked their priorities like this:
Creating a better management structure with more clearly defined roles and responsibilities.
Doing something significant and special
Putting more emphasis on developing a long-term strategy, with business plans to support that strategy.
Having a social impact.
Launching something new.
Staying up to date with technology tools.
Professionalizing the company.
Compare that to the priorities for the departing generation:
Ensuring the capabilities of the future generations who will take control of the company.
Ensuring good relationships among the family members.
Leaving a legacy.
Working on tax strategies for the estate.
Spending more time with the family.
Having a social impact/being philanthropic.
However, there were a few areas of overlap with the generations, including the overall philosophy of the family business and the core values that make up the foundation of the company.
---
Related stories: Ask SmallBiz: Creating a Succession Plan, Helping Family Businesses, Guide to Your Family Business With Good Planning, Diversify Your Family Business, 6 Family Business Essentials
---
Case Study: The Takagis
Takagi and Takagi is a Honolulu-based financial planning company with four generations of family leadership.
"My father's father opened his insurance business out of his bicycle shop in Hale'iwa," says financial advisor David Takagi. "My grandfather died at age 42 and the family lost everything. That really made an impression on my father, Douglas."
Douglas started selling life insurance in 1947. An extrovert who had been on the debate team at McKinley High School, he loved talking with people and excelled at sales. David – also an extrovert – was a teacher for a few years before joining his father in the insurance business in 1975.
"My dad worked so hard when we were little kids and I didn't always see him much when I was growing up," says David, who worked side by side with his dad for 17 years. "A lot of children don't know their parents, really know them. And I got to know him."
David's younger brother Verne and sister Joyce also joined the business, and the transition from the second generation to the third was brisk.
"My father retired at the age of 72 because he became ill. He pretty much said, 'Here, you guys take over.' He was so glad and proud to have two sons and a daughter working with him. The transition was smooth and he was very graceful about it," says David. Verne retired in 2020 after 42 years in the business, and Joyce in 2019, after 35 years.
David's daughter, Megan Takagi, the firm's director of business development and a member of the fourth generation, adds: "David and Verne were kind of thrown into leadership roles. They had to learn the ropes on their own."
Taea Takagi-Jones, Verne's daughter, is also with Takagi and Takagi as a financial advisor.
Megan says the current transition from the third generation to the fourth is "much more planned out." Part of that is due to more government regulation, she says, leading to "more moving parts." Those factors, plus her father's and uncle's experience of being thrown into leadership positions, "made us more communicative and forward thinking," she says.
"We actively plan, we write down goals. We have regular team member check-ins and business continuity meetings. It's better for my personality. I'm the type who really likes to know what to expect and how to plan for a situation," Megan says.
Her dad? Maybe more spontaneous. "I noticed he loves to be thrown into a room for a meeting and just start talking," Megan says with a laugh.
Down the Line
The Takagi family's orderly succession planning is in line with what Santos has seen in other long-lasting companies.
"I think business succession gets a bit easier with each generational shift," Santos says.
"Generation 1 works so hard to set the foundation and create something really solid. Generation 2 has the privilege of growing that business. Generation 3 has even more potential, because they get to take risks and try changes. By the fourth generation, they can shoot for the stars. The governance is in place, the process for bringing in new generations has been well honed. These are the true legacy companies," she says.
However, businesses that reach the fourth-generation level or beyond are rare. More than 30% of family-owned businesses make the transition into the second generation, but only 3% make it to the fourth generation, according to the Family Business Alliance, affiliated with Wilkes University and Penn State Scranton.
When it comes time to pass on leadership, "Each business is going to experience similar issues, but how it affects their family will be unique," says Celine Casamina, a management consultant with BCR. "I always say, 'If you know one family and their issues, you know one family and their issues.' " After all, a family is unique, shaped by its own cultural background and literally hundreds of years of history.
Additionally, Casamina says, "As you go down the line, there are more family members involved in the business and it gets more complicated. It's one thing to have the governance and ground rules established, but it's harder to enforce rules than to set them."
---
Related Stories: Women Discuss the Challenges They Face in Family Business, 5 Steps to Being in Business with Your Spouse (Without Getting Divorced), 5 Takeaways About Hawaiʻi Family Business, Buying a Family Business
---
Interpersonal Pitfalls
According to the BCR survey, "Communication is uber important in this entire process (of succession) since as one focus group participant said, 'Family members can come in hot' and that can really be a problem." Another focus group participant observed that talking as a family about everyday matters is easy but communicating as a family about business is anything but.
"Everyone on the team needs to come to the table to see how things can work out as a collective, for the benefit of the family,"

– Jean Santos, Co-founder and VP Business Consulting Resources
"Every family has something unresolved," says Gail Schaper-Gordon, a Los Angeles-based business psychologist and organizational consultant (gailschapergordon.com) who often works with multigenerational family businesses.
"People will avoid having these hard conversations, waiting for 'the right time' to have them, or will even pretend the issues are not there. But as a consultant, I know they are there. People have their childhood roles, they bring their past experiences, and sometimes they haven't changed. Or maybe they have changed and it's hard to convince others of that."
A third party – like a business-focused therapist – can help a family explore and resolve issues in which people might have felt injured or betrayed in the past. Left unresolved, those issues can impact conversations, goals and agreements during the succession process.
No two families are alike, but there are common themes that Schaper-Gordon often encounters. Here are her suggestions:
1. See the Big Picture: Focus on what kind of life people want, not just want kind of business.
2. Be Honest: Does that daughter, son or in-law have the skills and training to succeed? If not, is that person coachable?
"When things get tough, do they have the grit to grow and learn and become a leader?" asks Schaper-Gordon.
"Sometimes the answer will be no, and the succession plan needs a revisit. You can't just do a workaround."
3. Don't Make Assumptions: "Some offspring assume a business is always successful and they will be rich, or that they will get the business simply because mom or dad started it. Other people grow up thinking they don't have to work, or that they will automatically have shares in the business," Schaper-Gordon says.
However, being a CEO is hard work, not a fancy title. "It's about relationships, developing employees, keeping employees, and not just the family employees, too" she says.
4. Have the Hard Conversation: Are the kids planning to sell the business or stay and run it? If the kids are going to bring in an outside general manager, is there a committee to determine the GM? Part of Schaper-Gordon's role is to help people think through the potential consequences of their decisions.
"What they imagine things to be, aren't always true," she says.
New Mindsets
Overall, the research shows that rising generations are more expansive in their thinking. "They grew up as digital natives and know the impact technology can have on their business and families," Santos says. "They are more willing to take risks and be creative."
This set of respondents doesn't feel failure is a bad thing so much as a way of trying something new. That viewpoint can be hard on the departing generation, says Casamina.
"They have strengthened and grown this business, and now the new generation is going to do things differently. The rising gen is bringing a swath of new ideas. They might say, 'This plastic packaging has to change, it's not sustainable.' " Or, she says, the new generation might be dealing with competition that's now global, not just other businesses within a 20-mile radius, which requires a new mindset.
The rising generation is also doing business in a time of extreme polarization in politics and social norms, as well as shifting attitudes as to the very nature of work and how it fulfills – or does not fulfill – our lives. While all generations want the business to be successful, the future the rising generation is building for is not the same future the departing generation built for, and that is OK.
What's next? BCR plans to research the impact of gender in business succession with a national survey, and to uncover more data on matriarchs and their roles in family businesses.
---
Related Stories: How Family Businesses Survive and Thrive, The Next Generation Takes Over, The Familyʻs Glass Ceiling, Going, Going, But Not Yet Gone: Gender Bias in Family Businesses
---