Kukulu Hale Awards 2019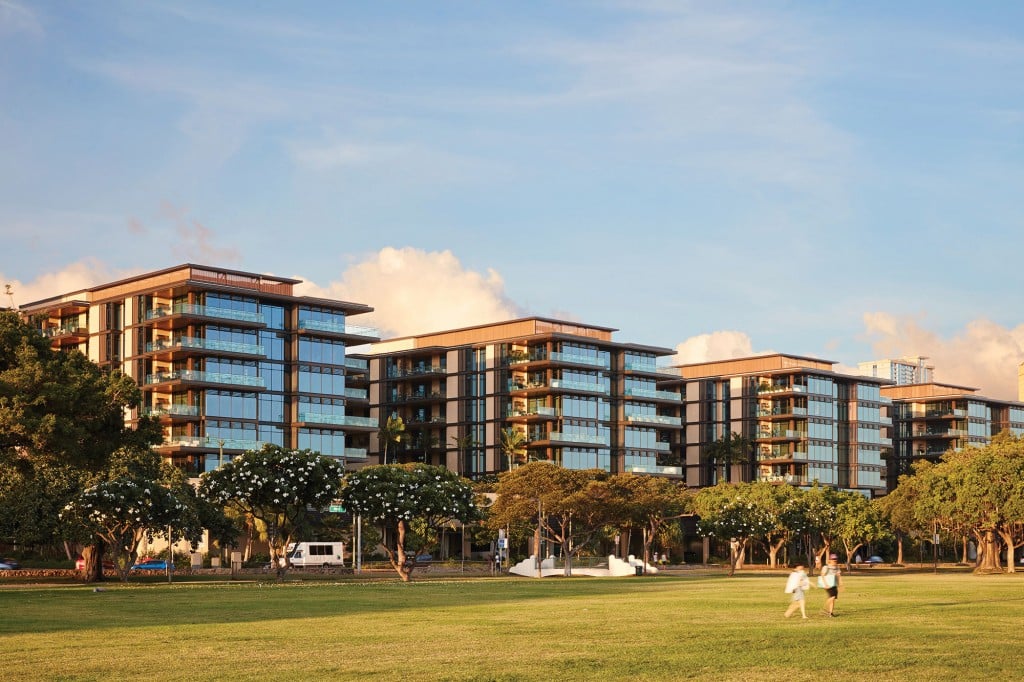 DEVELOPERS OF
THE YEAR —
KU HO'OKELA AWARD
Kobayashi Group and The MacNaughton Group
Complementary skill sets, shared values and mutual respect for each other's professional expertise formed the foundation of a business relationship between The MacNaughton Group and Kobayashi Group that, nearly two decades later, has grown to become a highly successful development partnership sustained by the synergy and friendship between the two kama'āina companies.
Company founders Duncan MacNaughton and Bert A. Kobayashi, Sr. were first brought together in 2000 by mutual friend Mitch D'Olier, who at the time was CEO of Victoria Ward Limited. He proposed the companies co-develop Hokua, the first of its kind mixed-use, luxury residential high-rise within Victoria Ward's master plan. The following year, the project – and the enduring partnership – was launched.
The two companies re-located their offices to Hokua when it was completed in 2005, and they remain side by side in the building today, facilitating collaboration and teamwork. Together they have developed four luxury residential projects and three retail projects with a combined construction value of $2.275 billion. The companies also completed two recent projects as development managers: the expansion of Kapiolani Medical Center and Hilton Garden Inn Waikiki Beach.
The development of Park Lane Ala Moana was the most recent addition to the shared portfolio. Completed in 2017, the ultraluxury low-rise residential "community" was a unique joint venture opportunity proposed to Ala Moana Center owner GGP by Duncan MacNaughton, who had dreamt of building a residential project atop the Sears parking lot ever since he worked for the center's original developer, Dillingham Corporation, in the 1960s.
GGP accepted the proposal, but required the MacNaughton-Kobayashi team to complete the project within an 18-month timeline. In order to meet the challenging schedule, construction was started before the project went to market – a testament to the confidence the two companies had in the project's success.
The companies currently are partnering on two very different kinds of projects. Alder Street is a 200-unit low-income rental project that will be owned and operated by the joint venture for 75 years. Topgolf Hawaii is a multi-tiered, high-tech driving range facility to be built at the Ala Wai Golf Course driving range.
"Our relationship over the years has been one of friendship and collaboration," says MacNaughton Group Chairman Duncan MacNaughton. "We have brought our creative viewpoints to the discussion table to ensure we develop the best possible projects for Hawaii. I am particularly proud of our latest project, Park Lane Ala Moana, which relied heavily on the talents of our companies' second generation – family and non-family members alike – to bring the dream to life."
Next Gen at the Helm
In 1993, after three decades leading the contracting business his father established, Bert Kobayashi, Sr. sold Albert C. Kobayashi, Inc. to its employees and co-founded Kobayashi Group with his three children, Bert A. "BJ" Jr., Patrick and Alana Kobayashi Pakkala, together with Kathy Inouye. Today, Bert Sr. and Kathy serve as senior advisors as the next Kobayashi generation guides the company forward: BJ as partner, Patrick as president and Alana as COO.
Still family owned, The MacNaughton Group has undergone a similar leadership transition in recent years as founder Duncan MacNaughton has turned over the reins to a new generation. They include son Ian who joined the company in 2006 and grew into the role of CEO; son Brett, who joined the company in 2013 and now leads design; and Emily Reber Porter, COO, who has been with the company since 2015. Duncan continues to serve as chairman of The MacNaughton Group, while Jeff Arce and Eric Tema continue as senior advisors.
"We learned from our grandfather that good relationships and standing by your word are key to doing business in Hawaii," said Alana Kobayashi, reflecting on the legacy passed down to her generation. "Together with The MacNaughton Group, our family businesses are focused on high-quality projects that we are proud of and that become a lasting part of our community. We hope this commitment to integrity will allow us the privilege of working on bringing excellent projects to life for generations to come."
Shared Commitment to the Community
MacNaughton and Kobayashi's deep commitment to the projects they create is matched by a shared passion for making a positive impact on the community. Both have a long history of charitable giving, nonprofit board leadership and volunteerism, and the two companies often come together to support fundraising campaigns and programs that enhance the quality of life for local residents.
The Polynesian Voyaging Society's Worldwide Voyage, Kapiolani Medical Center, Honolulu Museum of Art and UH West Oahu's Academy of Creative Media are among recent organizations benefiting from the philanthropic contributions of these Hawaii-rooted partners.
Projects completed by Kobayashi Group and The MacNaughton Group
---
Residential Development
Commercial Development
Total development
project value:
$2.275 billion
---
Development Management
Kapiolani Medical Center for Women and Children,
master plan expansion Phase 1

Hilton Garden Inn Waikiki Beach
---
Quicklinks

Developers of the Year: Ku Ho'okela Award
Lifetime Achievement: Holo Pono Award
Outstanding Service Award
Kukulu Hale Award Winners
Engineering Firm of the Year
Distinguished Entries
Chapter Awards