10th Annual Wahine Forum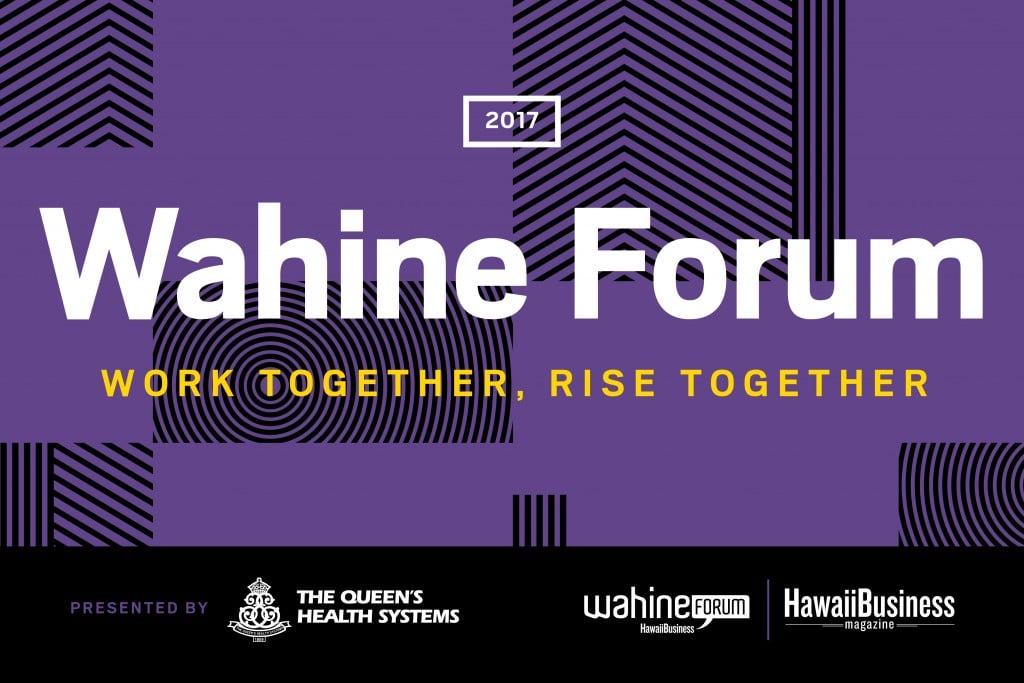 The Wahine Forum is Hawaii's largest leadership and career development conference for women. The conference is attended by Hawaii's top female executives, entrepreneurs, up-and-coming leaders and others intent on advancing their careers.
This year's theme is WORK TOGETHER, RISE TOGETHER, focusing on the importance of effective partnerships and collaboration in the workplace. Connect with like-minded individuals and cultivate relationships at this full-day event featuring national speakers and local leaders.





Registration, Networking Expo and Continental Breakfast: 7:30 a.m. to 8:30 a.m
MORNING GENERAL SESSION: 8:30 a.m. to 10:00 a.m.
PAY IT FORWARD: WOMEN HELPING WOMEN
KEYNOTE SPEAKER: Miriam Hernandez-Kakol, KPMG
Miriam Hernandez-Kakol has achieved a great deal on her way to becoming U.S. service line leader for KPMG's Customer and Operations consulting practice. Her accomplishments include leading teams that automated many telecom services we take for granted today, and being a founding leader of KPMG's Technology Enablement consulting business that fueled triple-digit growth within five years for the Management Consulting group at KPMG. Miriam is particularly proud of the work she has done to break though glass ceilings and blaze a trail for younger women. Miriam was recognized by the Association of Latino Professionals for America (ALPFA) and Fortune Magazine as one of the Fifty Most Powerful Latinas in U.S. business in 2017. Miriam will discuss the importance of women mentoring women, and offer specific steps businesswomen can take today to ensure the future is even brighter for the next generation of women leaders.
Read more about Miriam Hernandez-Kakol

MORNING WORKSHOP SESSIONS: 10:15 a.m. to 11:30 a.m.
HANDLING DIFFICULT CONVERSATIONS & MAKING DIFFICULT DECISIONS
At every stage of your career, you must be able to handle difficult conversations and decisions if you want to succeed. We will discuss asking for a raise or promotion, closing a sale, allocating scarce resources, giving a tough employee review and firing an employee.
SPEAKERS:
Sunshine Topping, Vice President of Human Resources, Hawaiian Telcom
Dr. Kim-Anh Nguyen, President & CEO, Blood Bank Hawaii
Susan Yamada, Director, University of Hawaii Ventures
Terri Funakoshi, Director, Patsy T. Mink Center for Business and Leadership, YWCA
Moderator: Unyong Nakata, Executive Director of Development, UH Foundation – Shidler College of Business
Read about this session's speakers

WE STARTED AT THE BOTTOM, NOW WE'RE HERE
Local female business owners share the victories and failures they experienced on the path to local, national and global success.
SPEAKERS:
Jana Lam, Owner, Jana Lam
Maile Meyer, Founder, Native Books/Na Mea Hawaii
Bliss Lau, Owner, Bliss Lau
Moderator: Malia Kaaihue, President, DTL Hawaii
Read about this session's speakers

DESIGN THINKING
Today's successful women are learning to expand their scope and perspective to include 'Design Thinking,' a methodology that employs a repeatable problem-solving technique that any team or business can use to get extraordinary results. Join Renée McKaskle, SVP and CIO of Hitachi Vantara as she shares how she uses Design Thinking to uncover the hidden, collaborate with teams and achieve deeper understanding that results in overall success and profitability.
Read more about Renée McKaskle

STAND OUT BY BEING OUTSTANDING
Women face many challenges in male-dominated industries and workplaces. Gain strategies and learn what it takes to succeed from women who overcame those challenges.
SPEAKERS:
Katie Kaanapu, Senior Manager of Marketing & Public Relations, Oceanwide Hawaii
Brigadier General Suzanne P. Vares-Lum, U.S. Army
Shari Chang, CEO, Girl Scouts Hawaii
Jules Kremer, Head of Developer Relations, Angular Team, Google
Moderator: Robbie Dingeman, Editor-in-Chief, HONOLULU Magazine
Read about this session's speakers

LIVE A LIFE WELL PLANNED
Learn how you can create a financial roadmap that will help lead you to a more independent and sustainable financial future. This will be a heartfelt woman-to-woman talk empowering you to make financially wise decisions for you and your family. (Disclosure)
SPEAKERS:
Divina Gonzalez-Maruyama, Assistant Vice President & Team Leader, Wealth Advisory Division, First Hawaiian Bank
Read about Divina Gonzalez-Maruyama

CEO ROUNDTABLE
**This is a by invitation-only session.

Networking Lunch, Expo: 11:45 a.m. to 1:00 p.m.
AFTERNOON WORKSHOP SESSIONS: 1:15 p.m. to 2:30 p.m.
NEGOTIATING SO EVERYONE WINS
Great leaders are great negotiators. Negotiation skills can help you make deals, solve problems, manage conflicts, advance your agenda, as well as build and preserve relationships. At this session, learn techniques and strategies to get the best deal possible for you and your counterpart.
SPEAKERS:
Lauren Nahme, Vice President of Strategy & Innovation, Kamehameha Schools
Emily Porter, Executive VP, Operations and Strategy, MacNaughton Group
Brittany Heyd, General Counsel, 1776
Joanne Lee, Associate, Goodsill
Moderator: Amanda Jones, Partner, Cades Schutte
Read about this session's speakers

LEADING THROUGH THE GENERATIONS
Women business owners & executives from different generations share what it's like to lead, the challenges they've faced and how to work with others from different generations.
SPEAKERS:
Marilyn Romano, Regional Vice President, Alaska, Alaska Airlines
Katie MacNeil, Principal, G70
Amanda Corby Noguchi, Creative Director & Owner, Under my Umbrella, & Co-Founder, Pili Group
Maya Rogers, CEO, Blue Planet Software
Moderator: Susan Eichor, President & COO, aio
Read about this session's speakers

BUILDING YOUR CONFIDENCE
Tiffani Bova, Global Customer Growth and Innovation Evangelist for Salesforce, says when you think big, you become big. She will explain practical, actionable exercises and tips to build your confidence.


IT'S NOT MY JOB
It's easy to forget that other departments exist when you're so involved in your own responsibilities. But if you want to be a leader, you must have a holistic view of the organization. We'll discuss strategies to learn more about other departments so you can be more successful at your job and increase your value within the company.
SPEAKERS:
Jodi Wilmott, General Manager, World surf League
Randi Fernandez, Hotel Manager, Prince Waikiki
Siana Austin Hunt, President & CEO, Make-A-Wish Hawaii
Dr. Kristin Fernandez, MD, Medical Director of Pediatrics, The Queen's Medical Center – West Oahu
Moderator: Makana McClellan, Public Information Officer, The Queen's Health Systems
Read about this session's speakers

CLOSING GENERAL SESSION: 2:45 p.m. to 4:30 p.m.
HOW WE RISE TOGETHER
End bullying, increase support, and build confidence. Local female leaders and award-winning staff writer Olga Khazan from The Atlantic will discuss what we can do to make sure our workplaces are welcoming and equitable.
SPEAKERS:
Olga Khazan, Staff Writer, The Atlantic
Kelly Hoen, Area General Manager, Outrigger Reef Waikiki Beach Resort, Outrigger Waikiki Beach Resort
Kim Randall, VP, Sales & Marketing, Servco
Lavonne Leong, Senior Writer, Hawaii Business magazine
Read about this session's speakers


MAHALO TO OUR SPONSORS