Wahine Forum 2019 Information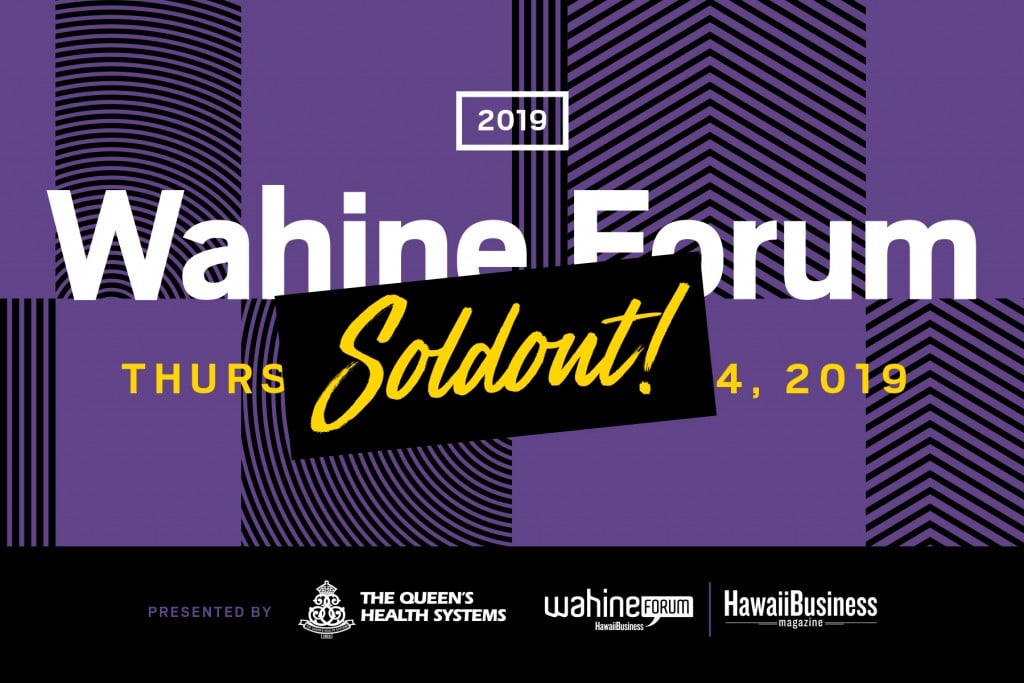 LIVE FEARLESSLY
The Wahine Forum is Hawaii's largest leadership and career development conference for women. Hawaii's top female executives, entrepreneurs, up-and-coming leaders and others intent on advancing their careers come together for a full-date event featuring national speakers and local leaders. Connect with like-minded individuals and cultivate relationships.


AGENDA
Registration, Networking Expo and Continental Breakfast
7:30 a.m. to 8:30 a.m.
MORNING GENERAL SESSION
8:30 a.m. to 10:00 a.m.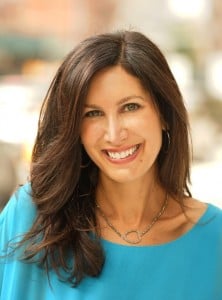 KEYNOTE ADDRESS
Wendy Sachs is a modern multi-hyphenate. A passionate storyteller, she is an Emmy award-winning network television producer, former Capitol Hill press secretary, editor-in-chief of Care.com, media relations executive, content strategist and the author of the critically acclaimed Fearless and Free: How Smart Women Pivot and Relaunch their Careers. Wendy has been recognized by MAKERS and was also named in 2017 on Forbes.com as a "40 Over 40 Woman to Watch."
Wendy is also the author of the bible on balancing career and family, How She Really Does It: Secrets of Successful Stay-at-Work Moms.
An expert on career, building confidence, and work/life issues, Wendy has appeared on dozens of radio and TV shows including: NBC's "Today" show, ABC's "Good Morning America," MSNBC, CBS, FOX News, CNN's "Headline News" and others. She is a contributor to CNN.com and the "Huffington Post" and has written for the New York Times, Fast Company, Business Insider, Time, Refinery 29 and other publications.
Her humor and conversational tone make Wendy a popular corporate and conference speaker. She has been invited to speak around the country to events including: the World Bank's Women's Conference, the Other Festival, the Governor's Conference for Women in California, Texas, Massachusetts and Pennsylvania. Companies including Google, LinkedIn, Taco Bell, Ziff Davis, Goldman Sachs, Ernst & Young, Citi, AOL and many others have brought Wendy in to speak about work/life and career issues.
In November 2017, Wendy gave her first TEDx talk in Boston, "Harnessing the Power of Humiliation."

MORNING WORKSHOPS I
10:15 a.m. to 11:15 a.m.
Realize Your Full Potential in the Face of Adversity
Everyone will experience failure at least once in their career or in business, but you cannot let these setbacks prevent you from achieving success. Instead, accept and learn from failure to improve skills and decision making. Let each past experience inform the present and positively influence the future – and don't let fear of failure prevent you from taking risks. During this session, hear from well-respected leaders and entrepreneurs who have used failure to their advantage.
Speakers:
Summer Sylva, Interim Executive Director, Native Hawaiian Legal Corporation
Alice Inoue, Executive Coach, Life-Work Success and Founder, Happiness U
Liza Rodewald, Founder & CEO, Instant Teams
Moderator: Robbie Dingeman, Editor At Large, HONOLULU Magazine
Click here to learn more about this session's speakers.

How to Create a Powerful Personal Brand
"Brand" isn't just a business term. A brand is something you're constantly building because it's the affirmation of who you are and what you love to do. Whether you're a full-time employee, independent freelancer or business owner, your personal brand speaks for you. Being intentional about what you want it to stand for shapes the opportunities you attract.
Speakers:
Jana Lam, Owner, Jana Lam

Courtney Monahan, Co-Owner & Partner, Paiko

Michelle Jaime, Owner, The Vanguard Theory and Co-Host of DIY Network's Aloha Builds Show

Moderator: Noelle Fujii-Oride, Writer, Hawaii Business Magazine
Click here to learn more about this session's speakers.
Takeaways From Remarkable Women In Hawaii's History
During this session, independent filmmaker Edgy Lee and Hawaii Business Magazine Publisher Cheryl Oncea sit down to talk about the remarkable accomplishments of women in Hawaii's history.
Edgy Lee, Independent Filmmaker

Cheryl Oncea, Publisher, Hawaii Business Magazine
Click here to learn more about this session's speakers.

MORNING WORKSHOPS II
11:30 a.m. to 12:30 p.m.
Give Back To Enrich Your Life and Build A Network For Success
Getting involved in the community is an investment in yourself that will reward you with long-term benefits – both personally and professionally. You can find impactful opportunities that not only match your passions, but also offer diverse exposure. Joining a committee or board can open new doors to speaking engagements, community recognition and new business connections for your company and career. Learn from some of Hawaii's top female leaders on how you can grow your network and gain personal fulfillment through philanthropy.
Speakers:
Noriko Namiki, Chief Executive Officer, YWCA Oahu

Shelley Cramer, VP & General Manager, Saks Fifth Avenue

Rumi Murakami Robertson, Fashion Designer & Owner, Rumi Murakami

Maya Rogers, President & CEO, Blue Planet Software

Moderator:

Aki Marceau, Managing Director Policy & Community, Elemental Excelerator
Click here to learn more about this session's speakers.
Strategies for Work-Life Harmony presented by The Queen's Health Systems
There is an abundance of health-related information available in this digital age – so much so that it's easy to tune out. But as busy women who put their jobs, children, spouses or parents first and neglect their own well-being, we can't afford to not pay attention. Go beyond the obvious "eat right and exercise" and hear from medical experts on what really matters to keep yourself healthy in body, mind and spirit.
Speakers:
Margo Vassar, MD, Cardiologist, The Queen's Health Systems
Rose Hata, MS, RN, APRN, CCRN, CCNS, Director, The Queen's Medical Center Nursing Institute
Courtney DeConto, RN, MSN, CPNP, Pediatric Nurse Practitioner, The Queen's Medical Center – West Oahu
Gina Gelber, Contributing Writer, Hawaii Business Magazine
Click here to learn more about this session's speakers.
From Dream to Reality: Financing Your Passion Project
Managing the finances for your passion project is not easy. If you are serious about running and growing your business, you need to lay the financial groundwork. From opening up a bank account to approaching investors, local business owners share personal stories and tangible takeaways during this session, which will be hosted and moderated by our exclusive banking partner, First Hawaiian Bank.
Speakers:
Ethel Matthews, Owner, Sweet E's

Mylen Fe Yamamoto, Founder & Creator, Cropsticks

Roxelle Cho, Founder, Fused Swimwear

Moderator: Nohonani Leslie, Assistant Vice President and Branch Manager, First Hawaiian Bank – Hawaii Kai Branch
Click here to learn more about this session's speakers

NETWORKING LUNCH / CONFERENCE EXPO
12:30 p.m. to 2:00 p.m.


AFTERNOON WORKSHOPS
2:00 p.m. to 3:00 p.m.
Mid-Career Transitions: Trials, Tribulations and Lessons Learned
It is not uncommon to find yourself feeling stuck and ready for a change mid-career, but the thought of such a change can often be overwhelming. Whether it's transitioning into a new role within your company or transitioning into a new career path, there is a lot to consider. What risks are involved? During this session, experienced professionals share key takeaways and lessons learned from their mid-career transitions.
Speakers:
Susan Eichor, President & COO, aio
Nalani Jenkins, President, 721 LLC
Ann Teranishi, Executive Vice President of Operations, American Savings Bank
Moderator: Sunshine Topping, Strategic Leadership Executive
Click here to learn more about this session's speakers.
Mompreneurs: How Do They Do It?
Being a mom and running a business is like having two full-time jobs. Both require time, energy and dedication. It's estimated that 1 in 3 women-owned businesses (or 4 million businesses) are owned by a mom. How do they do it? Local mompreneurs will share the truth about what it's like as well as insights on how to balance mom life and business life.
Speakers:
Tiana Gamble, Owner, Bikini Bird and Creative Designs Hawaii

Allison Song, Owner, Allison Izu

Amanda Corby Noguchi, Creative Director & Owner, Under my Umbrella, & Co-Founder, Pili Group

Moderator: Catherine Toth Fox, Editor, HAWAII Magazine
Click here to learn more about this session's speakers.
Through Her Lens: Lessons from Women in Entertainment
The entertainment business is one of the most cutthroat industries to break into whether you are in front of or behind the camera – even more so if you're a woman. It takes confidence, determination and grit. Local entertainment industry representatives share personal experiences that will provide life lessons to take away in any facet of life or career.
Speakers:
Vera Zambonelli, Founder & Executive Director, Hawaii Women in Filmmaking

Heather Haunani Giugni, Filmmaker and Founder, Producer, and Collection Specialist, 'Ulu'Ulu, University of Hawai'i – West O'ahu

Amanda Schull, Actress

Moderator: Taylour Chang, Curator, Film, and Performance, Honolulu Museum of Art
Click here to learn more about this session's speakers.
The Difference Between Managing and Leading
The terms "leadership" and "management" are often used synonymously, but they're not the same. Leaders are focused on their organization's mission and how they can guide their teams to collectively achieve organizational success. Managers, on the other hand, are focused on helping their employees accomplish a task. There's a place for both of these roles in the workplace. Hear how local leaders distinguish between the two and when's the right time to fulfill each of these roles.
Speakers:
Cindy Adams, President & CEO, Aloha United Way
Melanie Ide, President & CEO, Bishop Museum
Michelle Steitz, Executive Service Team, ProService Hawaii
Rosa White, Co-Founder & CFO, DRFortress
Moderator: Su Shin, Chief of Staff, Hawaiian Telcom
Click here to learn more about this session's speakers.

CLOSING GENERAL SESSION
3:15 p.m. to 4:30 p.m.
We Are Wahine: Stories of Living Fearlessly
Speakers:
Margery Bronster, Founding Partner, Bronster Fujichaku Robbins Attorneys at Law
Darolyn H. Lendio, District Judge of the First Circuit of Hawaii
Amanda Schull, Actress
Marion Lyman-Mersereau
Louise K.Y. Ing, Partner, Dentons
Click here to learn more about this session's speakers.