Wahine Forum 2018 [PAU]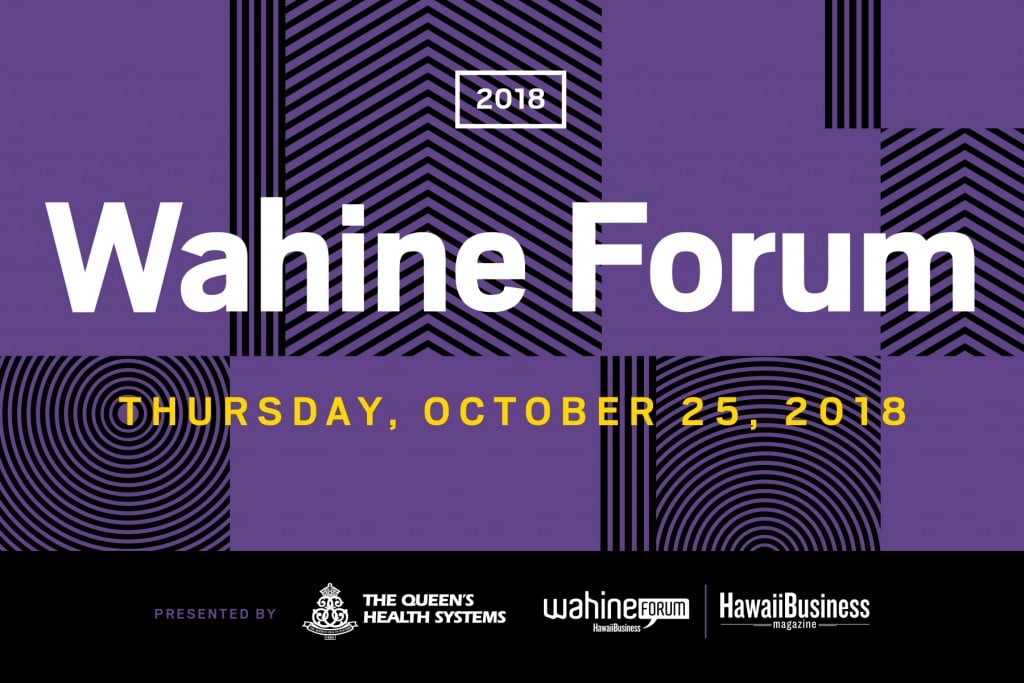 How To Get There:
[MAP] Hilton Hawaiian Village
205 Kalia Road, Honolulu, HI 96815
*View the Event Map*
*View the Expo Map*
Parking Instructions:
Self-Parking: $8.00 with validation
Valet Parking: $13.00 with validation
You will need to validate your parking in the Expo BEFORE paying at the pay station. There are two pay stations – below the escalator and near the restrooms next to the Nautilus Suites.
(Please refer to the event maps above for more information!)
Exclusive WAHINE Items:
Purchase the exclusive WAHINE Tee by Dolkii Hawaii at the Hawaii Business magizine booth ($45). A percentage of the profits surports the Women's Fund of Hawaii, a non-profit organization supporting innovative, grassroots programs that empower women and girls statewide.
Each attendee will also receive a FREE WAHINE Tote filled with goodies & information items from our event partners. Please drop by the Hawaii Business Expo Table if you have any questions about these items.
Win a Vacation for Two!
Prize: TWO Roundtrip Tickets courtesy of Alaska Airlines
How To Win:
Grab a bingo card at the Hawaii Business Expo Table upon your arrival.

Visit the Expo tables in the Coral Lounge & collect a sticker from each event partner listed.

Once you fill up your card, drop it in the glass bowl near the Alaska Airlines table.
That's it! The winner will be announced at the Closing General Session. Remember, you must be present to win!
Before You Leave:
Stick around for the announcement of the Trip-For-Two Winner and the Closing General Session lineup, including Chief Susan Ballard, Justice Sabrina McKenna, Elisia Flores, Amanada Ellis & Bettina Menhert.
Join The Conversation:
Use these hashtags:
#WahineForum #WeAreWahine #HBwahine
Follow us throughout the day & tag us in your photos or videos to be featured on the Hawaii Business social media channels!