West Oahu Magazine 2018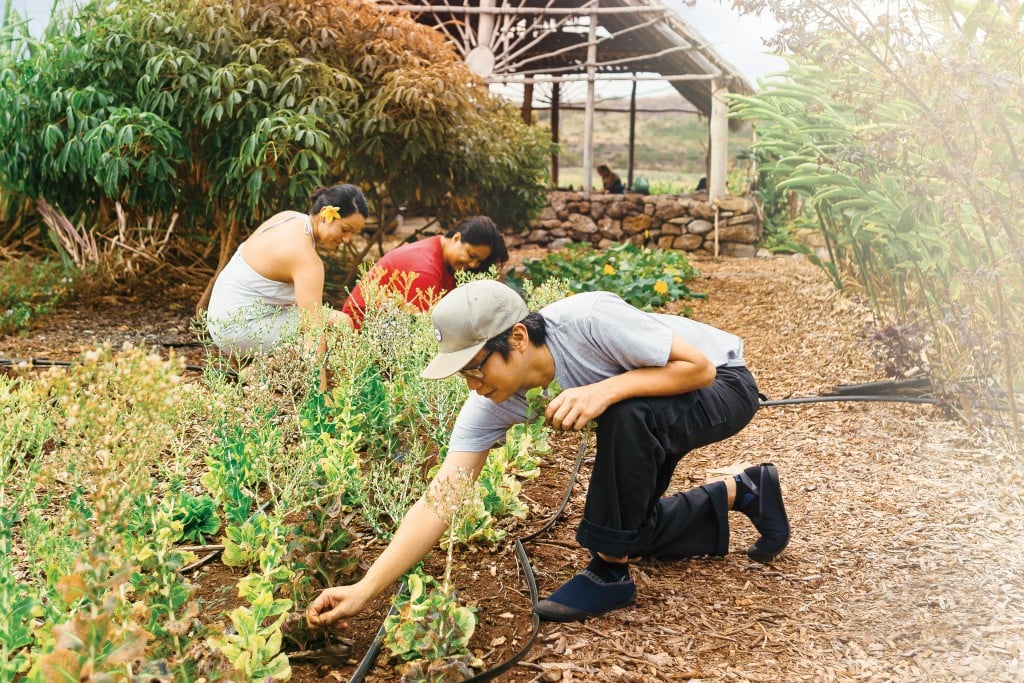 The Protectors of Paradise
A group of local surfers roll up their sleeves to restore and preserve a West Oahu beach.
By Powell Berger
Sometimes it's not enough to see something and hope somebody will do something about it. Sometimes, you have to do it yourself. Just ask Micah and Jon Doane, brothers who grew up going to the beaches on the Leeward Coast, going with their family to the cemetery in Makua where family is buried and cleaning up the gravesites. Over the years, they watched as those beaches became more and more polluted. Nobody seemed to notice, or care. They decided to do something about it.
"I was always venting about the issues like trash out there," says Micah. "The problems were getting worse as more and more people found the area, thanks to social media." Jon-Ross "J.R." Auwae, fellow waterman and Waianae native, reminisces growing up surfing the untouched beauty of Makua, during a time when there were no crowds and no one ventured past where the street lights stopped in Mākaha. "I want future generations to experience what we had growing up," he says. With all having such a strong connection to Makua, they knew exactly what they had to do. "The state wasn't equipped, with only one park ranger covering that whole large area, so we figured we'd get people together and see what we could do," he says.
That was sometime in early 2016. Today, Jon, Micah, and J.R. stand side by side, rallying the troops of Protectors of Paradise, the organization they founded when the back of Micah's truck wasn't big enough to get the job done. They put out the call through their Facebook page, using the same social media channels that first brought more people to Makua to now bring folks out to take care of the land, the beaches, the mountains, and our precious wildlife. They are relentless, out there every week cleaning up the beaches, picking up the mounds of trash and hauling it away, reminding locals and visitors alike that these resources are precious and deserve to be treated with aloha.
Their work hasn't gone unnoticed. Last November, they worked with DLNR to close Makua Beach to overnight campers while they wrestle with long-term solutions for the area. "They saw that we're out there every week, cleaning up, doing the work," says Jon. "We weren't just talking and complaining, and now we feel like we're making progress." What started as beach clean-ups has now expanded to other needs and issues along the coast. They've partnered with NOAA to work on educating people about the adverse impacts of interacting with the spinner dolphins, interrupting their resting time, which in turn, diminishes their population. They've partnered with the military to clean up unexploded ordinances, and with the state to turn back hikers looking to get that Instagram post of the vista from the dangerous Makua Caves trail.
On the beach, the rubbish they haul away is sometimes mind-boggling, not to mention gross, from whole animal carcasses —dogs, cats, pigs and fish — to human feces, WWII bombs, appliances, automobile parts, and even perfectly good tents and chairs. "We just hope we don't find a human body," Micah says.
Their clean-ups draw a crowd, put together almost exclusively through social media and the coconut wireless. State Representative Andria Tupola rolls up her sleeves and gets out there with them. "For our most recent clean up, Micah and Jon helped gather volunteers at Coral Sands Park in Maili," she says. "For years the park had been in disrepair, with abandoned vehicles and trash piling up on its grounds. Now members of the community have the opportunity to play basketball and use a park that had previously been unusable." Tupola credits the brothers with creating a sense of responsibility, community. "Their commitment to protecting our aina for future generations serves as a model for the people of Hawaii," she says.
For the Doane brothers, it's a family tradition. "We have so much history here," Micah says, pointing to generations who were born and raised in Makua. "Our grandmother was born and raised here, and our grandfather was the pastor at the local church," he says. That came to an end with WWII and the military's takeover of the area, the cemetery one of the only relics left of what was once a community. But they know the history. They all grew up going to that beach with their family members. "We feel a strong calling from our kupuna to protect that place," Micah says. "We have the kuleana to preserve it."
It's also a matter of pride for them. "We have to protect our land," says Jon. "We have this beautiful place in the middle of the Pacific, and we want visitors to see the beauty of Hawaii, not a dump." What started as a small group cleaning up the beach has turned into a full-scale environmental preservation effort. Jon laughs a bit, reflecting on how much they've learned through this process — not just about organizing people and bureaucracy, but also about the dolphins, the precious nature of our resources, and the adverse impact we humans are having. "We have to let Makua rest, and then we can restore it," he says.