West Oahu Magazine 2018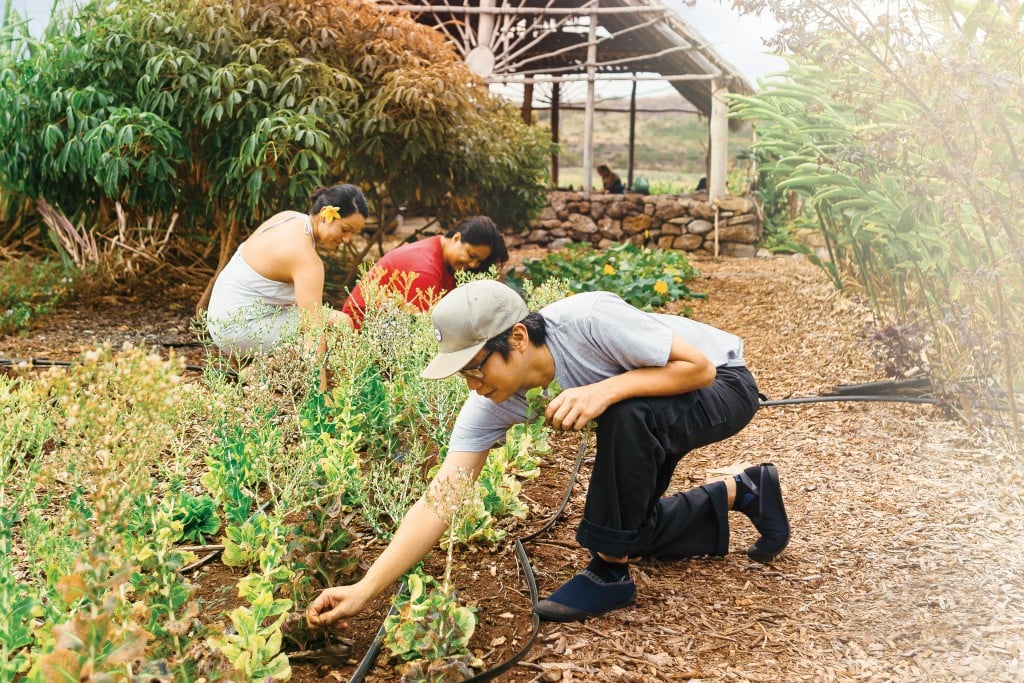 Breaking the Mold
An alternative leadership program at Kapolei High School forges their own path.
By Maria Kanai
Nicholas Makinano, a junior at Kapolei High School, never thought that he would ever enjoy growing vegetables until he actually got his hands dirty, working in a taro patch at school. In fact, he loved it so much that he has started his own nursery at home, growing basil and broccoli. "There's something about knowing that I'll be able to sustain myself with food in my own garden," says Makinano. "It's awesome that we can grow native plants and other sustainable resources to consume and even sell within our community."
Makinano is a part of the Hoola Leadership Academy at Kapolei High School, which is celebrating its 10th anniversary this year. The idea for the academy was sparked by former principal Al Nagasako who was concerned by the growing high school dropout rates of 9th to 11th grade students across the State of Hawaii. Nagasako gathered a group of teachers from Kapolei High School to try and figure out a solution. Joan Lewis was one of those teachers. "We asked ourselves, 'how do we help the kid who doesn't necessarily fit the mold?' Our kids are prickly and not every kid fits into the school system the way that we've designed it. So how can we ensure that these children are successful in class?"
Keeping the students in class
Hoola Leadership Academy was the answer. An alternative learning program offering core high school curriculum, rooted in Hawaiian culture and taught through project-based courses, the academy is made up of about 150 students between 9th and 12th grade. The program has a 95-percent graduation rate and has been so successful that other schools are following in step – both Kohala High School and Keaau High School have modeled similar learning programs after them.
Students enter the academy through referrals from teachers who feel that they may need more than the standard approach to core curriculum or would be more successful in a different social setting. "We have kids who may not be as socially strong as others… we have shy kids and we get highly academic, but may not be big fans of the system. It's amazing how we have such a diverse population," says Lewis. The students are given the choice to opt in or out in their junior or senior year, but only about 10 opt out every year.
So, why is the program so successful? Students attribute its success to the teachers and the sense of ohana. Teachers are highly proactive with students' attendance – if a student doesn't show up, the parents are immediately brought into the picture. This strong focus on attendance and accountability is what sets the program apart – there's a staff member whose sole job is to keep track of the students and maintain communication with their family members. The teachers will even call the student's aunt or uncle if the parent isn't available. "Our program wraps all around them. They stay in one place, we all know them and we all talk to each other," says Lewis.
Engagement is another proponent to the success of the program. Projects are made to be fun and meaningful. Students climbed Palehua Trail to replant native species, harvested crops at MAO Farms and worked with the US Fish and Wildlife Service to repair anchialine pools in Kalaeloa to restore indigenous opae ula (red shrimp) breeding grounds. Through these projects, they're learning biology, chemistry, social sciences and mathematics. The students also do presentations of their projects in class, practicing their English reading and writing skills.
Forging new partnerships
With its focus on natural resources, Hoola has begun the conversation of a possible partnership with the Bachelor of Applied Science with a concentration in Sustainable Community Food Systems (BAC-SCFS) program at the University of Hawaii West Oahu (UHWO). A multi-disciplinary, experiential and applied education program, BAC-SCFS offers hands-on learning to develop food systems professionals and partners with the UHWO Organic Community Garden.
Dr. Albie Miles, assistant professor of BAS-SCFS, hopes to continue working with high schools to build a seamless transition between high school and college. Although the partnership with Kapolei High School is still in its infancy, all involved share great enthusiasm for what lies ahead. "There was mutual excitement to begin creating a pathway into the UHWO SCFS program for those students interested in environmental science, agroecology and sustainable food systems," says Miles.
Dr. Manulani Meyer, indigenous educator at UHWO, is also all for it. "Ecological literacy instills aloha aina. We need to reconnect with the different form of literacy, and that's how our world can transform. We need to teach our keiki to care for the land, and the importance of nurturing and growing of food," says Meyer.
In line with the mission of Hooa Leadership Academy to teach sustainability, Lewis and her fellow teachers felt technology was an important aspect to complete the circle. In summer 2017, they began a partnership with Purple Maia, a technology education nonprofit that teaches computer science to youth, primarily in schools where many students are Native Hawaiian or Pacific Islander.
Staff at Purple Maia teach Hoola Leadership Academy students technical skills like coding or website building to complete their senior team project – whether it's a coastline cleanup project or building an alumni network, computer science can help bring the project to life. Both organizations have a common goal – ultimately, they want to help local kids enter the job force in here at home and become part of Hawaii's workforce instead of moving away. For many Hoola students, it was inspiring to learn how a high-paying job in a progressing industry like computer science can make it possible for them to earn a good living, without having to take a second job like many of their families.
Seniors Sasha Kaawaola and Keanu Barboza-Dunn have been enrolled in the Hoola Leadership Academy since their freshman year and are among the many who choose to stay. Both students are on track to graduate on time. Kaawaola wants to attend Kapiolani Community College to become a pediatrician and Barboza-Dunn, an aspiring football player, plans on attending the University of Hawaii at Manoa in the fall. They've remained in the program because of the culture of ohana that the teachers and fellow students have created.
"If I didn't enroll in the Hooa during my freshman year, I would be on a different path, explains Barboza-Dunn. "The teachers, they take their time with helping you understand, and they really, really care for you. Even if you mess up, they can get you back on track. They're like parents to me."
The future of a growing, vibrant community depends on the success of its youth, which is why the Hoola Leadership Academy and its partners continue to nurture a tight support network in West Oahu. As these organizations come together for their keiki, the students are gaining a valuable education that instills a strong sense of cultural identity, place and responsibility.
---
Island Pacific
Academy
Island Pacific Academy is more than a premier independent school option for families on the west side of Oahu. It is a teaching and learning community and culture with a common goal to provide rigorous academic and real world experiences and opportunities for every student in a culture that also is a place where moral values matter. Our educational vision and mission thrive in a culture of mutual respect, the recognition of the inherent value of each human being, generosity of spirit and the power of human kindness. We also emphasize and support the development of life skills such as the ability to think critically, to problem-solve, to be creative and innovative, the ability to access and analyze information, and to be curious and imaginative to help our students to flourish not only at school, but in our community and beyond, as we prepare our students for possible careers and the expectations of a ever-changing and ever-evolving global society.