West Oahu Magazine 2018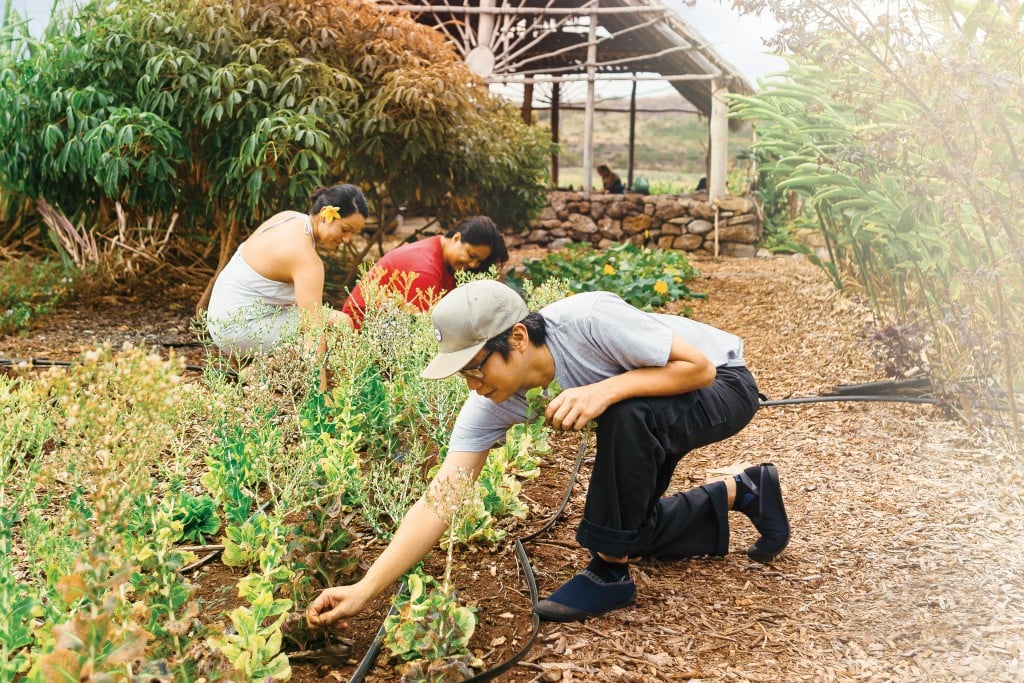 Climb Pono
West Oahu's newest climbing gym brings the community a partnership of stewardship and sport.
By Liz Barney
On a Monday evening, Michael Barad dangles ten feet in the air, his finger-tips pressed against nubs of red plastic suspended to a wooden wall. His brow furrows as he contemplates his next move.
Climbing instructor Cody Yafuso watches from the crash pad below. "Keep your core tight," Yafuso coaches, "move your feet!"
Barad swings for the hold and pulls himself to the top of the wall, pausing for a moment of triumph before releasing his grip and dropping onto the pad 8 feet below. Barad pounds chalk-covered knuckles with Yafuso as he steps off the mat.
Just four months ago, a typical weekend for Barad involved surfing with his son, while his wife and daughter, who don't surf, waited on the beach. But since The Arch Project Climbing Center opened in Waipahu this past August, climbing is quickly becoming their newest family tradition. The family, who live only a few minutes from the gym, now come every weekend, and Barad is attending the gym's weekly Beginner's Climbing Clinic to improve his technique. "It's something that everybody in our family can do together. When we're climbing, everybody is doing something and participating." Barad said.
For gym co-founders Nancy Nguyen and Nate Lam, creating new opportunities within the community was one of their primary motivations when they decided to open their gym in Waipahu. Nguyen, a former hairdresser and avid climber of 10 years, first met Lam at a climbing gym. Lam, a veterinarian by day, was still in school at the time, but often went to the gym as a means of stress relief. The two bonded quickly over their shared passion for climbing, and the climbing partners are now also partners in life as well as business.
As the two continued to climb together, they noticed that climbing was often perceived as a individualistic, selfish sport. Both had a strong interest in philanthropy, and they started to discuss ways they could challenge this stereotype and share their love for climbing in a way that brought the community together.
The pair brainstormed ways to engage the community by offering a variety of beginner-friendly classes and hosting community events.
"Whenever I look at something, whether it's business or an activity, I try and look beyond it to see how it can affect other people in a positive way," says Lam. "We're not put on this earth to just do things for ourselves, we're meant to be in communities.
Right from the start, they decided that establishing themselves in an area that was accessible to local families would be a priority. Their location is strategically positioned near the intersection of the H1 and H2 freeways, which Lam refers to as the veins of the island, connecting in Waipahu, the heart of the island.
"Here on the west side, we see a lot of families, and the accessibility is there for everyone," says Lam. "Business wise, town might have been better, but access-wise, this was where our heart was at. We see a lot of people climbing that wouldn't be climbing otherwise."
Climbing is relatively unheard of in Hawaii, as outdoor options are limited and often hard to access due to a combination of long trails and land-access difficulties. But after the gym opened, word spread quickly through the community. The gym hosts several different workshops and activities to engage the community and encourage individuals who haven't tried it to come and check it out. Since the gym opened four months ago, they've added over 280 members.
Beyond spreading the stoke, the gym also is actively building a community around service opportunities. In a unique partnership, Lam and Nguyen dedicate a portion of the gym's monthly proceeds to their sister non-profit organization, The Arch Project Hawaii. The nonprofit provides a variety of community-services and regular clean up activities at popular climbing spots.
As the gym grows, so does the non-profit, and with that growth, co-owner Nancy Nguyen is now looking to expand the community outreach to youth. "Climbing is great way for kids to build confidence and relationships," says Nguyen.
Unsure of where to start, she reached out to gym member Kellie Takamori, a math teacher at Waipahu High School. Together, they agreed to host a private climbing class for interested students from her class. The event began with a basic introduction to the sport, but as the students began climbing, Takamori harnessed the student's high level of engagement as a springboard for conversations on the time and effort required to improve in anything. "As a math teacher, the biggest thing is problem solving, which builds perseverance, resilience, grit – all traits that transcend the classroom. Climbing is a very parallel concept, except it's disguised as fun."
As the first climbing lesson ended and the gym opened for normal business hours, Takamori recalls the students watching as regular climbers trickled in and began tackling routes, quickly flying up the wall. Takamori worried the students would be intimidated by the more experienced climbers, and reminded her students these climbers had been climbing for awhile, but found the activity had left the students introspective and confident.
"It's ok miss," one student said, "You have to start somewhere."
Takamori and Nguyen are currently planning more outreach activities within her class, with hopes to use these activities as a guide for building a curriculum and starting a climbing club for at-risk youth. For them, they see climbing as an activity with the potential to engage youth and empower them to realize their full potential.
"A lot of students grow up thinking Hawaii is a place to leave because there are no opportunities," says Takamori. "I want them to know it's not where you're from, it's who you are, and the efforts you put forward." For her, it's a lesson that becomes clear at the top of the wall.
"When you're at the final destination, you look around and realize everyone got there, no matter where they came from."