West Oahu Magazine 2018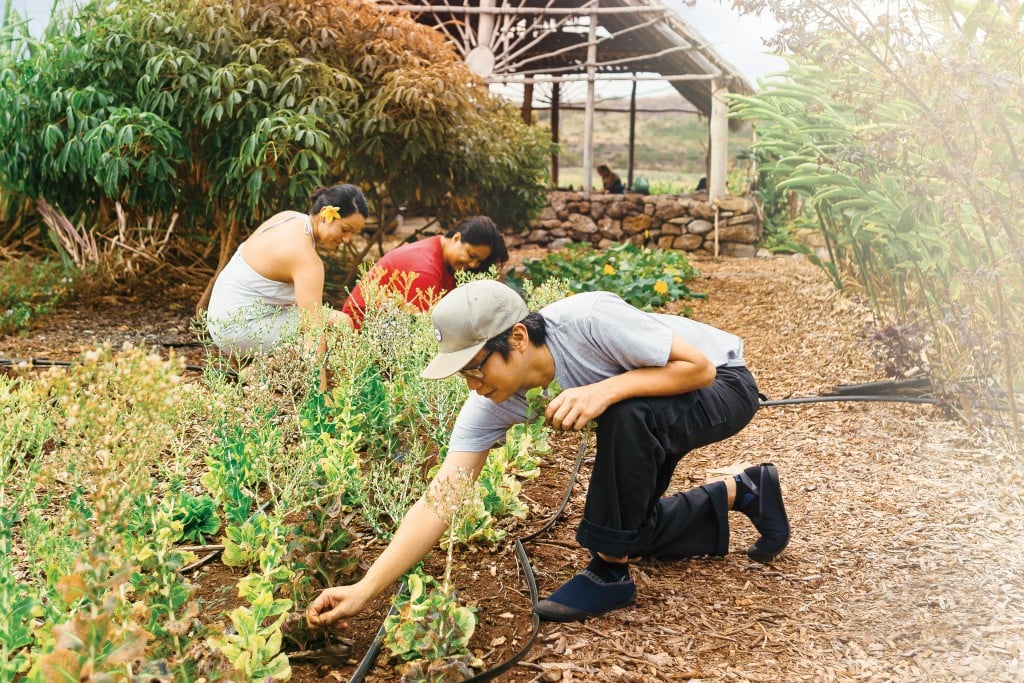 Home is Where the Health is
With high-quality healthcare in their neighborhoods, West Oahu residents have peace of mind.
By Cathy Cruz-George
Vicky Trinidad, an Ewa Beach resident since 1971, has witnessed the evolution of healthcare in her West Oahu neighborhood. "I remember going to the plantation hospital, then to St. Francis hospital for many years, and now, there is Queen's on Fort Weaver Road," Trinidad says.
She recently visited the emergency department at The Queen's Medical Center-West Oahu for asthma-related breathing complications. "They took me in fast, and I didn't have to wait too long," she recalls. Decades ago, her family would have travelled to Wahiawa General Hospital for emergencies.
As the population grows in West Oahu, residents like Trinidad have greater access to high-quality healthcare – from specialty clinics and 24-hour emergency rooms, to cutting-edge diagnostics and holistic healing.
The options allow residents to seek treatments in West Oahu, without ever leaving their neighborhoods.
Queen's, which opened its West Oahu site in May 2014, serves local residents and international guests staying in nearby Ko Olina Resort. The ER department accepted over 57,000 emergency-room patients in fiscal year 2017 and now averages between 4,800 and 5,000 ER patients per month in fiscal year 2018 (fiscal years run from July 1 to June 30).
To meet the demand, Queen's ER department will expand in 2018 to include additional MRI and CT machines, nuclear medicine capabilities and an observation unit for non-emergency patients.
Children need the most attention. Queen's ER department had been treating an average of 900 kids per month for non-emergency needs, until the hospital opened the Pediatric After Hours Center in January 2017.
The pediatric center in the spring of 2018 will become the Family After Hours Care Center, offering comprehensive services for the entire family. "For a working community, this is a welcomed solution," says Susan Murray, chief operating officer of The Queen's Medical Center-West Oahu. "Our community health needs are ever-changing, so we are always finding new and better ways to serve West Oahu."
Other healthcare groups fill that gap, as well. Urgent Care Hawaii in Kapolei is open seven days a week from early morning to evening and allows patients to walk in – without appointments – for X-rays, IV fluids, sutures, instant labs and other diagnostics. The clinic provides an "Urgent Care Plus" program that works directly with patients' primary care doctors.
"On average, 50 percent to 60 percent of conditions treated in the ER room can be treated at our urgent care center," says Donna Schmidt, chief executive officer of Urgent Care Hawaii. The group operates other clinics in Waikīkī, Kailua and Pearl City (open until midnight starting January 2018).
Outside its clinics, Urgent Care Hawaii nurtures West Oahu residents in other ways. Staff members volunteer at schools and provide manpower for first-aid stations at the annual Kapolei City Lights and Aloun Farms Pumpkin Festival, "where there are always plenty of skinned knees, sunburn and heat rashes to treat," Schmidt says. In 2018, the clinics will offer free, inspirational CD to patients and free flu shots to military veterans.
Fortunately, residents of Waianae Coast don't have to travel far for urgent medical matters. One of the most heavily used emergency rooms on Oahu belongs to the Waianae Coast Comprehensive Health Center (WCCHC), located on Farrington Highway. The ER department fielded more than 24,000 visits from June 2015 to June 2016, per recent statistics.
WCCHC is not a hospital but a federally qualified, community health center – one of 1,200 across the U.S. and the largest of 14 centers in Hawaii. It is just one of two community centers nationwide with a 24-hour emergency department.
In addition to the main campus and ER department, WCCHC operates: Satellite clinics in Waianae Mall, Kapolei and Waipahu; a primary-care clinic at Waianae High and Waianae Intermediate schools; and a dental clinic at Kamaile Academy, which is a Hawaiian-focused charter school for students in grades K-12.
The majority of WCCHC patients carry Medicaid insurance. "Our health center is a safety net for uninsured, medically underserved patients," says Richard Bettini, president and chief executive officer. "Our founders articulated a clear vision of comprehensive services for the community."
To meet the growing needs of patients, Bettini and his team are set to unveil new programs in 2018: Primary care clinics at Nānākuli High School and Nanakuli Village Center; a teen clinic at Waianae Mall; completion of the third, final phase of the Emergency Medical Services building on the main campus on Farrington Highway; and the launch of an "integrative pain management clinic."
The latter is outpatient-only and will provide physical therapy, substance abuse help, acupuncture, Native Hawaiian healing and other modalities to curb pain. The new facility is one of healthcare's many responses to the state's growing, opioid epidemic.
As WCCHC, Queen's West Oahu and Urgent Care Hawaii in Kapolei continue to expand their programs, they represent a sliver of the overall healthcare services available in West Oahu.
Healthcare truly is a community-wide effort made of up trained professionals and caring members of the community.
Members such as Ewa Beach resident Helen Garcia, a busy mother and wife. She is a dialysis nurse at a clinic in Kapolei serving patients from Pearl City, Ewa Beach, Kunia, and surrounding districts, including the Waianae Coast. In a typical, eight-hour shift, Garcia sees up to 24 patients per day, but her desire to help her neighbors in West Oahu's keeps her motivated.
"I see a lot of diabetics and people with kidney disease," Garcia says. "It is very rewarding to know that I am helping them every day."
---
Good Health Starts in Classrooms
Whether they're freshmen in college or pint-sized preschoolers, students in West Oahu classrooms are learning healthy habits for life. Here are two schools ahead of the pack:
Seagull Schools' students – ages 18 months to 5 years old – know to replace sugar and junk food with fresh produce and whole grains. Sugar weakens the immune system and can lead to colds and other illnesses.
The early-education program serves 950 students at campuses in Kapolei, Ko Olina and Ocean Pointe/Ewa, with additional sites in Honolulu, Kailua and Hawaii Island. All classrooms do not have air-conditioning, allowing the circulation of fresh air and reducing the spread of germs.
Emotional well-being is encouraged at Seagulls Schools. The Kapolei site is adjacent to an adult daycare program, where seniors interact with children. "The design of our centers was done purposely to develop relationships one-on-one," says Chuck Larson, executive director of Seagull Schools. The kids play bingo and arts-and-crafts with seniors, and "on Fridays, we set up a lunch in the lanai area with seating, kupuna, keiki, kupuna, keiki, all around."
In 2012, Seagulls was one of 16 schools nationwide to receive an award by former First Lady Michelle Obama's "Let's Move" anti-obesity campaign.
At the University of Hawaii West Oahu, the physical and mental health of its 3,082 students and 300 employees are top priorities. The open-air campus in Kapolei provides walking and biking paths, year-round sunshine and is free of traffic congestion and pollution.
In addition, the school offers intramural sports, group fitness and farm-to-table cooking classes, and sends mass emails to encourage healthy behaviors and balanced lifestyles. West Oahu residents, not affiliated with the UH system, are welcome to take classes on campus to keep their minds sharp.
Both UH West Oahu and Seagull Schools are early adapters of the Blue Zones Project, a nationwide campaign to encouraging healthy habits in schools, work sites, faith groups, restaurants and grocery stores.
Chancellor Maenette Benham says that Blue Zones' 'happiness factor' is in line with the school's goals: Kauhale and kaiāulu (building healthy, positive social relationships), waiwai (generating abundance, e.g., financial wellbeing), mālama honua (ecological and physical health) and hana lawelawe (community engagement).
"Our long-term outcomes involve factors of happiness, health and life satisfaction, all important themes at the heart of Blue Zones," she says.
Larson agrees. The Blue Zones Project enhances programs already in place at Seagull Schools – including a monthly wellness program. Each month, Larson's 180 full-time and 60 part-time workers receive $25 gift certificates for meeting goals, such as running races, getting a mammogram, having perfect attendance, and exercising daily.
"Almost all of our staff takes advantage of that," Larson says with pride. n
---
Queen's Medical Center
The Queen's Medical Center – West Oahu continues to provide patients with access to The Queen's Health Systems' quality of care at a state-of-the-art facility that's convenient and close to home for West and Central Oahu communities.
The community health needs are ever-changing, so they are always finding new and better ways to serve West Oahu. This commitment has led to new services like the Pediatric After Hours Center, which is open 7 days a week for the treatment of children's minor illnesses and injuries after their doctors' regular business hours. It will become the Family After Hours Care Center in the Spring so that parents will have an alternative to the Emergency Room or Urgent Care as well.
They've added CT services to their outpatient imaging center, and next year, will be adding a second MRI
to its campus.
Their Sullivan Care Center provides diabetes management and education, chemotherapy, wound care and infusion services. The newest addition is a pulmonary clinic and sleep lab.
Its Emergency Room uniquely treats patients from around the world and across the U.S., and currently averages 4,800-5,000 visits per month. They are planning an expansion, which will increase technology to support rapid decision making
and treatment.