Startups in Mana Up's New Cohort Emphasize Aloha, Education and Sustainability
The 11 companies in Cohort 7 are based on four islands and sell products ranging from alohawear and accessories to food, coloring books and puzzles.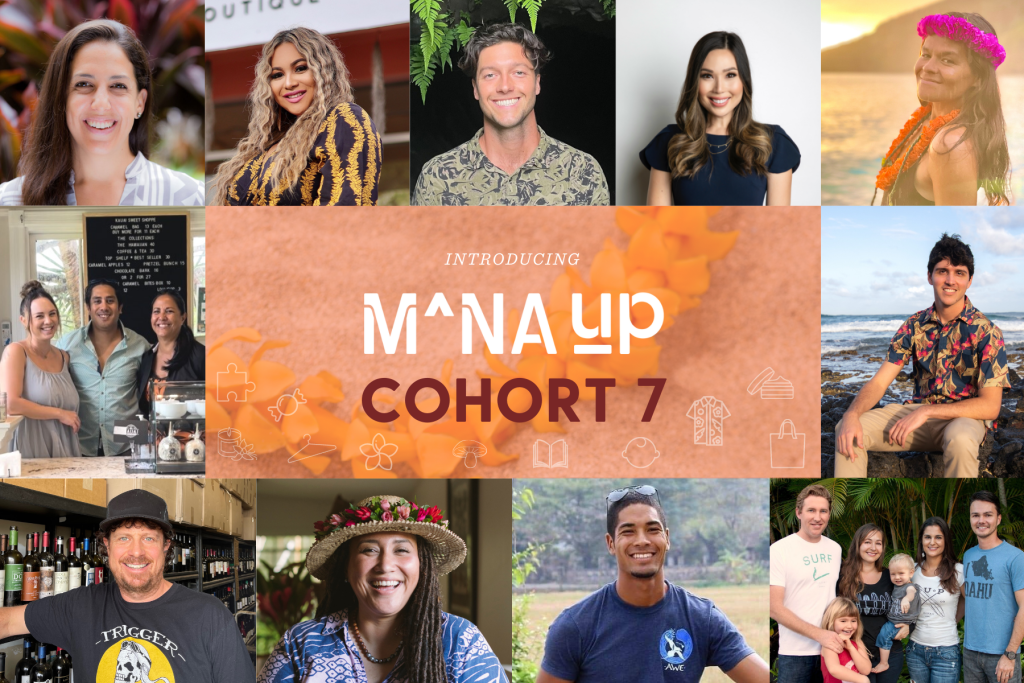 Mana Up's seventh cohort features 11 locally owned companies that sell Hawai'i-inspired products that promote education, agriculture and sustainability.
Co-founder Meli James says she is excited to see how these companies will integrate storytelling and cultural awareness into their products as Hawai'i welcomes back more tourists.
E-commerce was "game-changing and lifesaving" for many businesses, especially during Hawai'i's stay-at-home period in 2020, says James. Before the pandemic, 40% of the companies in past Mana Up cohorts earned more than half of their revenue from online sales. That shot up to 70% during the pandemic.
This year, 135 companies applied to join the seventh cohort. Here are the 11 companies that made it in.
Lexbreezy is an alohawear company founded by Alexis Ahakuelo. Ahakuelo, whose modern designs are geared toward younger generations, says she wants more people to include alohawear in their everyday outfits.
Owner Emma Wo's ava + oliver features baby products that include bibs, cups, changing mats and toys. Wo says she started the brand because she wanted more options for babies and parents.
Tag Aloha Co. sells locally inspired beach bags and accessories made of organic cotton. Founders AJ White, Alana Penaroza and Kainoa Penaroza say they hope to spread awareness about sustainable practices. Their company is the first in the Islands to be certified by the global nonprofit Fairtrade.
Local confectionery Kauai Sweet Shoppe sells Hawai'i-inspired caramel treats in many flavors. GM Chloe Blake says the business was originally a coffee shop, but pivoted in response to tourists looking for Kaua'i-specific products. One of Blake's goals is to expand the company's reach internationally.
Matt Laundrie started Revive Glassworks with a goal of creating the state's first glass factory, which could supply businesses with glassware. He turns used wine, beer and liquor bottles into drinking glasses, plates, candleholders and vases.
Benjamin Lilibridge says he wants to help "save the world" with his mushroom business. Mālama Mushrooms features mushroom "superfood" products ranging from powder mixes, coffee and extracts that can be blended with food and drinks.
Advance Wildlife Education creates coloring books that highlight animals in Hawai'i and across the Pacific. Owner Che Frausto says the company combines his passions for wildlife and art, and aims to spread awareness of how to support local animals.
Even before starting her business, Britney Texeira enjoyed the feelings of gratitude that people expressed when receiving her creations. That's why she founded the business. Today, Haku Maui creates custom handcrafted flower crowns that feature native plants and flowers grown around Texeira's hometown of Makawao.
Alohilani Keohuloa's Pō Naturals creates herbal products such as hand sanitizers, roller blends and body rubs using locally sourced ingredients. She encourages families to live healthy lifestyles by using natural products.
David Shepard's self-named alohawear brand highlights native Hawaiian plants in its designs. One of his goals for the company is to be a platform to share conservation stories and educate people on the different plants native to the Islands.
Mahina Tuteur created Surf Shack Puzzles during Hawai'i's stay-at-home phase of the pandemic in 2020, saying the puzzles were a great way to keep her family engaged and off electronic devices. The puzzles feature works by local female artists and are made from recycled board and printed with nontoxic ink.