Hawaiʻi's Top Employers Profiles 2018
Employees have spoken in the 2018 Best Places to Work Survey. Read on to find out where they work and why they love their jobs.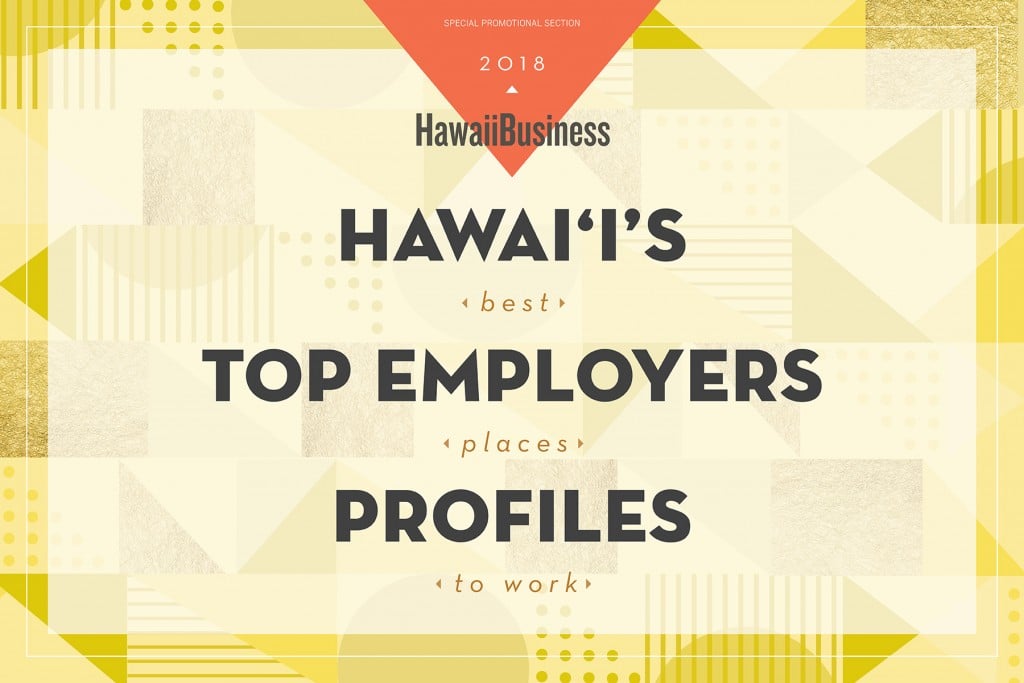 Bank of Hawaii

At Bank of Hawaii, we are excited about the opportunities to adapt to an ever-changing world. And that goes hand-in-hand with investing in digital options and technology, modernizing branches under our "Branch of Tomorrow" concept, and renovating our work environment to offer open, collaborative spaces that are in tune with how people live and work today and into the future.
Peter Ho, Bank of Hawaii chairman, president and CEO, said, "Banking for tomorrow is all about people, and I'm tremendously proud of our team. We reward them for the exceptional work they do for our customers and for the larger community, and we continue to look for new ways to help them grow."
A more relaxed dress code, birthdays off, family-friendly celebrations, free gym classes and free access to our three Oahu fitness centers are some of the reasons that Bank of Hawaii continues to be one of the best places to work in the state. We frequently re-evaluate our offerings of generous benefits to include perks, incentives and recognition programs to engage employees while promoting a progressive and inclusive culture.
Bank of Hawaii has always valued investing in personal and professional education for its people. With the changing nature of modern banking, the bank continues to offer free leadership and development training (more than 25,000 hours in 2017) to help employees thrive in their current role, build new skills or take on new responsibilities.
Bank of Hawaii launched its newest educational benefit, the College Assistance Program, in 2016. More than two dozen people are now enrolled in earning their first bachelor's degree through online classes at Chaminade University while the bank reimburses their tuition.
Taking a hands-on approach to helping the community is part of Bank of Hawaii's culture, and Bankoh Blue Crew volunteers are out in the community almost every weekend. In 2017, employees donated more than 16,000 hours of their time to 359 service projects.
As the banking industry evolves, Bank of Hawaii continues to invest in the immediate and long-term success and well-being of its people. Family-friendly benefits, rewards and recognition for individual and team efforts, professional and personal growth opportunities, and the ability to make a difference in the community are all part of what it means to be part of Bank of Hawaii's workforce of tomorrow.
Bank of Hawaii
130 Merchant Street
Honolulu, HI 96813
1 (888) 643-3888
www.boh.com